The News
Not too much to report this week. There is ongoing development of the core systems, an upcoming airdrop from @splinterlands and various other dapps seeing improvements. @hivetoday track this stuff better than I can.
I would hope we could see more meetups happening as restrictions are eased. Let me know if you hear of any, especially in the UK.
Freedom!
I have seen various people complain that they are being censored on Hive, but what that actually means is that they got downvoted for whatever reason and their content can still be seen. Criticising the platform may get you unwanted attention, but I do think we should be honest about the issues. Hive is not growing fast and a tiny minority get a large share of the rewards by supporting each other. I get that some of them helped to build this thing, but if the masses see little chance of making much they are likely to give up and we need them.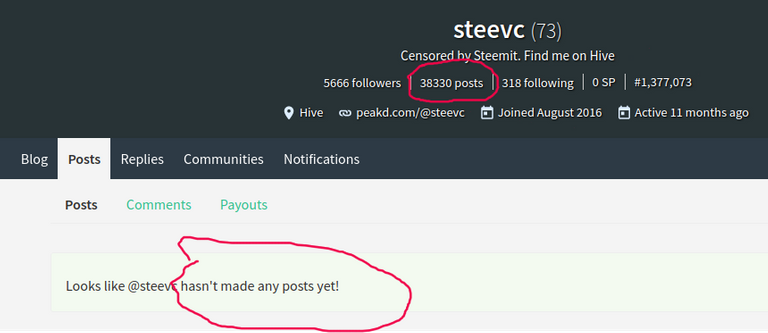 Meanwhile, over on Steemit, many accounts are essentially invisible as the developers hid all their posts and comments. I got onto their blacklist for daring to criticise them when Justin Sun took over. My many thousands of posts and comments cannot be seen and so there is no point in me going back. I sold all my $STEEM to buy more $HIVE. Note that the Steemit site seems to be the only real option as far as front ends go. Steempeak is no longer operating. It looks like Steemians have to suck up to the management and hope for a vote from their big 'curator' account.
Getting downvotes from @hivewatchers will reduce your rewards, but it takes concerted action to make your posts hidden by default. They can still be seen though and reducing rewards is not the same as censorship. There is a concentration of power here and getting on the wrong side of a whale can mean you will make nothing, but they cannot stop you posting. If some group was getting heavily downvoted they could set up their own front end that does not hide anything. We have accounts constantly spamming the blockchain, but to block them would set a bad prescedent and I doubt enough witnesses would support that to make it happen.
The fact is that Steemit is still getting more visits and activity than the combined Hive front ends according to Hypestat that sources data from Alexa.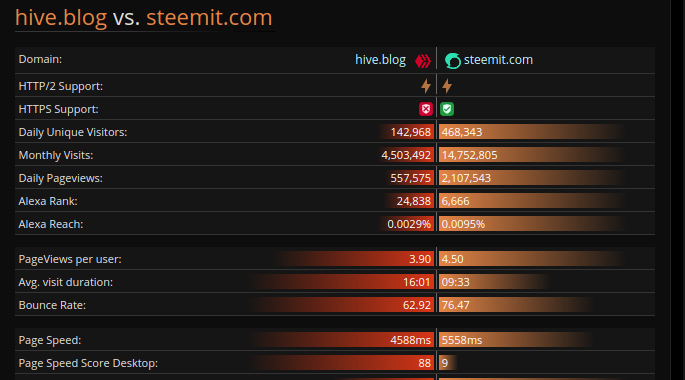 Are there really so few sites linking into Hive? The same stats for peakd does not look any better. I am no expert on SEO tactics, but we may be missing out on some tricks to get traffic. I know plenty of people link to their posts from Twitter and can earn @poshtoken for doing so. I suspect that in some cases we are not effectively reaching people who are not already on Hive.

@splinterlands still gets a lot of traffic, but that is not a blogging dapp and it is not immediately obvious that it runs on Hive. I still think it should provide links to player blogs.
Hive does have image problems both in terms of what some people think of it and also regarding being known about. There have been efforts to get some 'influencers' on board, but that is not having much impact yet.
Perhaps we need more of a coordinated viral campaign to spread the word that this platform is available and working well. I think it would be reasonable to pay someone via a proposal to organise this.
Followings
And so to the original purpose of #FollowFriday. I keep using my script to look for more Brits and found some interesting ones lately. I include a couple in this week's list.
These folk will get a share in the rewards of this post.
The Doghouse
@anfeng is one of many accounts created by a Chinese speaking user to milk rewards from self-votes. It churns out dozens of comments that are all the same as far as I know. It is only small amounts, but the rewards are not earned and a few of us will monitor the situation to remove them. They may be selling off their stake, so maybe this particular leech will go away in time. There are finite rewards to go around, so we need to deal with those who try to take them dishonestly.
The End
I am always happy to get more suggestions of people to follow. There are plenty of under-rewarded accounts and I would prefer to give them a vote than someone who can guarantee to make a lot regardless of what they post. If you are doing your own #FollowFriday posts then let me know.
Hive five!