Have you noticed the major change that took place yesterday in the distribution of governance voting power of our whales?
Two days ago, here is the Hive Power distribution we had at the end of the day (2021-05-18):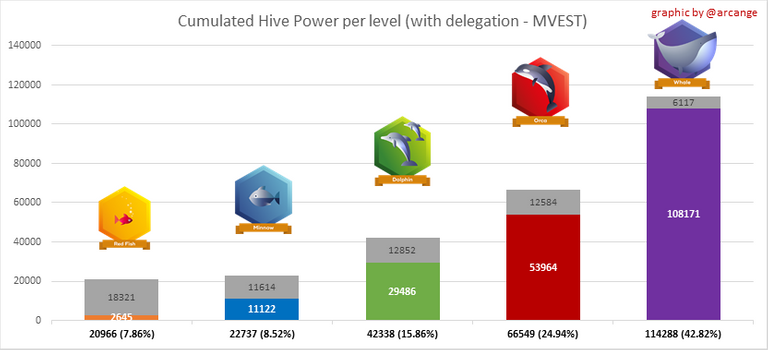 The next day, at the end of the day (2021-05-19), we had the following Hive Power distribution:

As I was surprised by this sudden change, I did not have time to adapt the graph
What could have happened?
Have we undergone a massive exodus of whales, with at the same time a massive influx of medium investors? Or even simpler, as @antisoalist suggested in his comment (thank you for triggering my attention): "Surely this is a glitch?"
Without waiting, I went to check my data and the results of the statistics expected for today, and here is the result for 2021-05-20: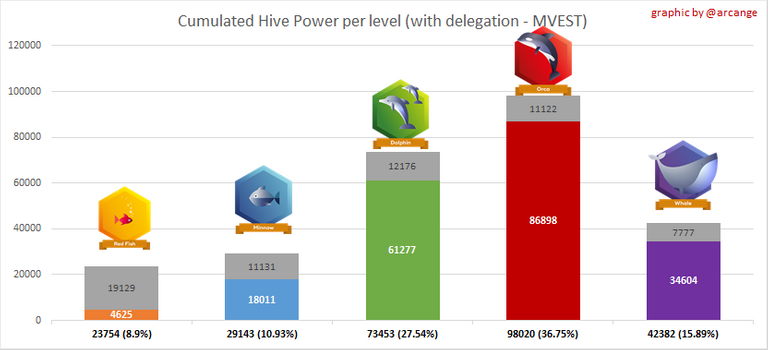 As you can see, there is no change from the previous day. So, if the figures are correct, then it must have happened something, and as the blockchain is transparent and records everything that happens there, we will be able to find it.
For this, HiveSQL is an extraordinary tool because I only needed 2 queries to find an explanation in the table TTxDelegateVestingShares:

@smooth has delegated 1698828,600 HP from 4 of his accounts to its main one.
If you go on https://hivebuzz.me/@smooth, you will see that @smooth is a "dolphin". So that explains why the cumulative Hive Power of dolphins has increased and that of whales has decreased. But what about the change at the Orca level?
Further analysis shows that there have also been quite a few other important delegations made in recent days: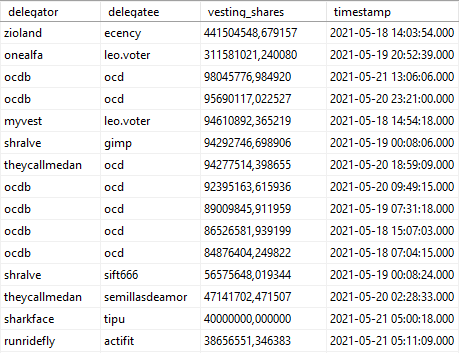 Added to this is the fact that many HP delegated reverted to their original owner following the removal of these delegations.
So, to answer my initial question "Have whales become less powerful", I think for the moment that the answer is "no" since it is simply a voting power transfer between accounts that are controlled by the same entities.
UPDATE: While writing this post, I messed up a bit about how delegated Hive Power influences governance and Voting Power. Delegation has now influence on governance and I updated the post accordingly to avoid confusion.
---
Check out my apps and services