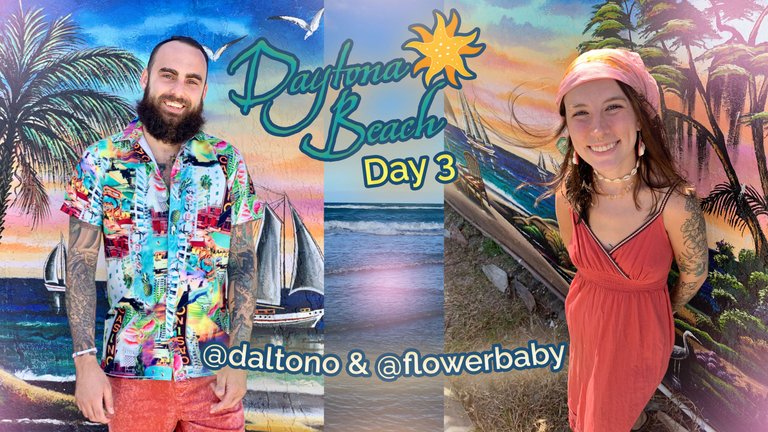 The beach never gets old
Day 3 of course started out with a lot of time at the beach. That is the main reason that @flowerbaby and I drove all the way to Florida after all. We can only spend so much of our day sitting out there in the sun. After a certain amount of time, our bodies are telling us to go do something else. That we did on Tuesday.
After spending half of the day out by the ocean, we came back inside and cleaned up. Then we made our way down to our hotel's parking lot where I had spotted this beautiful mural. Murals are the perfect backdrop for some photography. I knew we had to get out there and make it happen. Especially since I had another new shirt that I was dying to wear.
After we got photographs at the mural together, @flowerbaby wanted to change her outfits. We snapped a few more photos on our balcony at that time. The sun was beaming in perfectly, so it was hard to pass up another fine opportunity to capture the moment.
Once we were ready, we made our way towards Daytona International Speedway. Just across the street from the famous race track was a really cool plaza. The main reason that we drove there was for @flowerbaby's sugar cravings. She was begging me for some Italian ice, so I drove us there. I was surprised that I enjoyed my gelati as much as I did. Then again I should know that sugar is yummy in pretty much any form.
After dessert (which was before dinner) we drove up and down Daytona Beach to see all of the different buildings. There were so many highrise condos, it was pretty impressive to witness. This part of Florida was far more commercialized than our previous trip to St. Augustine.
As the evening started to wind down, we went for a walk on the beach. That worked up our appetites yet again, so we went on the hunt for some food. We tried to eat at Crabby's next door, but the wait was over an hour again. That means that we decided to eat at LandShark once more. The location was convenient, the food tasty, and the outdoor dining was perfect (even in the dark).
Let's take a look at some of our photos from Day 3 at Daytona Beach, FL.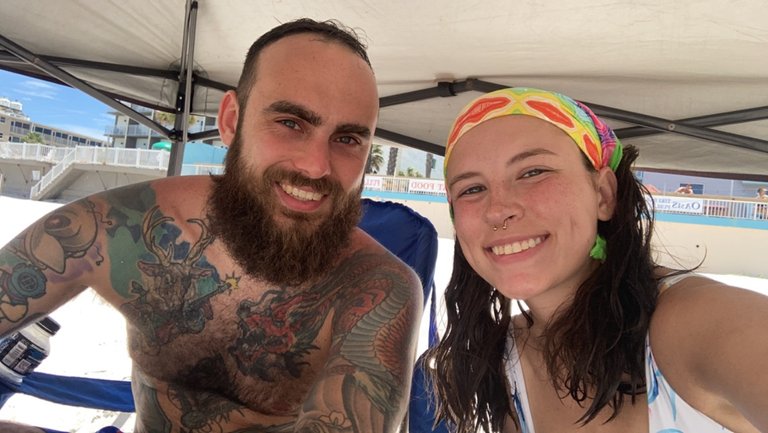 We didn't waste any time getting our area on the beach set up. Without this canopy, we wouldn't be having nearly as much fun.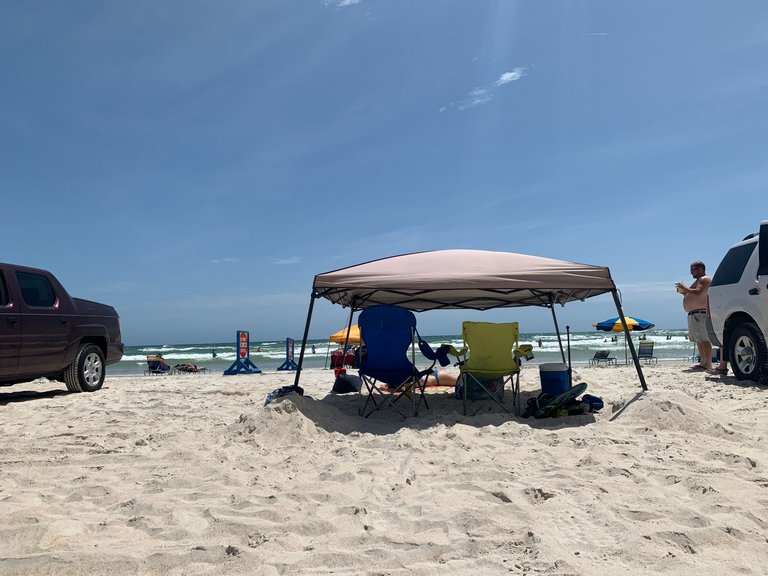 Just look at how awesome our little space was. Although we didn't have our car out there with us, we had a better chill spot than most people with their cars.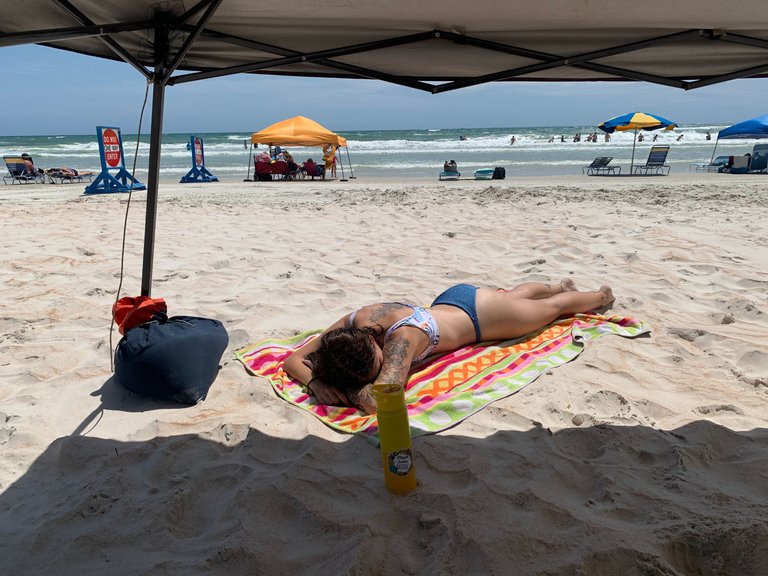 @flowerbaby is the queen of sleeping in the sun.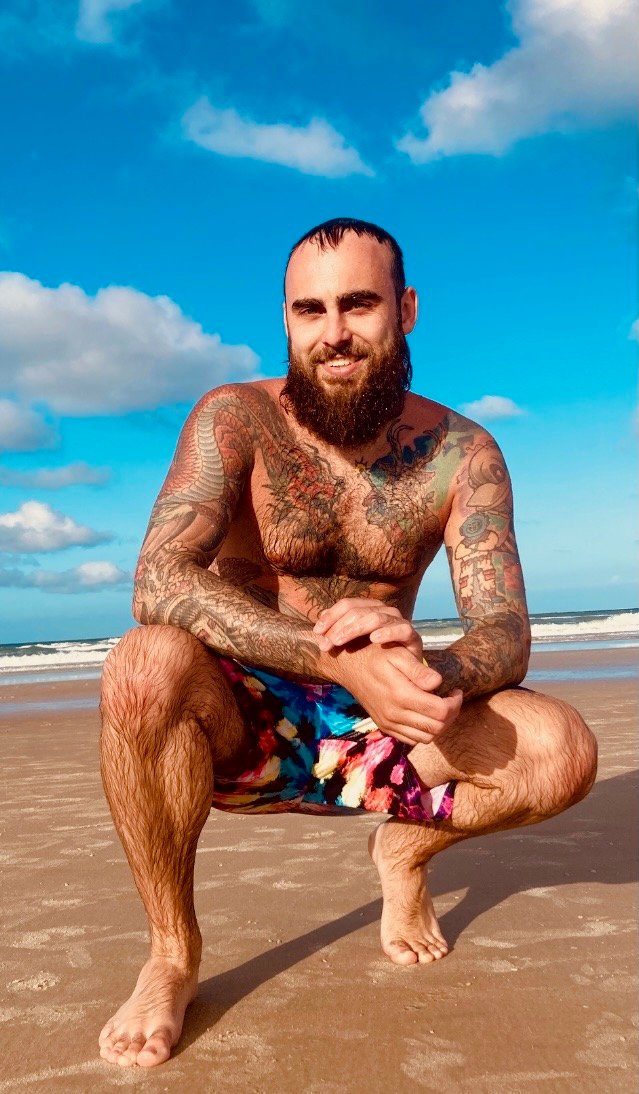 This is one of my better photos while soaking wet from the seawater. I love how this one turned out. Thanks to @flowerbaby for taking this photo.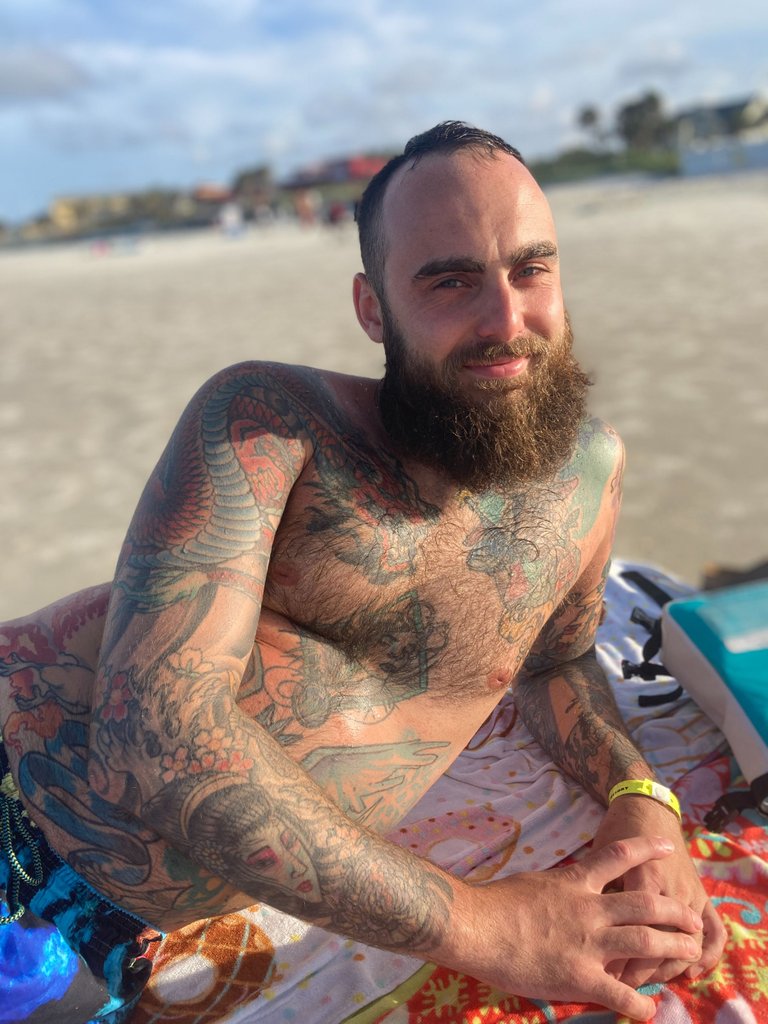 I think that she likes taking pictures of me as much as I liking taking ones of her.

This is my favorite photo of myself from the entire trip to Daytona.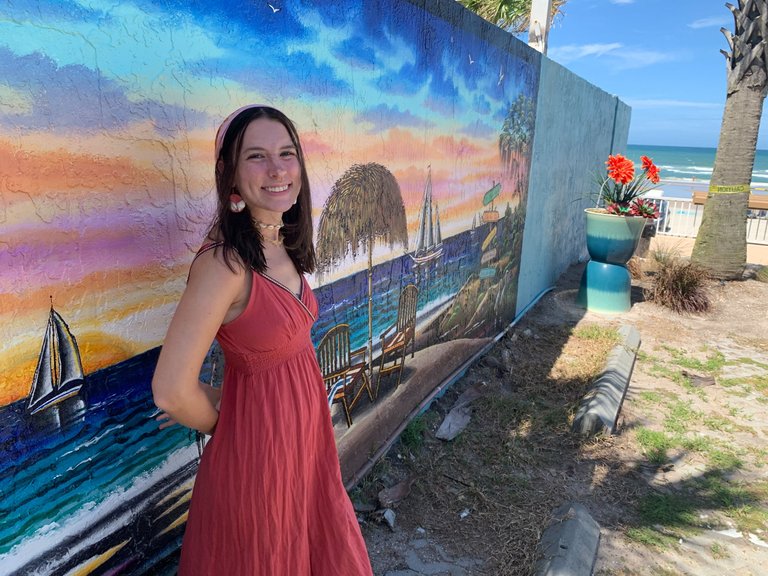 The beautiful mural lead right out to the beach, luckily the area was shaded by palm trees.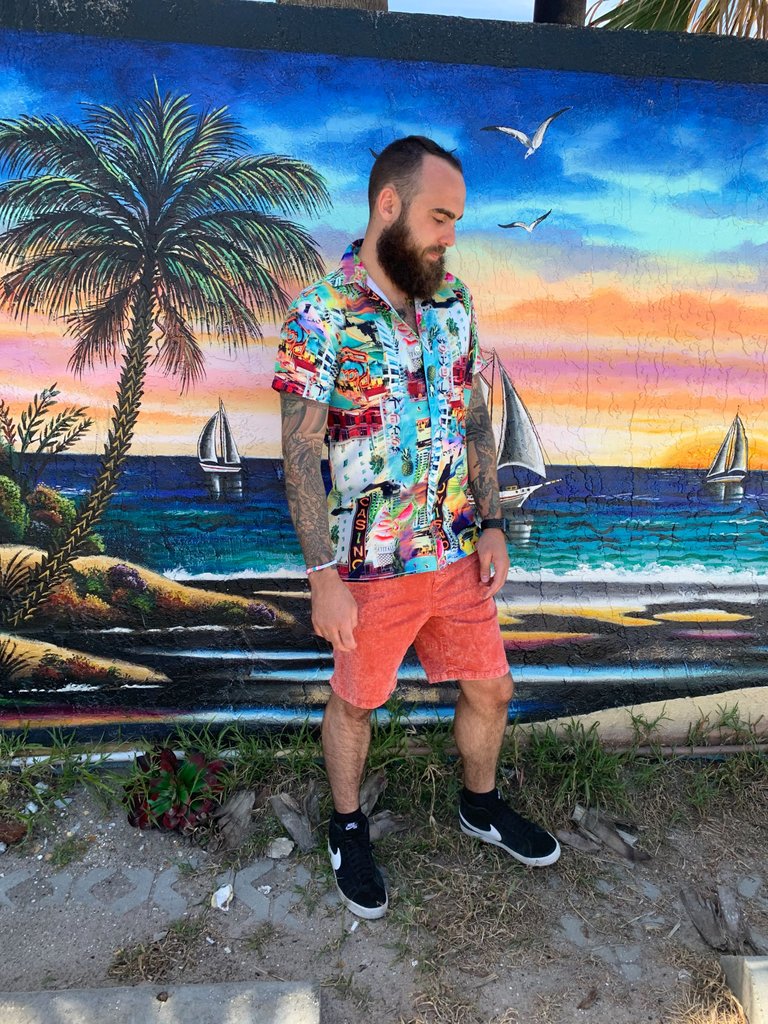 Finally got to bust out the new casino shirt. This is one of my favorite shirts that I own now. Posing in front of one of the coolest murals I have seen in a long time.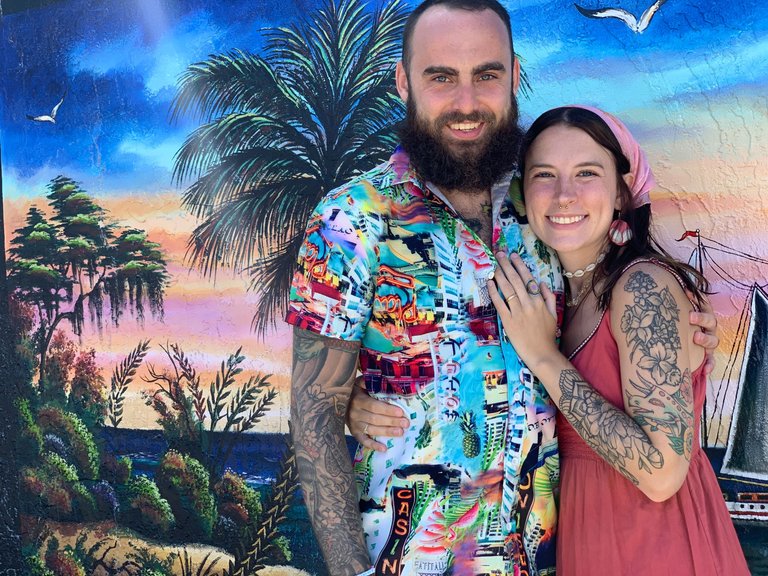 The combo of my tripod and Apple Watch with my iPhone sure makes for some awesome photos of us together. Far superior to any selfie.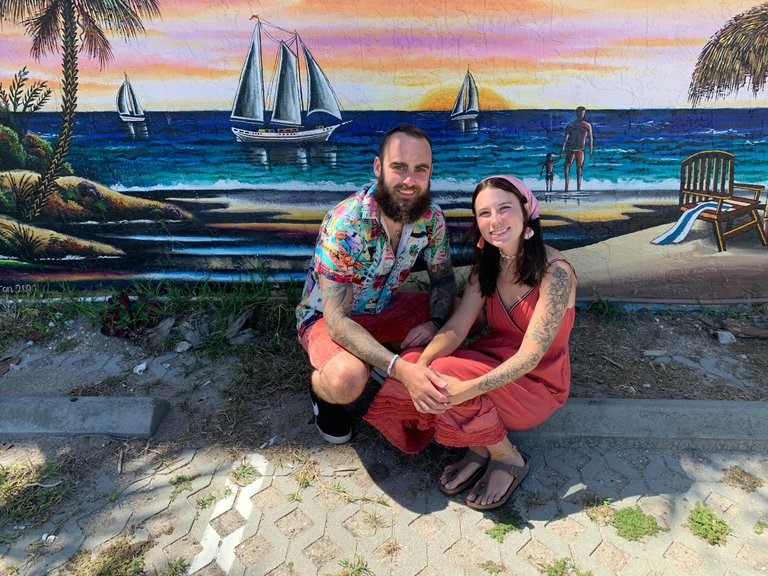 I always make us do the most random poses. My time working in a portrait studio is to blame for that.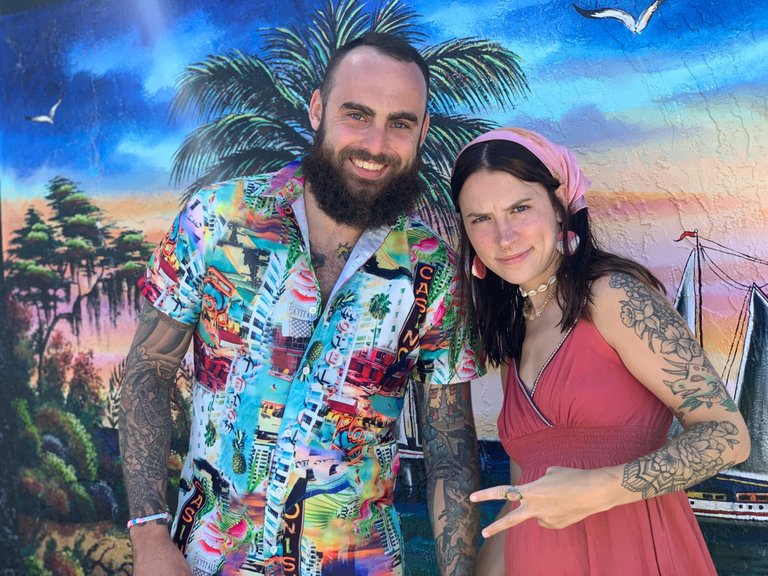 @flowerbaby always seems to throw up the peace sign. This time she decided to make a funny face along with the deuces.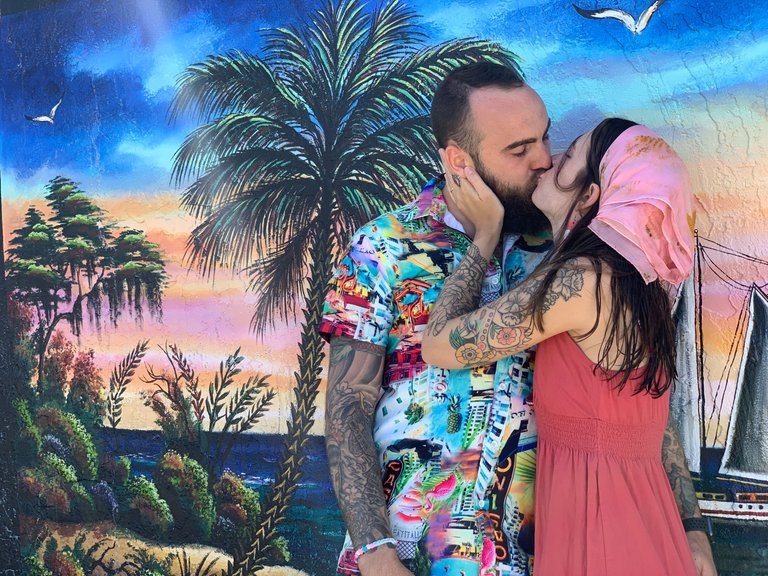 Wow! I got a kiss from this gorgeous gal.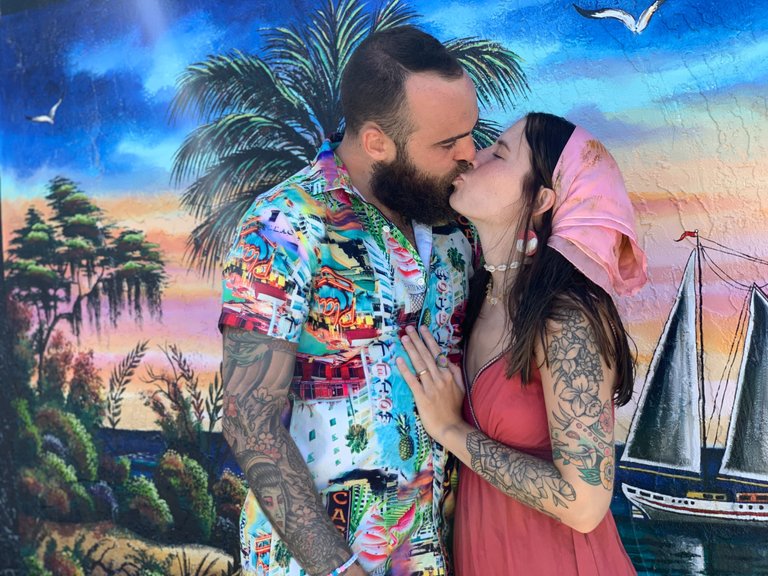 She was being nice and decided to give me another kiss.

@flowerbaby's style matched up perfectly with the mural.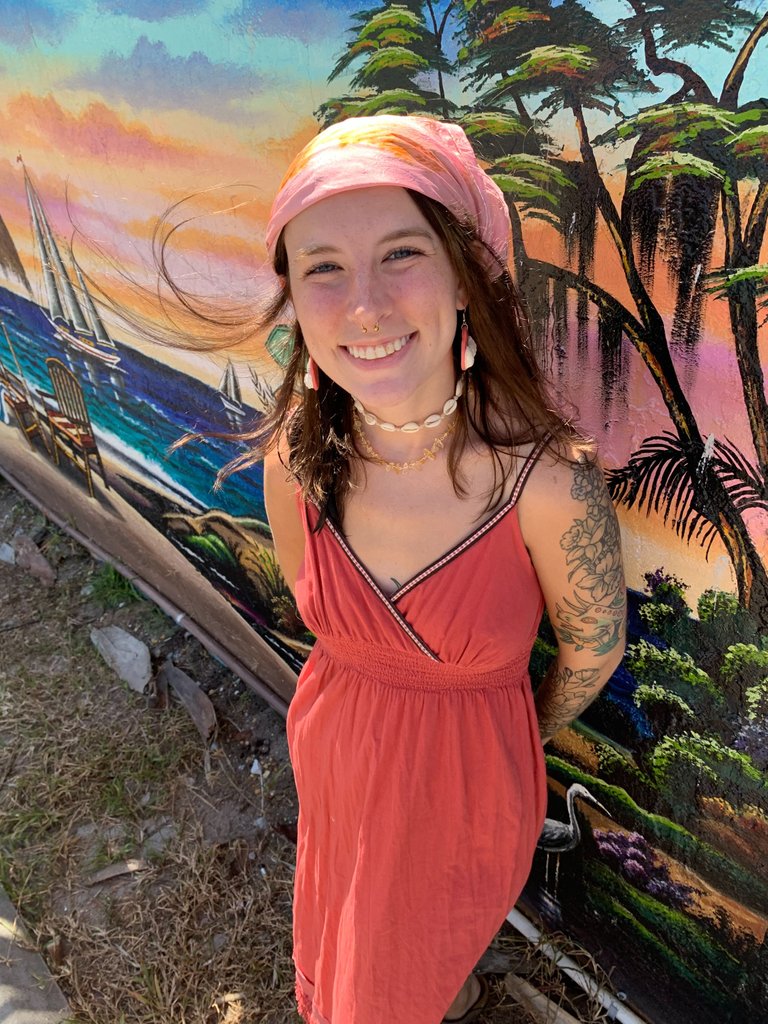 I'm in love with this photo. I love how the wind was blowing and caused her hair to swoop. Plus just look at that perfect smile.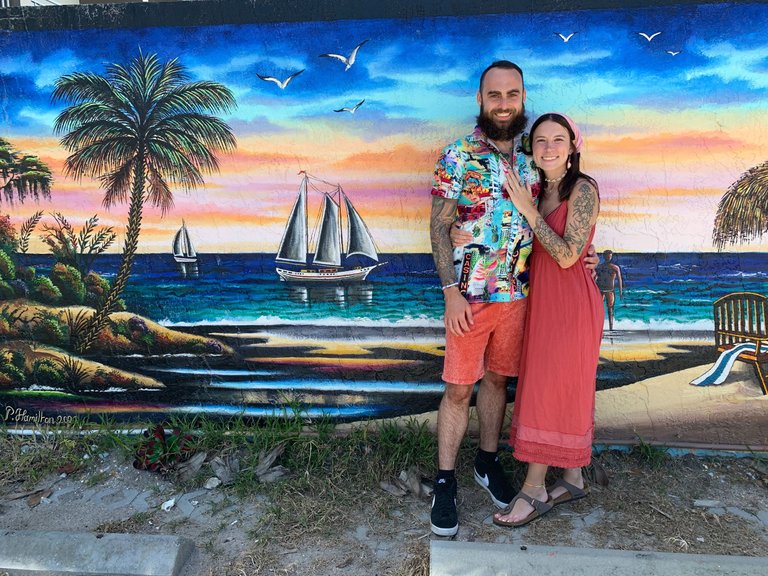 If you haven't noticed, we love taking photographs together.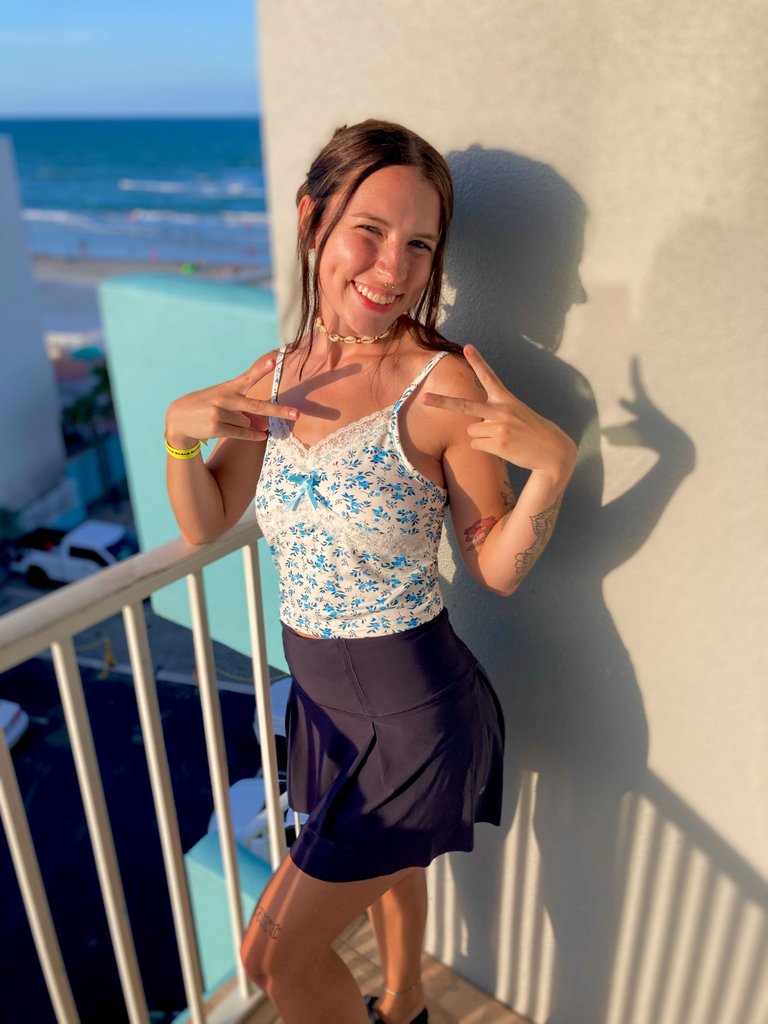 More peace signs from @flowerbaby, this time on our 6th floor balcony.

The sun was bringing out the very best in her eyes.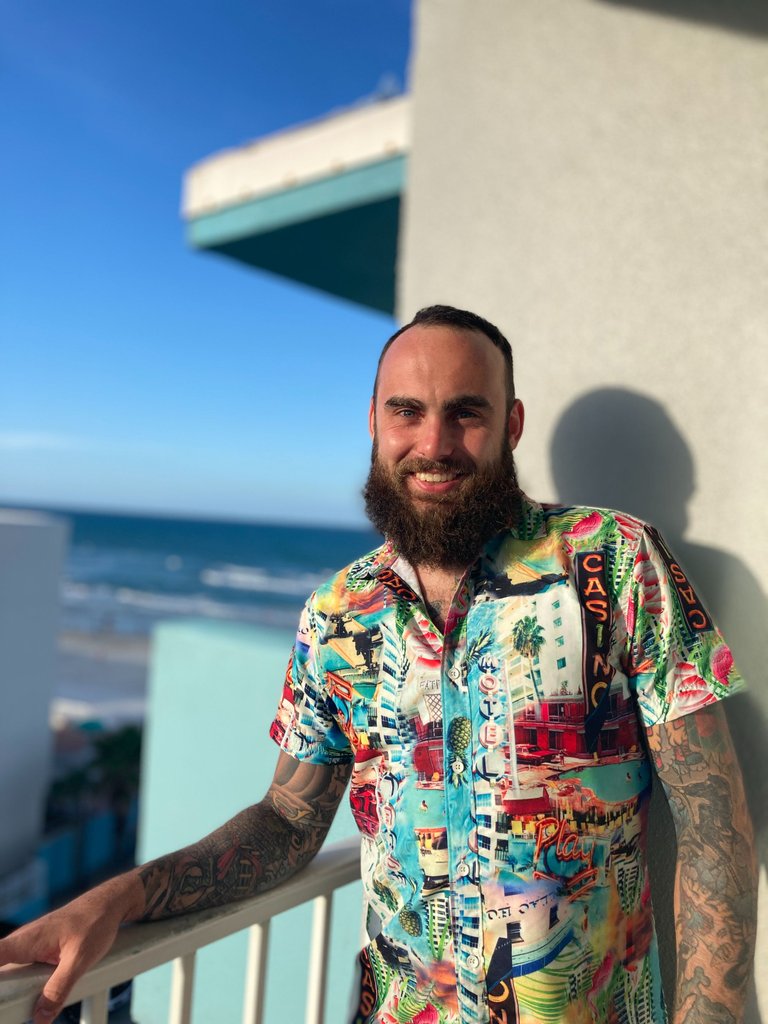 You know I had to get some action on the balcony too.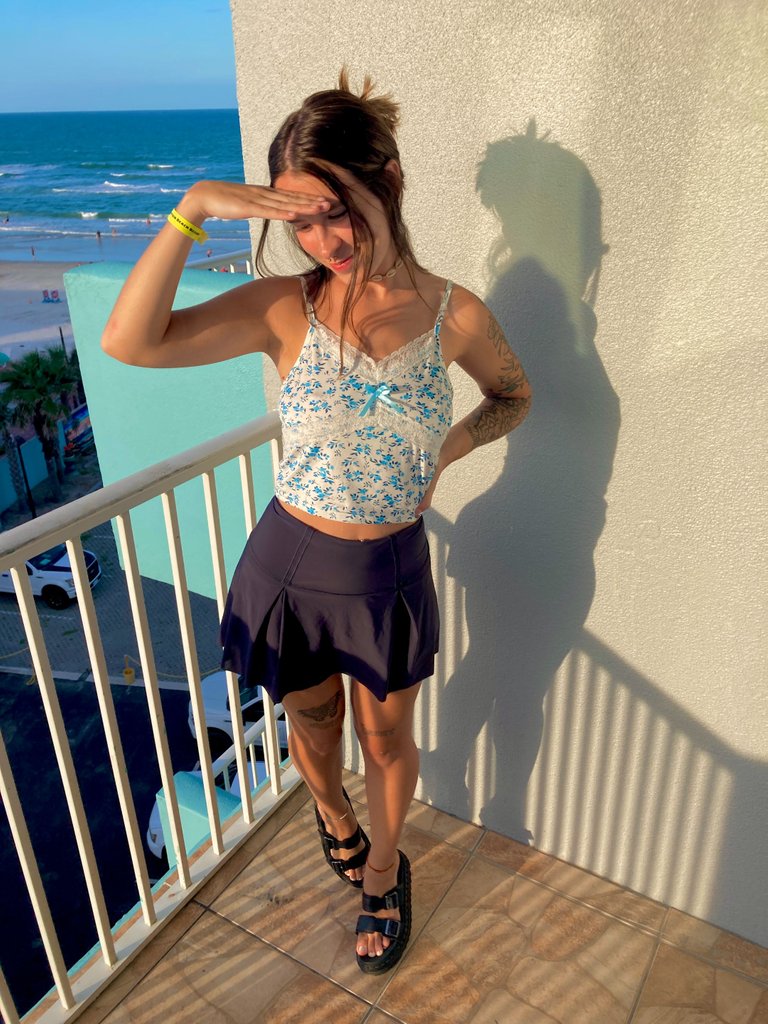 This is her new favorite pose, the shy girl.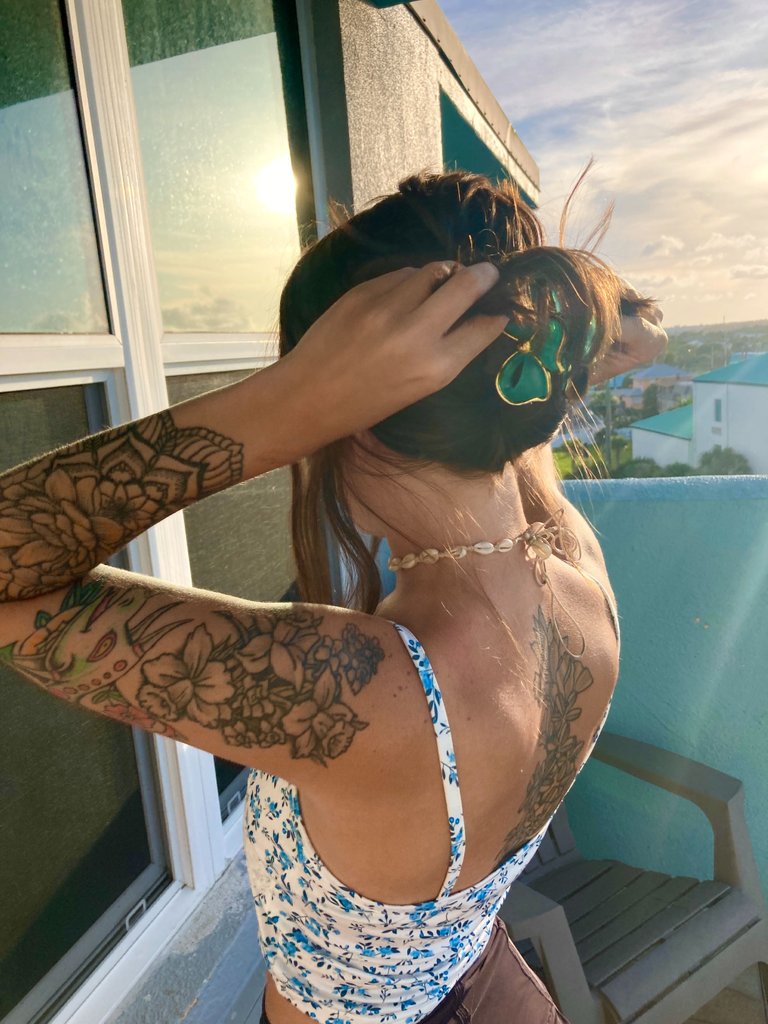 I got her this awesome gold and green hair clip. She looks so good wearing it.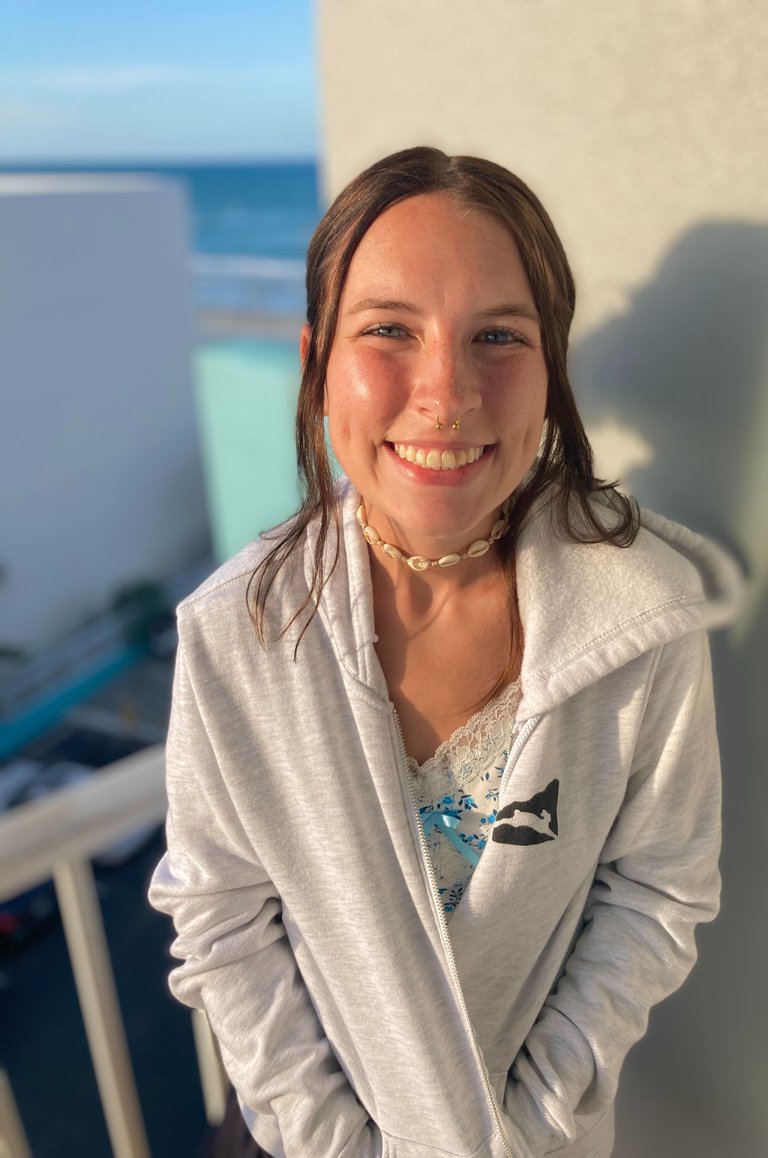 Could she get any cuter?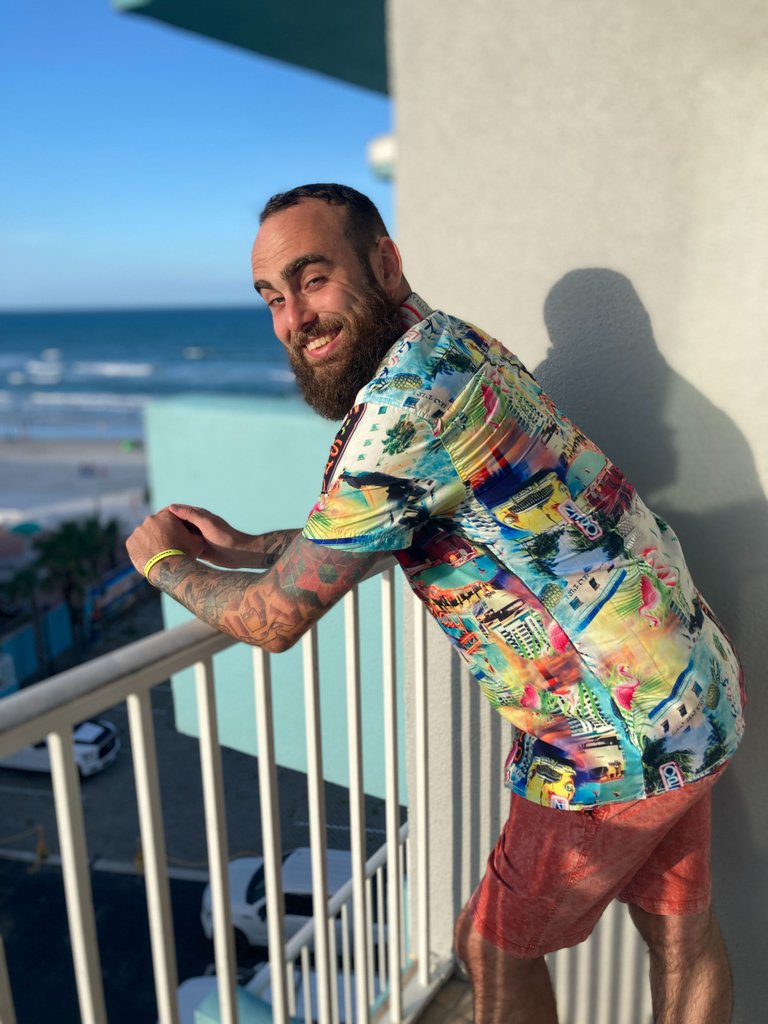 Wanna buy me a drink?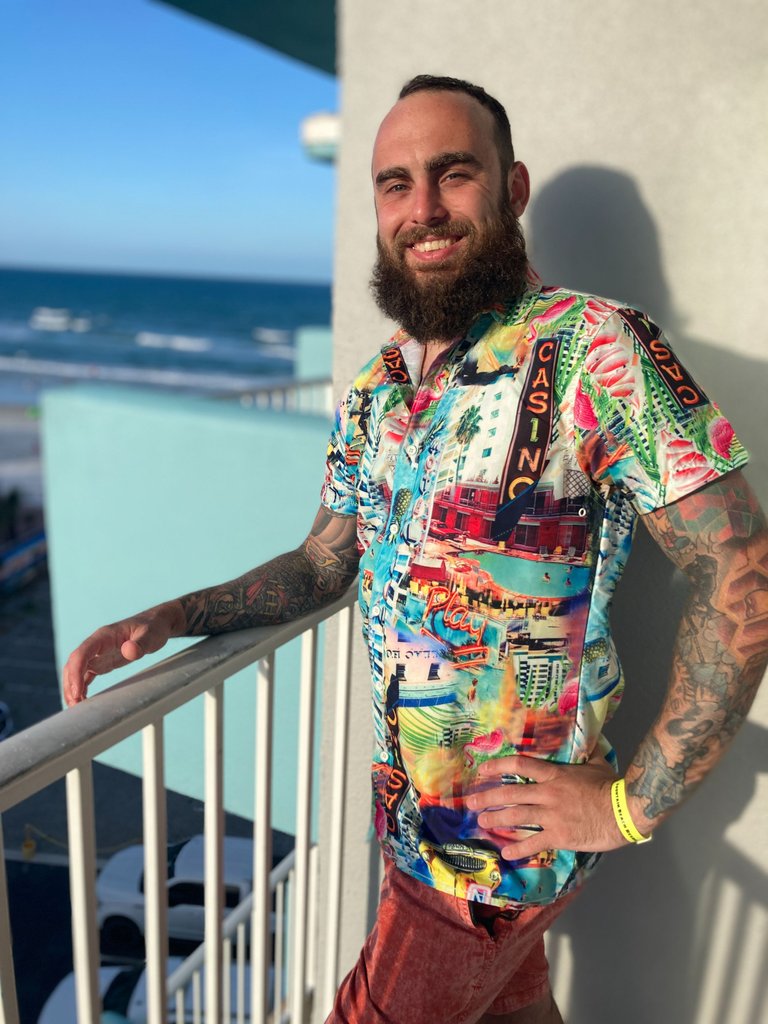 Okay fine, I'll buy my own damn drink.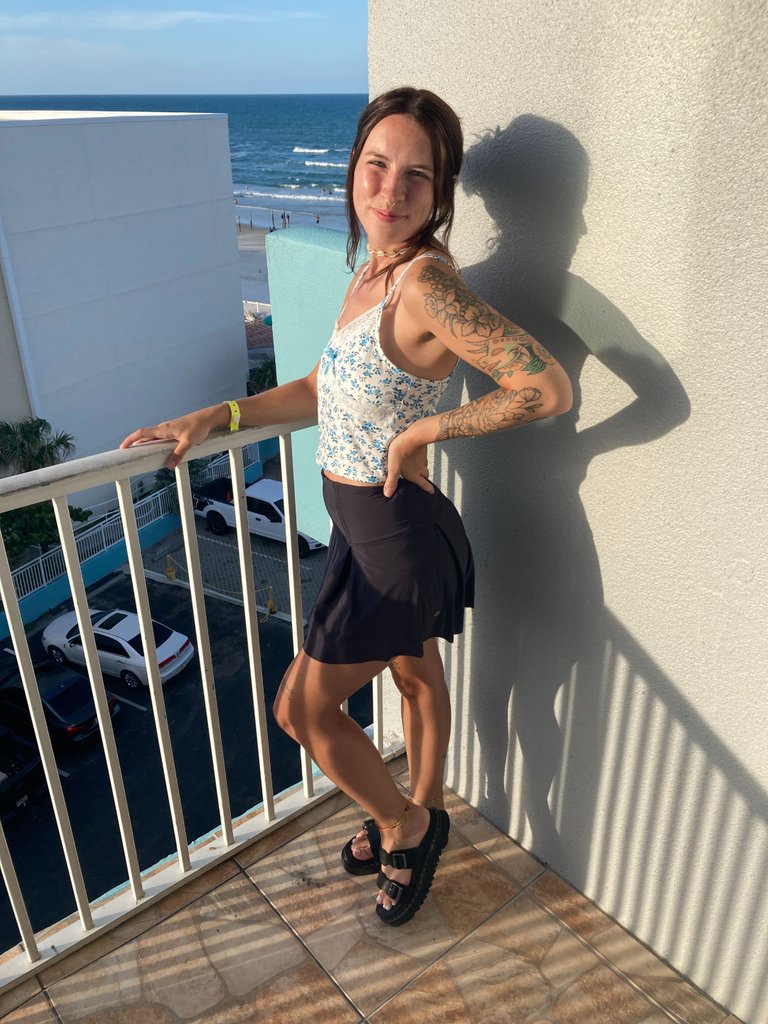 She's stunning.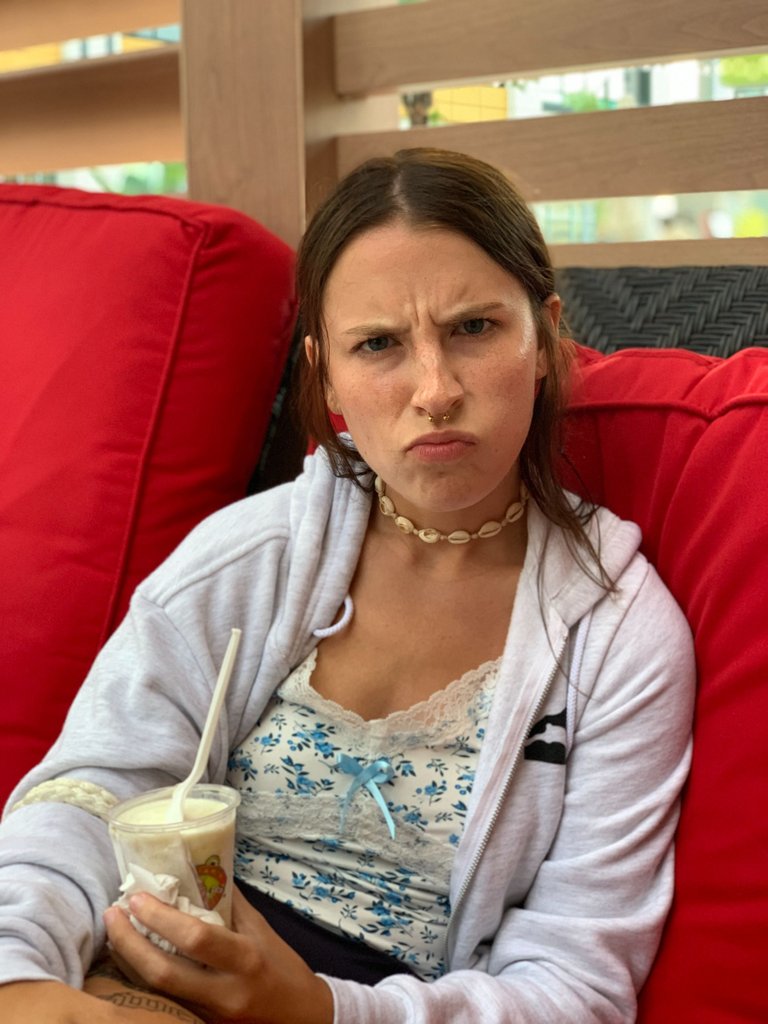 @flowerbaby wondering why in the hell I was taking her photo while she ate her gelati.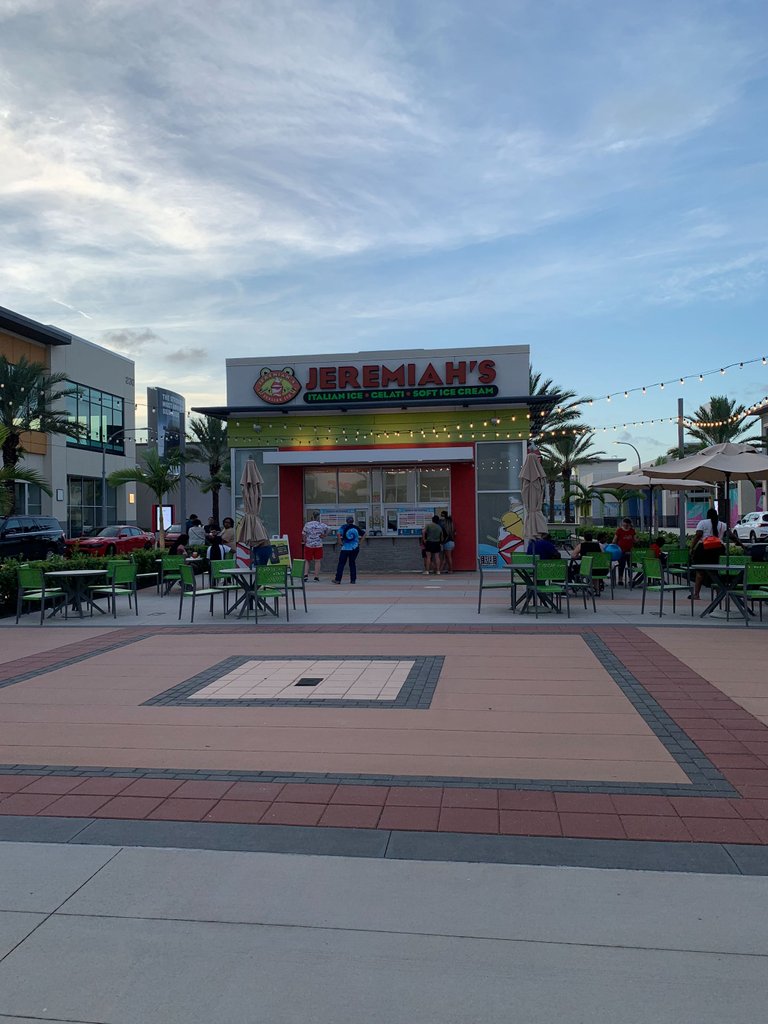 Jeremiah's was the Italian ice joint that we went to across from Daytona International Speedway.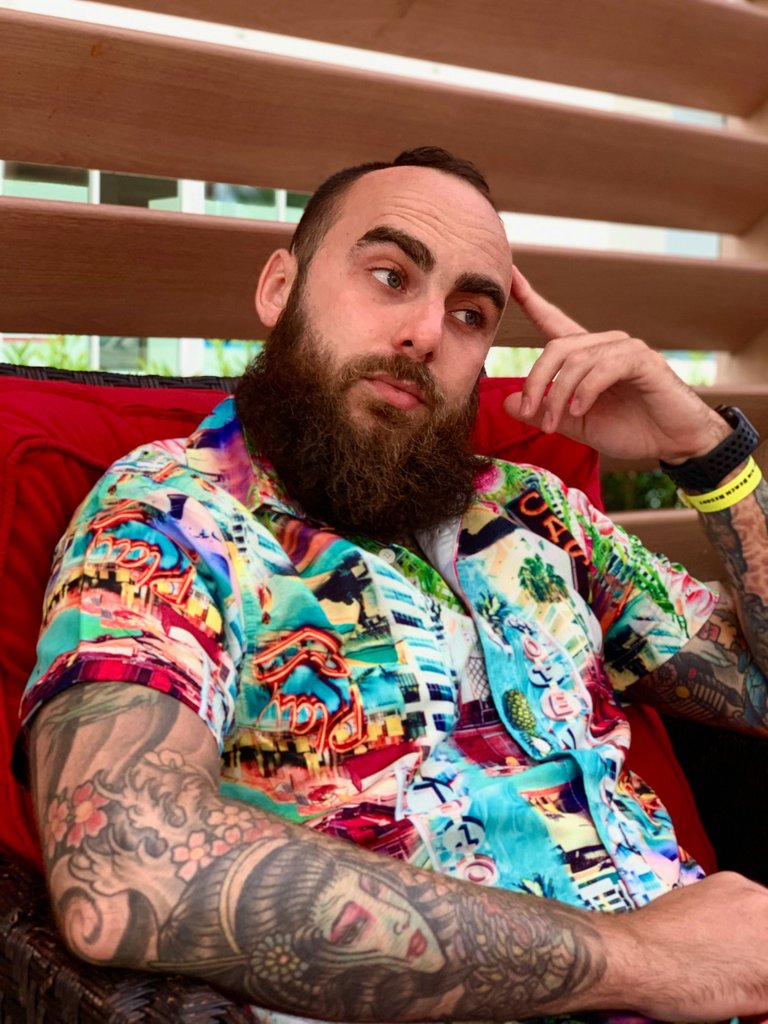 Pondering why in the hell I insisted on eating my entire gelati.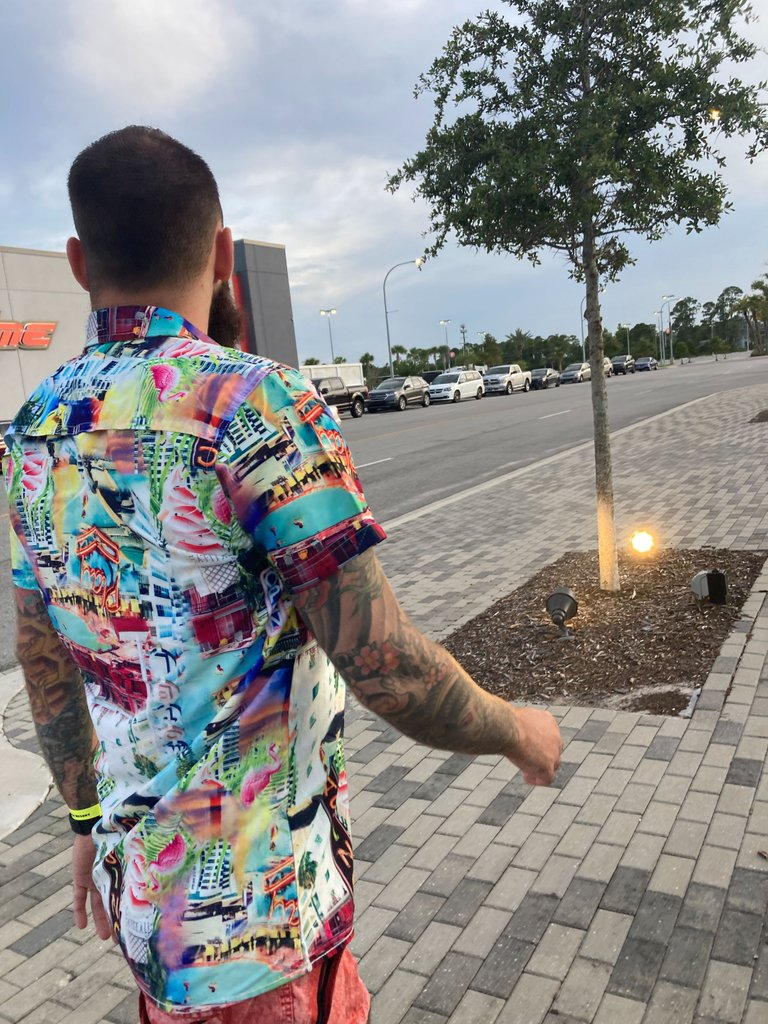 Walking back to the car after Jeremiah's. I loved how this plaza was laid out. The vibes were just so chill and we went at the perfect time of day.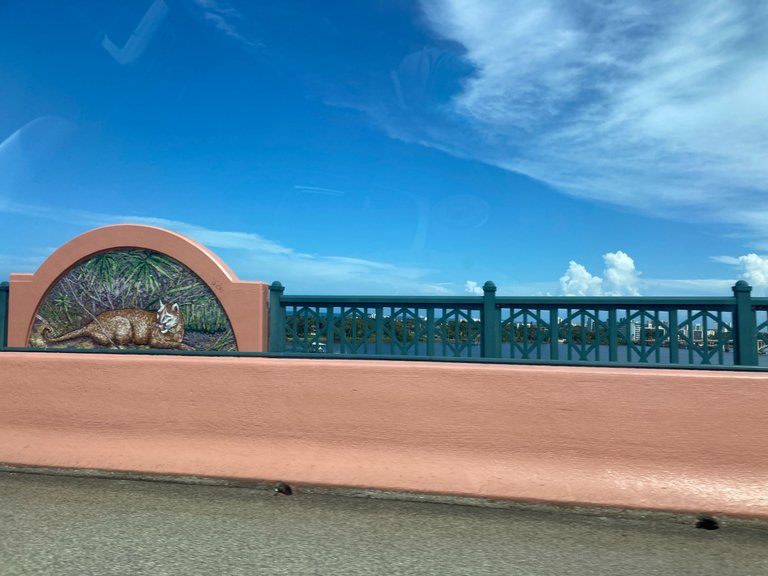 The bridge from our hotel to the larger area of Daytona had awesome artwork on the side. Somehow @flowerbaby got a good photo of some of the bridge as we were driving over it.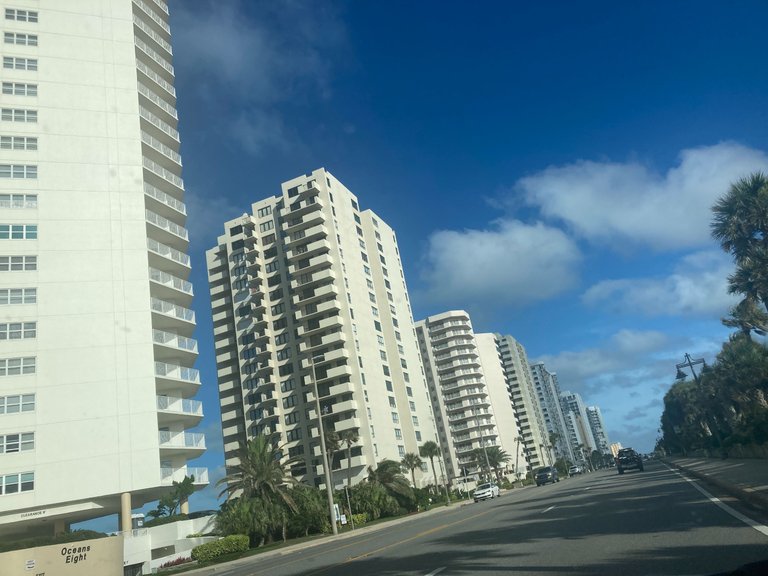 Huge buildings like these went up and down Daytona Beach for miles and miles.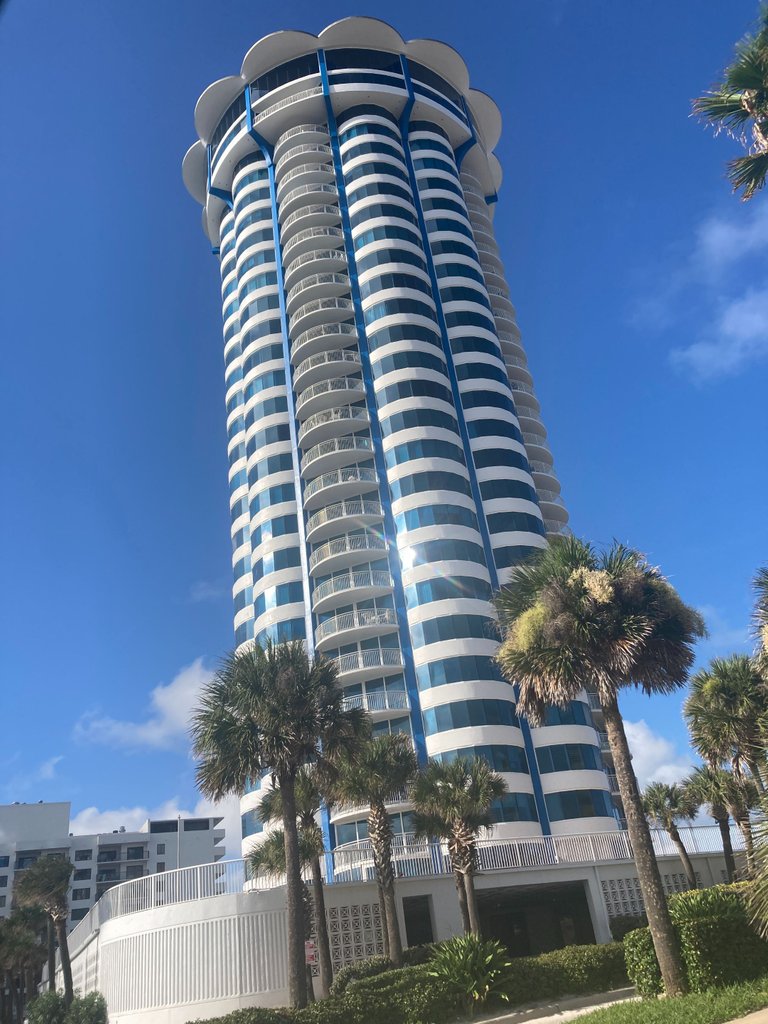 This building was both of our favorites out of all the ones we saw.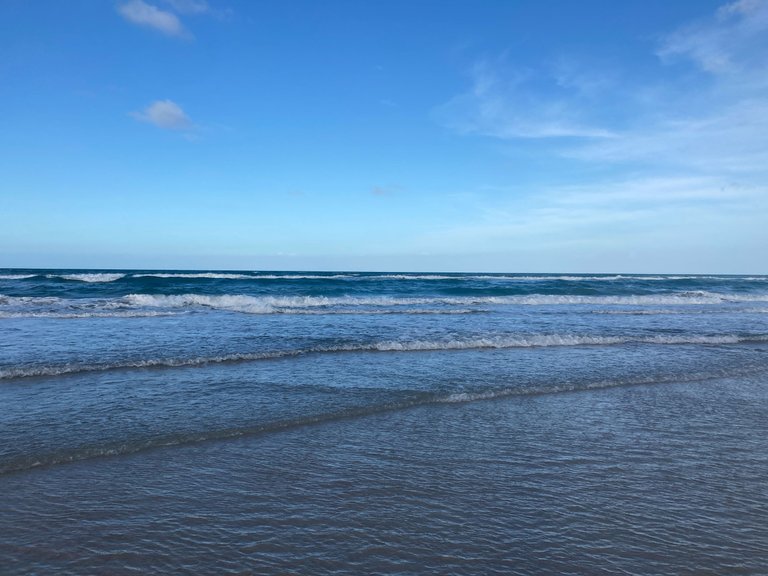 Back down to the beach for the second time of the day.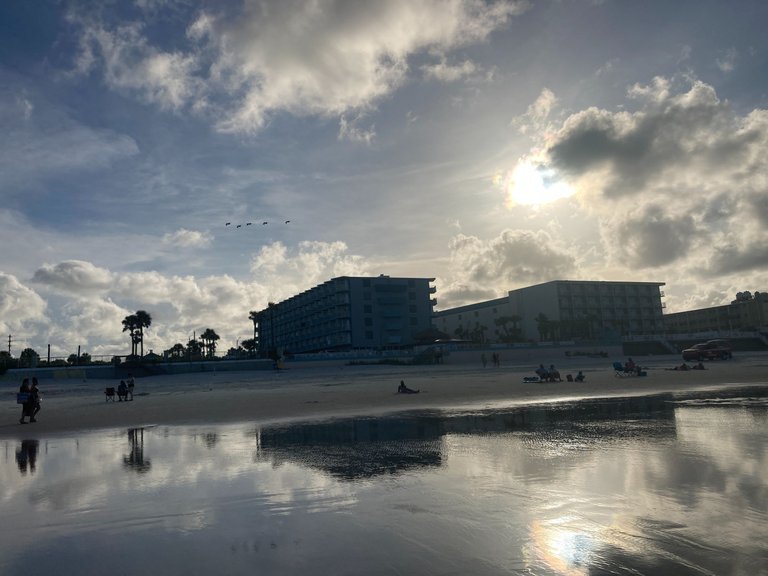 There always seemed to be some sort of breathtaking view for us to gaze upon.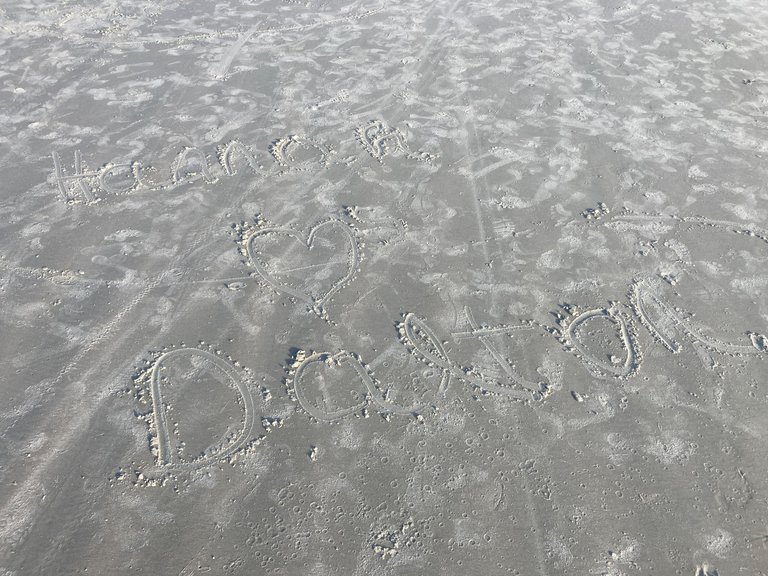 It says Hannah loves Dalton. Just so you know, Dalton loves Hannah as well.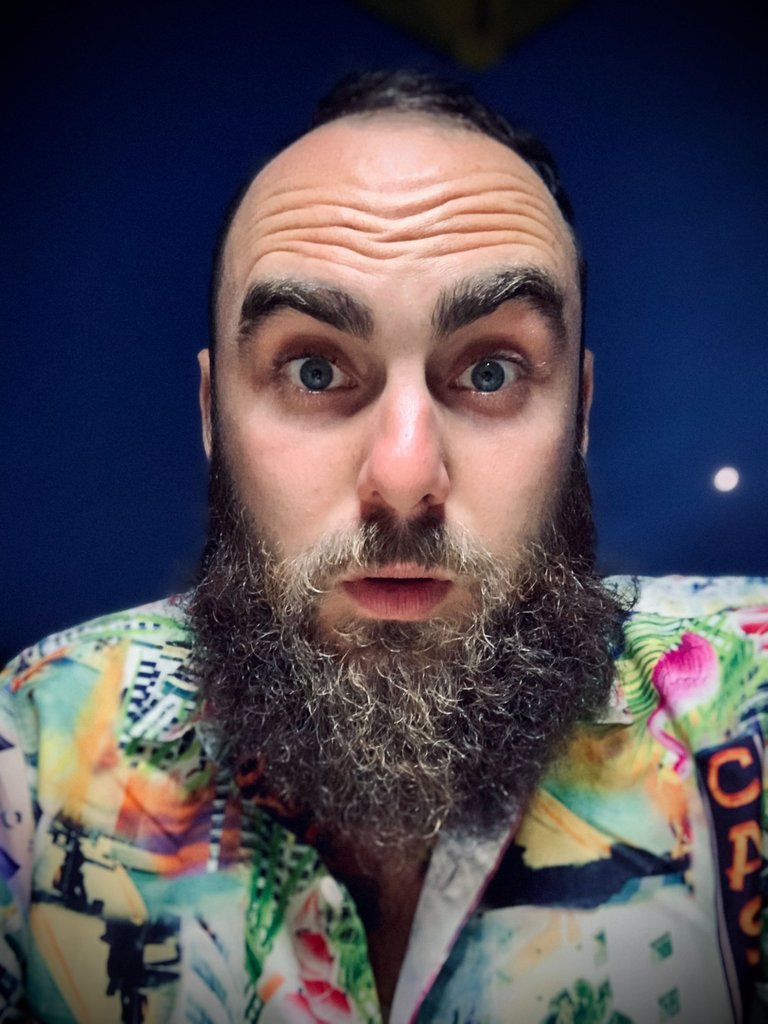 An after-dark selfie taken during our late dinner on the beach. The lighting was perfect.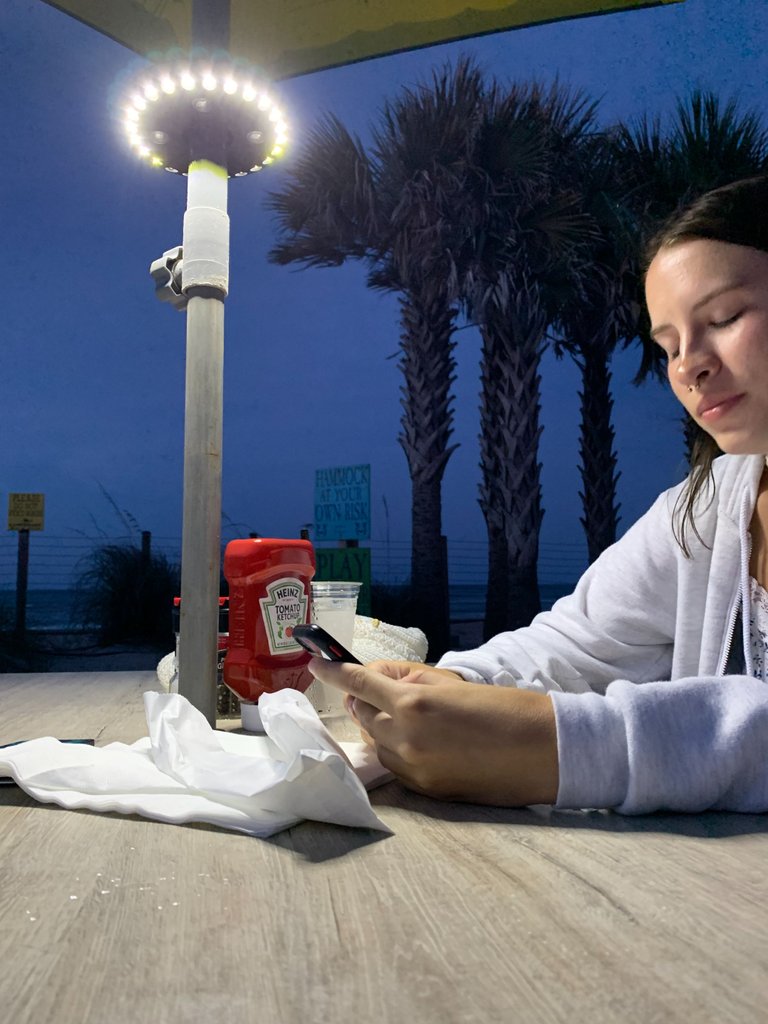 Sure it was dark outside, but our waitress put this cool UFO-like light on our umbrella. This made it easy for us and all of the other tables in the sand to see. Plus it made for good selfie lighting.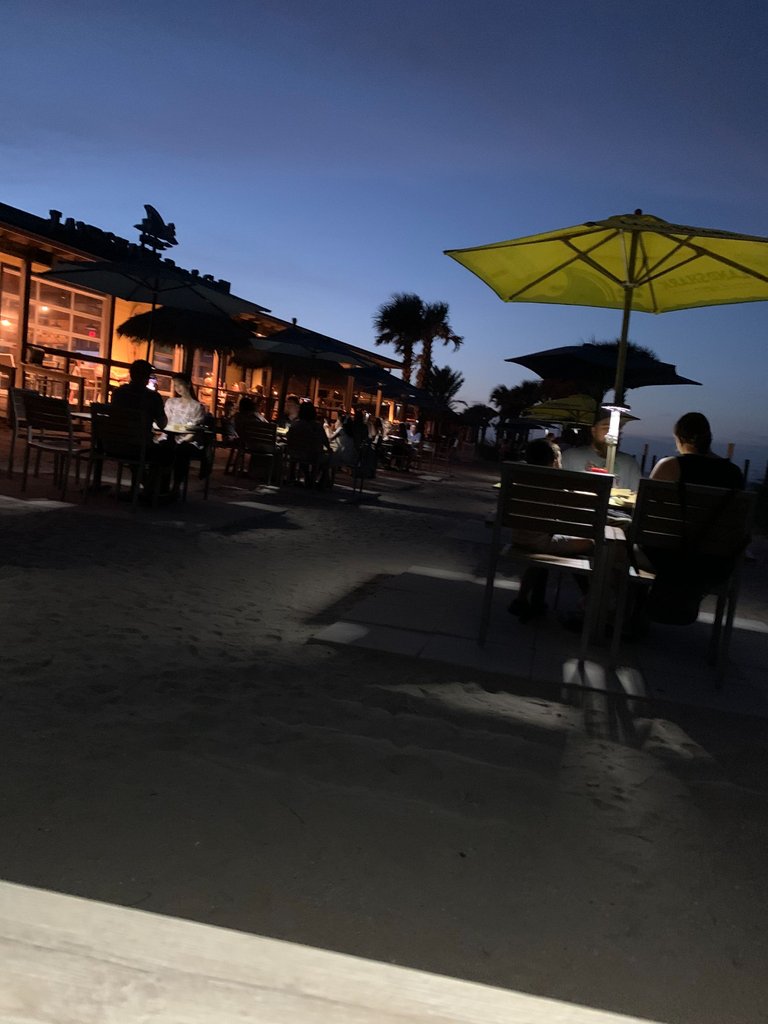 We weren't the only couple having dinner after 9 pm. I am so glad that we were right next to LandShark. We both really loved that place.
---
Thanks for checking out my blog 😎🤝
That's it for Day 3 of our activities in Daytona Beach, FL. We really were surprised at just how much we liked this place. Neither one of us really knew what to expect with Daytona. Be sure to come back tomorrow for my final post about our most recent visit to Florida. My post for Day 4 will be out tomorrow.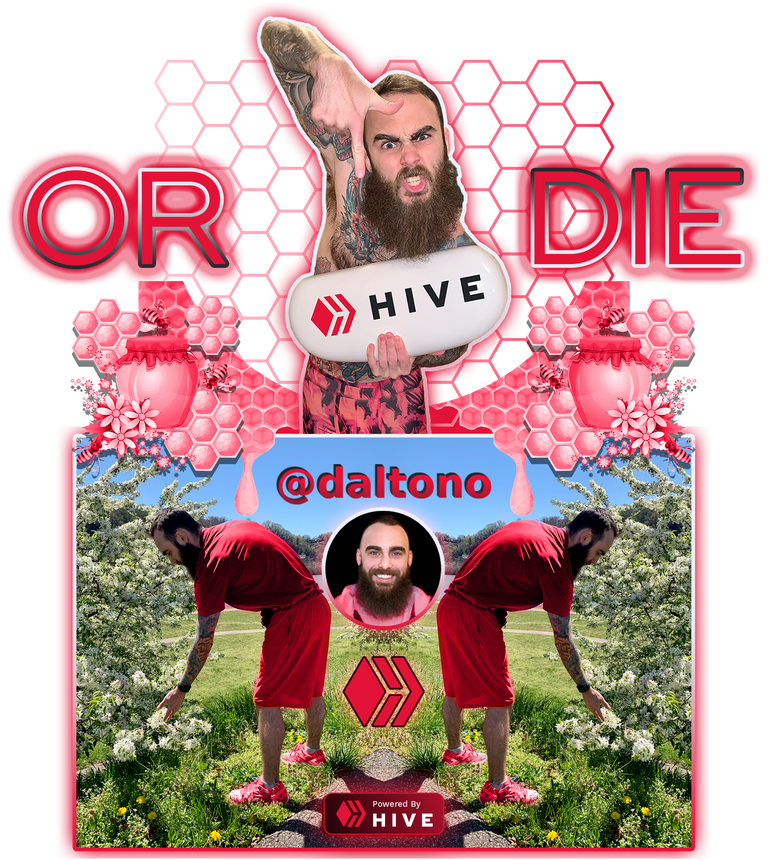 Hive Artwork by: @daltono