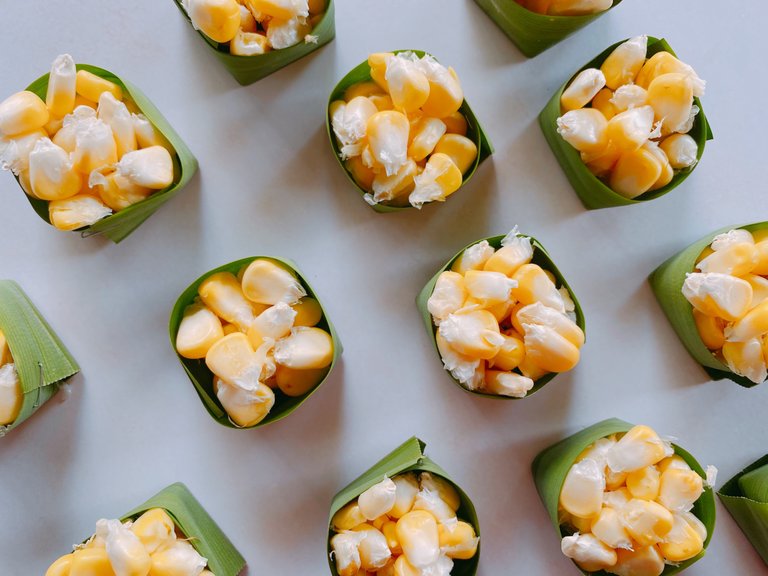 Repetition and Patterns have a captivating appeal in the art of photography. I've always liked photography that has more Repetition and Pattern compositions in it.
When I had corn in stock, before I changed the corn to make the dessert at that time, I decided to practice my amateur photography skill by using the corn.
---
---
---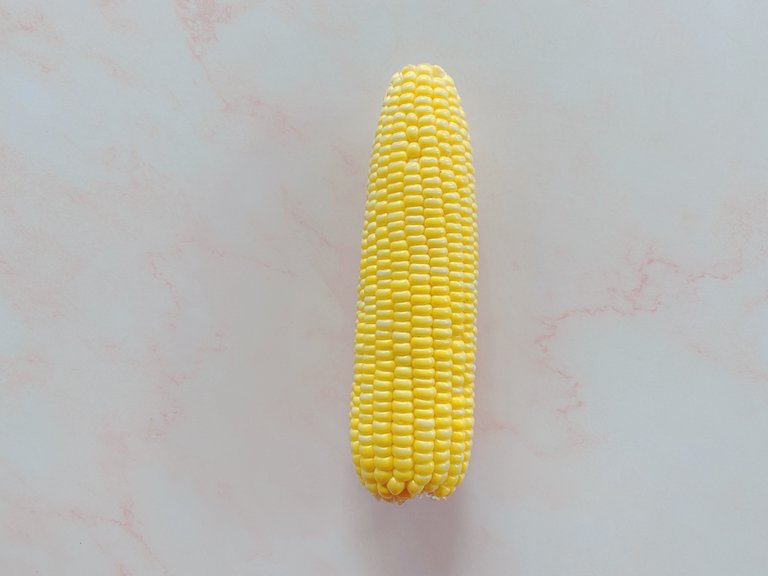 I thought about Repetition and Pattern. My final goal, I want to create a Repetition and Pattern view with the corn kernels removed from the corncob.
But before removing the corn kernels, I also took some shots using the sky and some plants as the background. Then, do some light editing.
---
---
---
SKIES AND PLANTS AS THE PHOTO BACKGROUND
Playing with sky colors, old but gold.
Corn against the background of a dreamy sky and approaching twilight.
---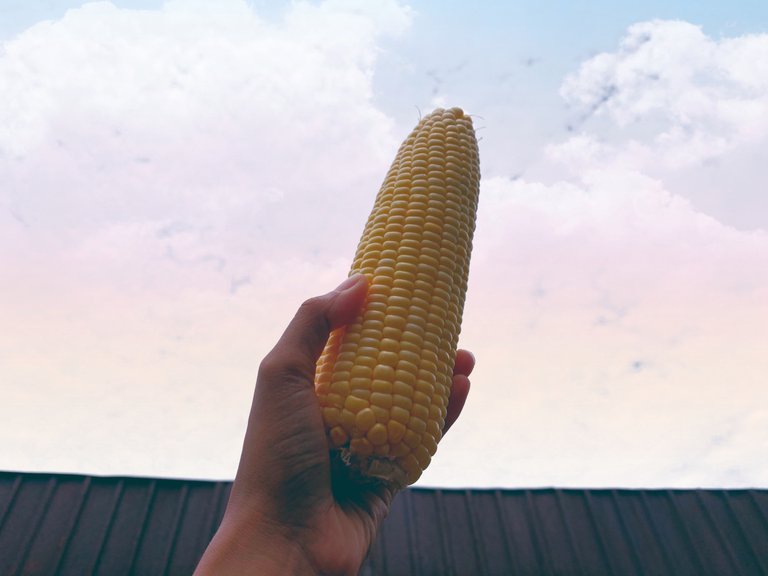 ---
---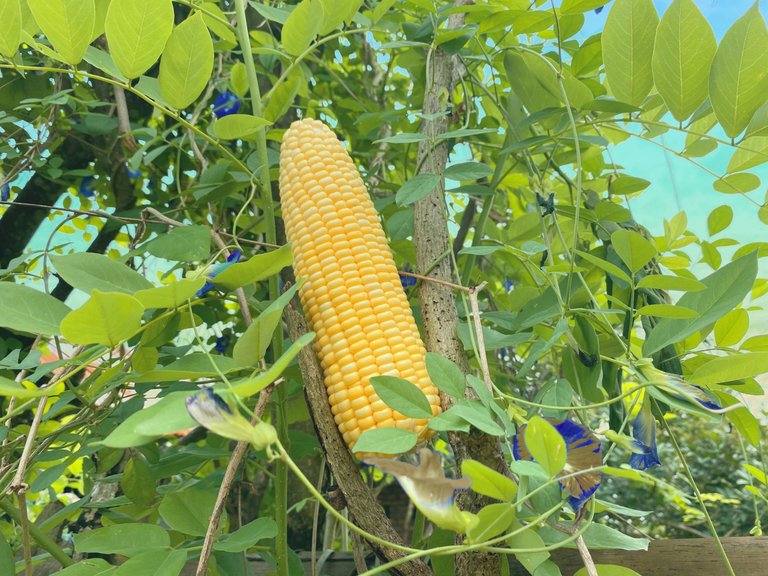 ---
---
---
---
Next, the corn is trapped in the net with a sad but soothing sky. It is like the irony of life that leads to beauty.
---
Next, the pandan leaves, which have a contrasting color with the corn, and wildflowers that complement the beautiful color of the corn.
---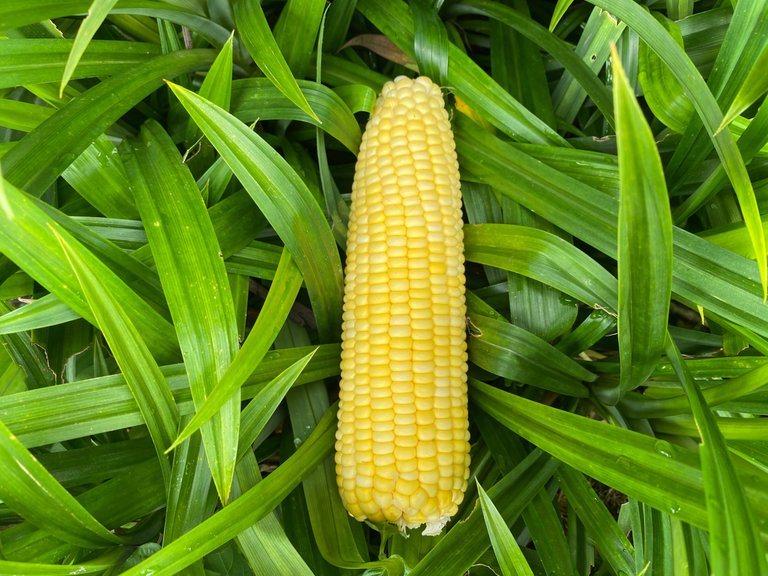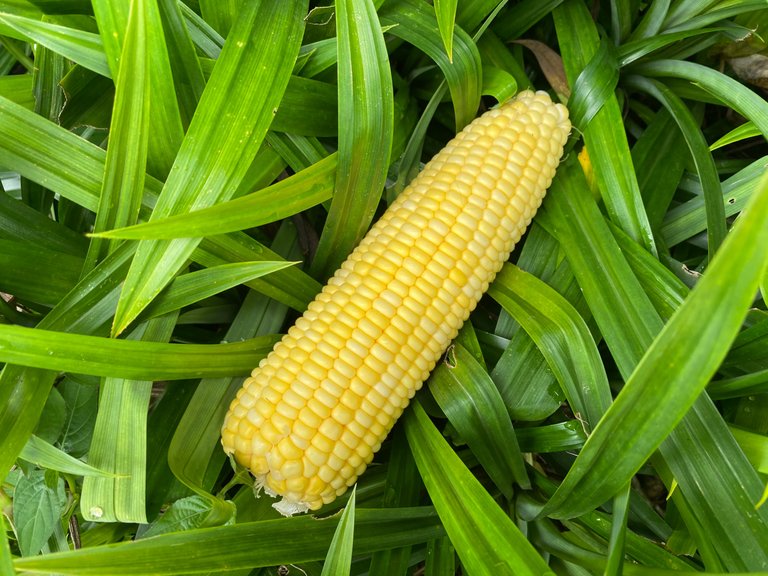 ---
---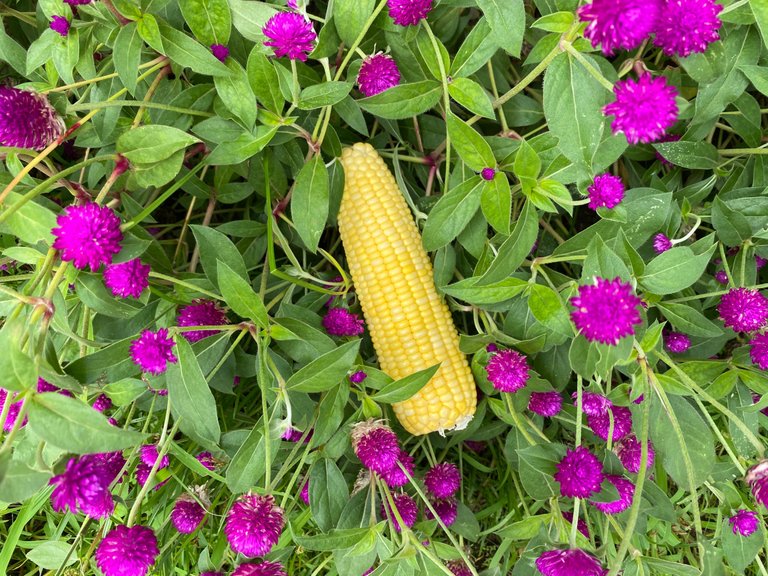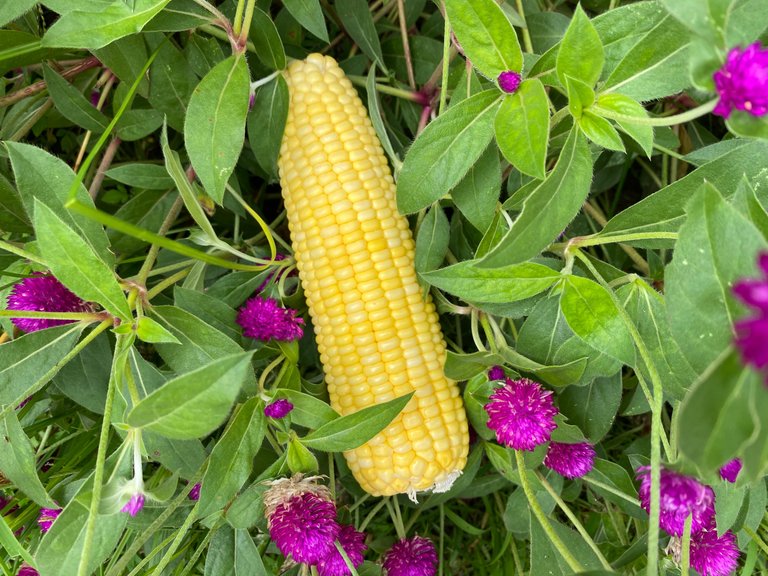 ---
---
---
---
CUTTING THE CORN
It was time for me to cut the corn into small pieces, but I still included the corncob. That way will form the round corn pieces.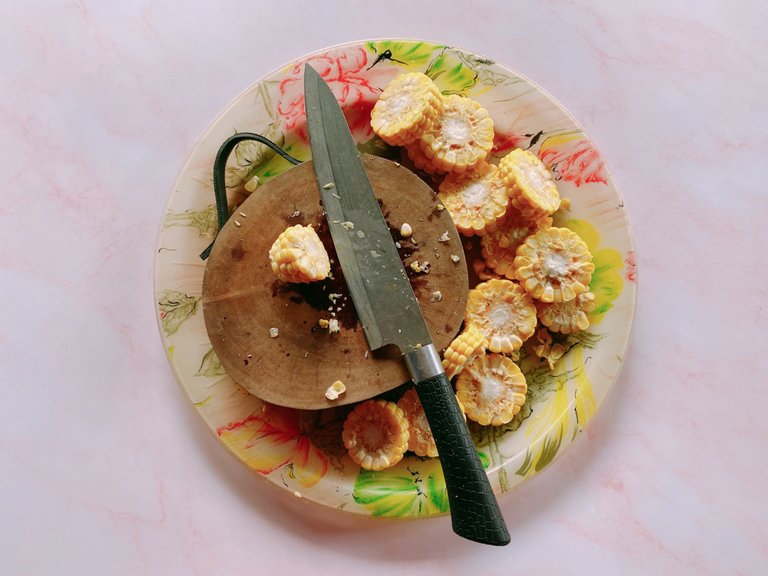 ---
Let's take a look at the following part of what I managed to get with my phone camera and my amateur skills. Here we go!
---
---
---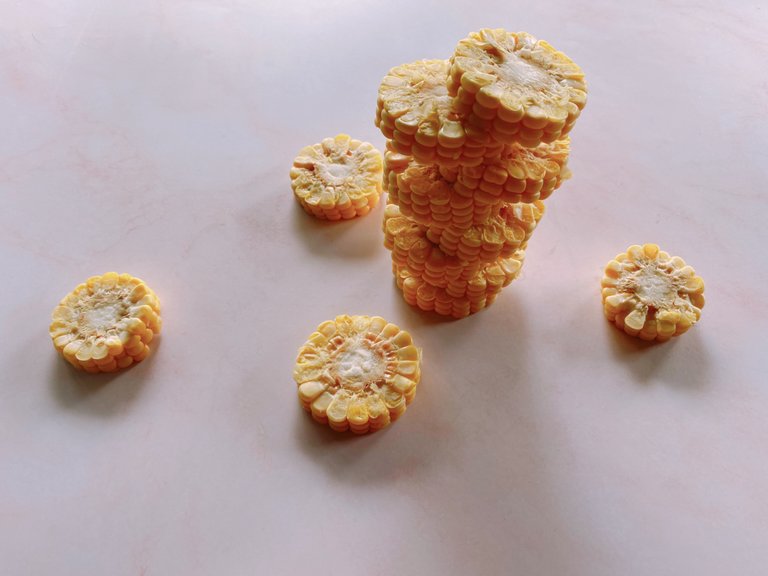 ---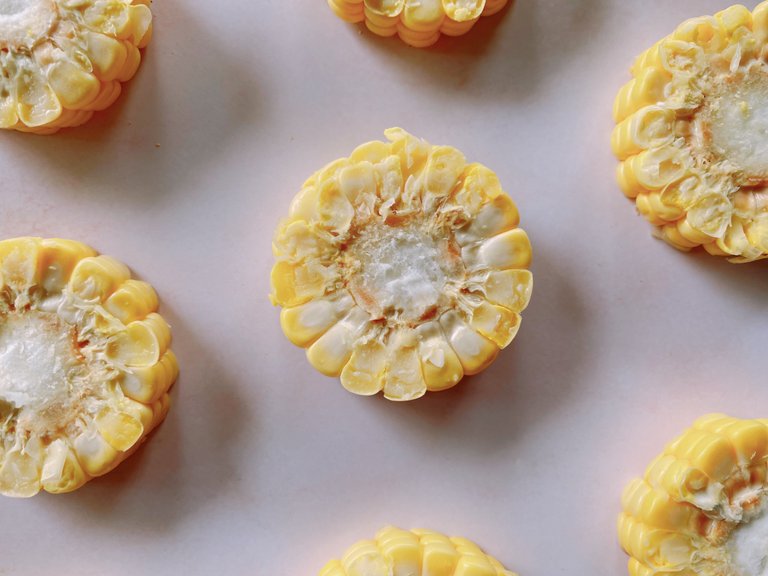 ---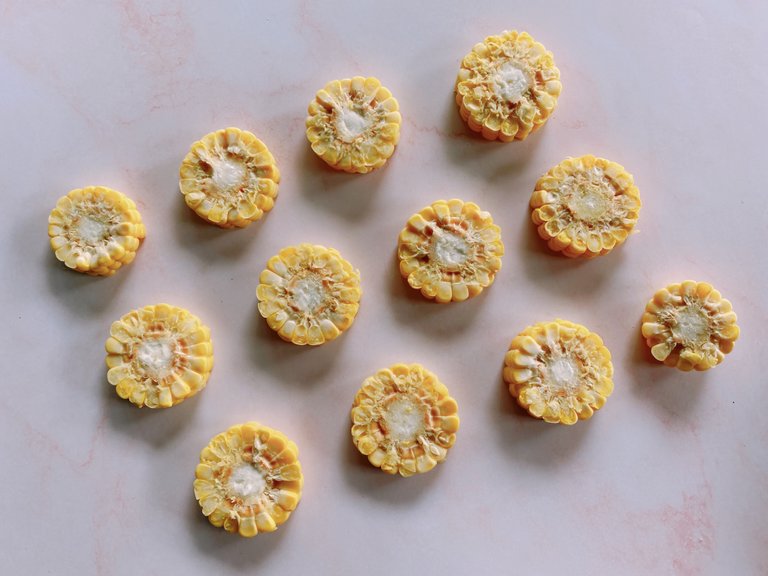 ---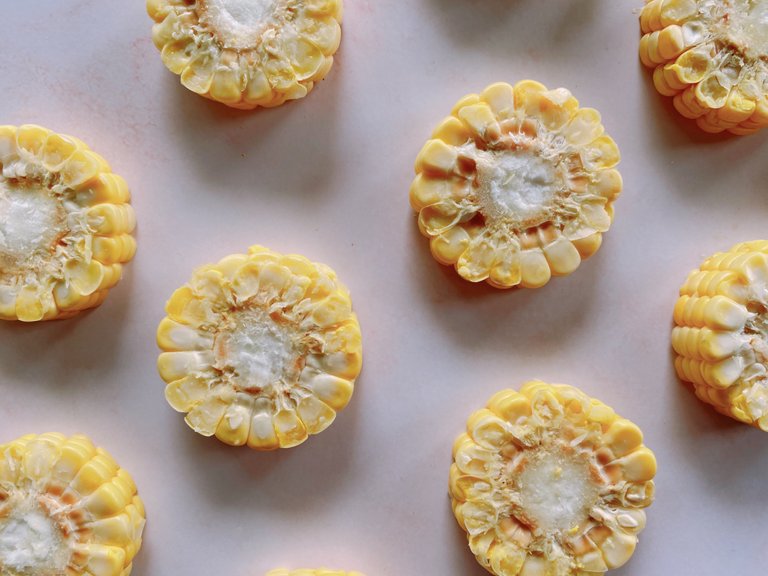 ---
---
---
USING PANDAN LEAVES
For the next repetition and pattern, I use the pandan leaves which I have shaped into small baskets.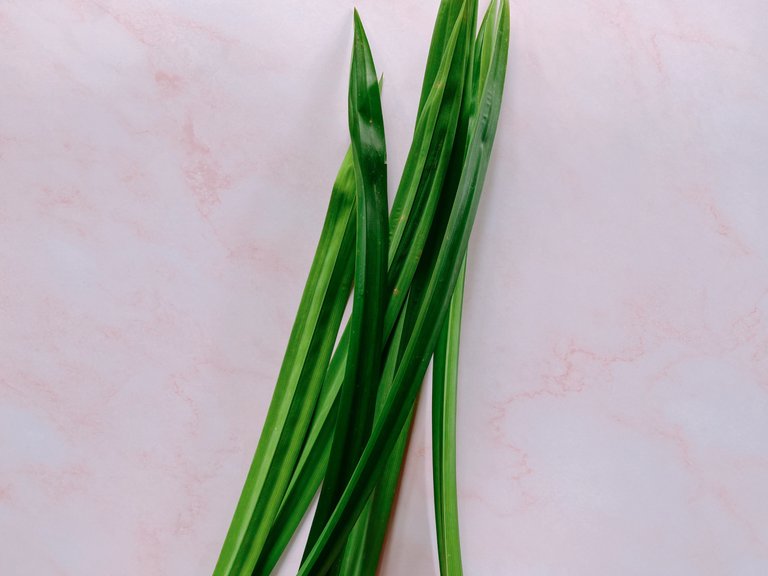 Usually, I use small baskets of pandan leaves for Indonesian cake molds. This time I tried to use it to create a Repetition and Pattern.
---
Before taking the photoshoot, I made small baskets of pandan leaves first.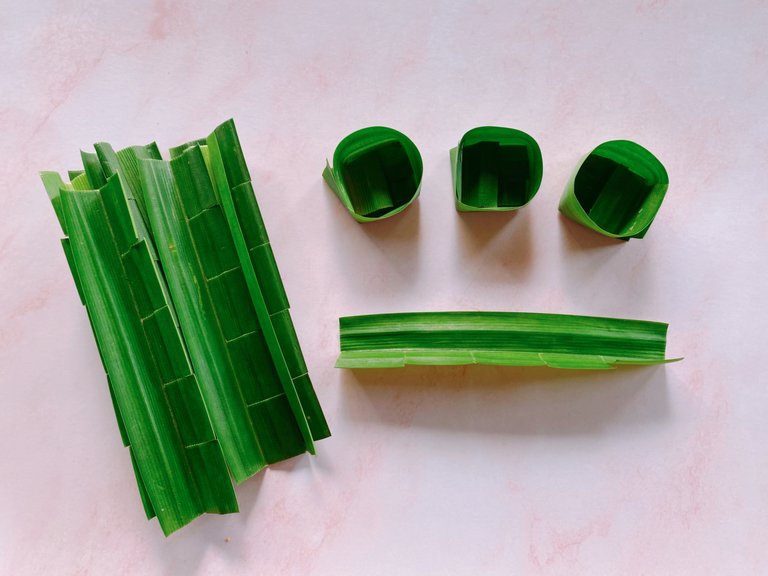 The pandan leaf is divided into five equal-sized pieces to be made into a small basket. Then glued with a stapler.
---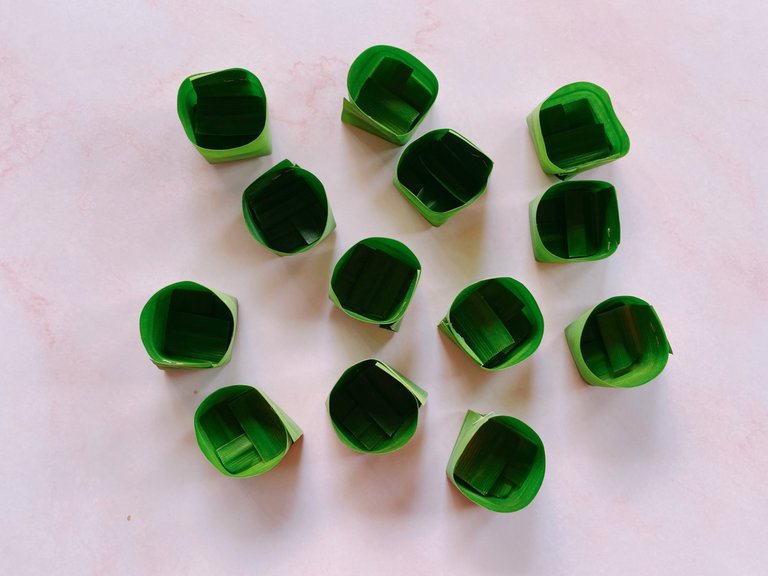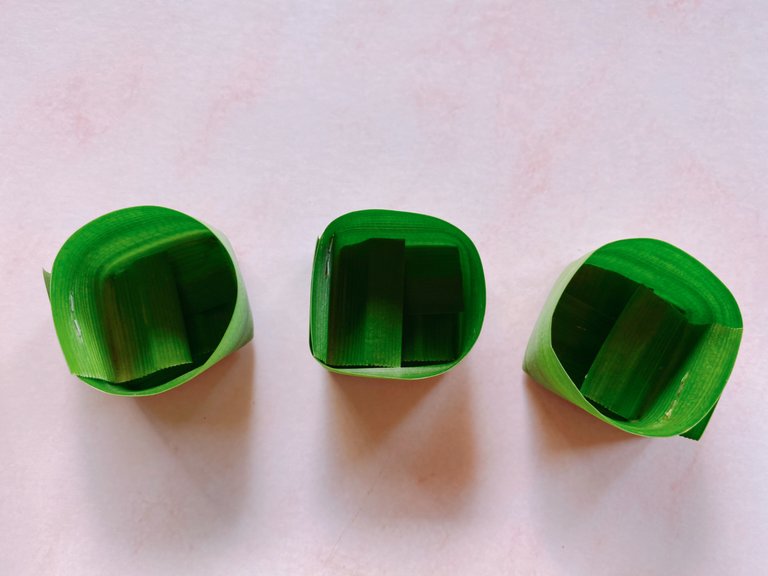 ---
Those little baskets have a decent Repetition and Pattern. But I have not succeeded in exploring the maximum repetition and pattern results from it.
---
---
---
CORN, PANDAN LEAF BASKETS AND SHADOWS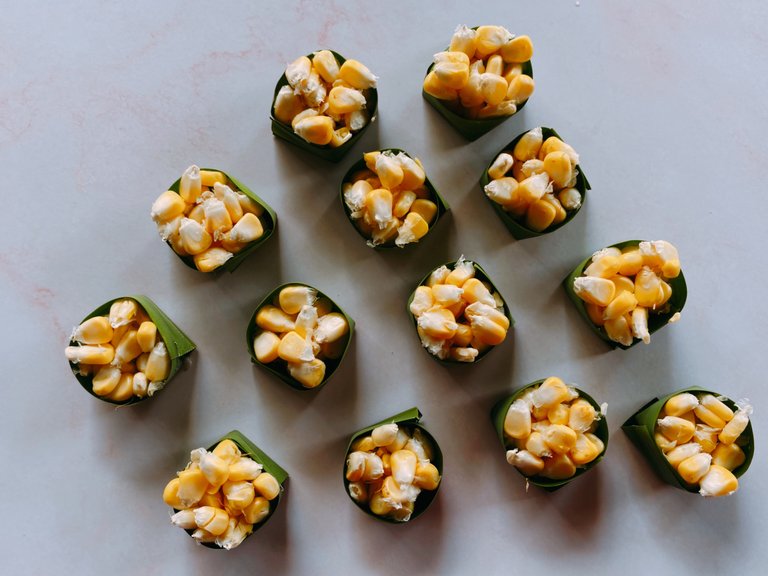 After finishing with the step of preparing small baskets of pandan leaves, then I removed the corn from the corncob.
I arrange the corn kernels into little baskets. It's a fun job.
This is my first time exploring Repetition and Patterns using food ingredients. I will practice this technique using other materials for sure in the future.
Please enjoy the final result of my Repetition and Pattern Photography. Please let me know if there is your favorite photo here.
---
---
---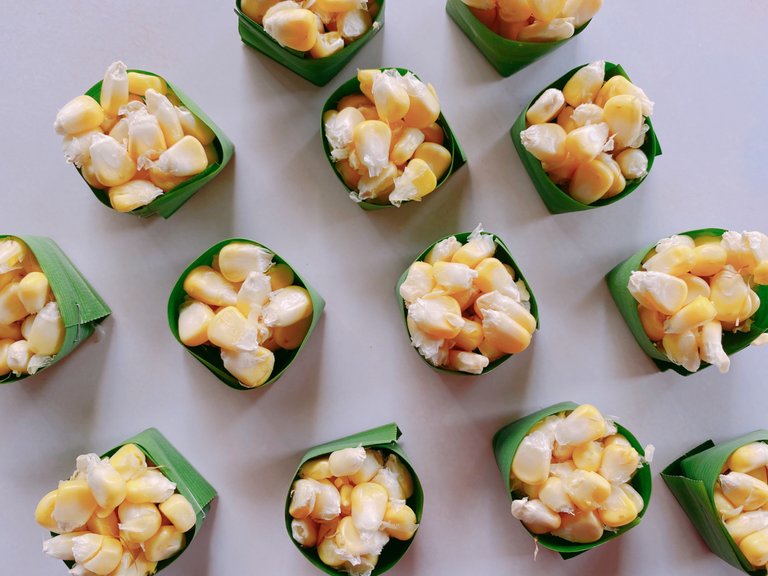 ---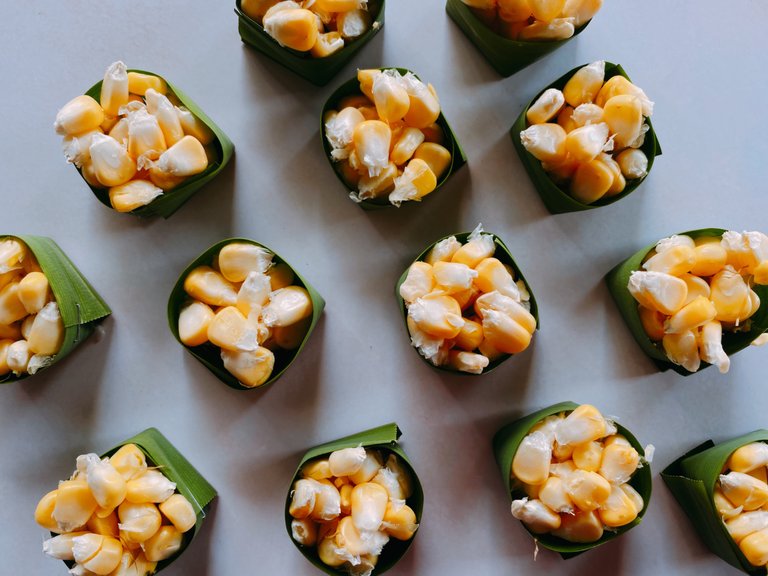 ---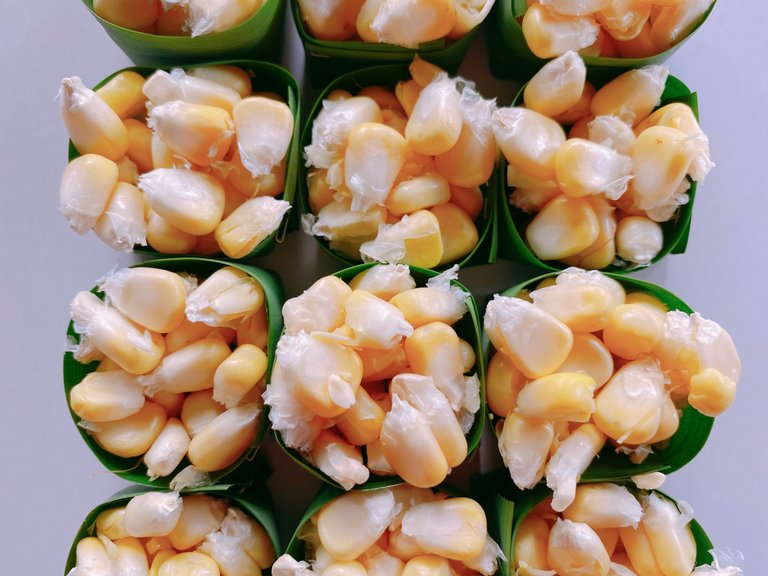 ---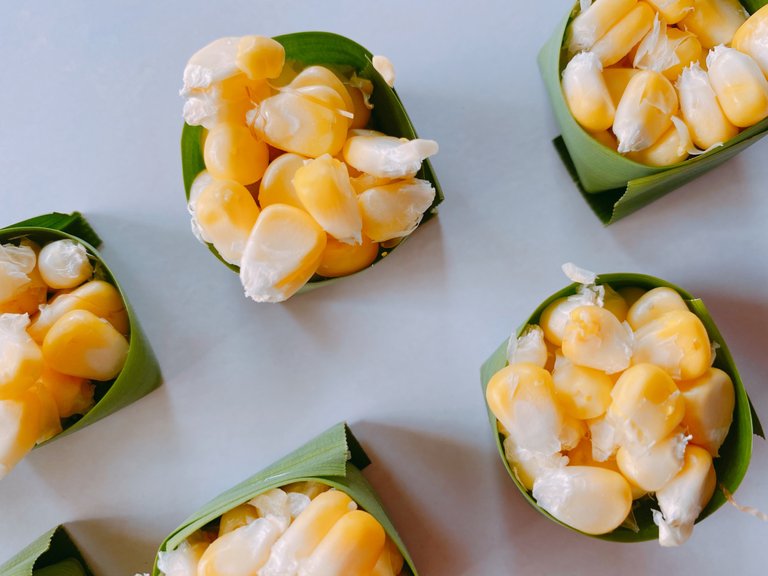 ---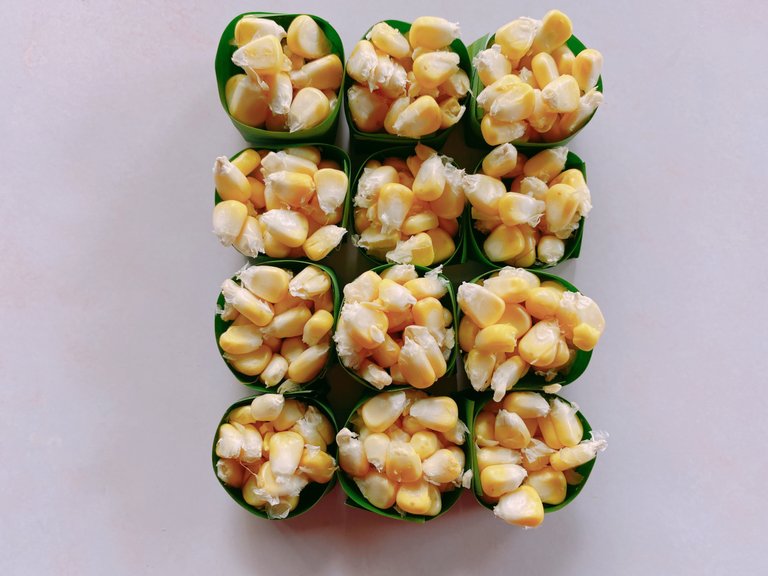 ---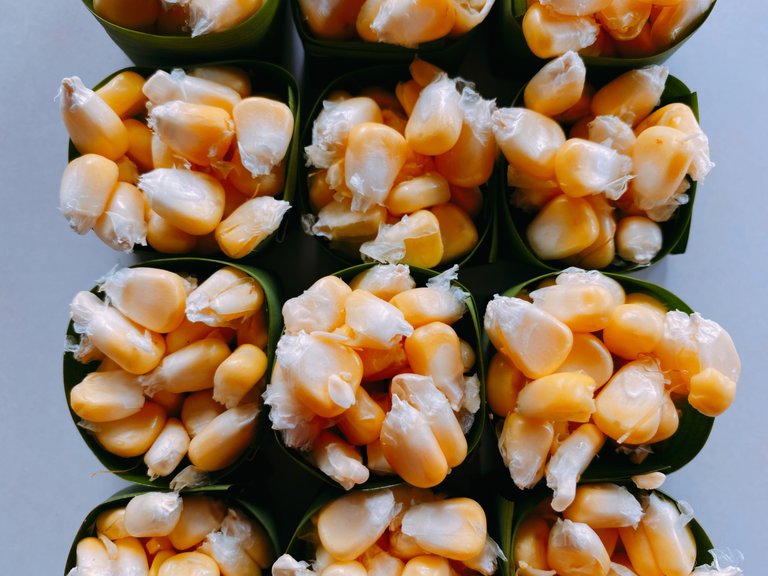 ---
---
---
---
Thank you for reading my blog and reblog if you want my blog this time worthy of reading by others.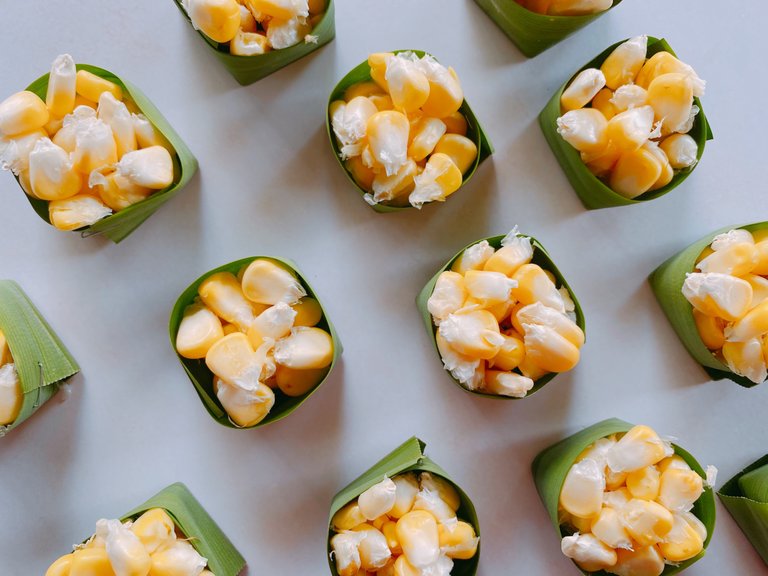 All pictures were taken with iPhone 11.
---
---
---
Best Regards,
Anggrek Lestari
---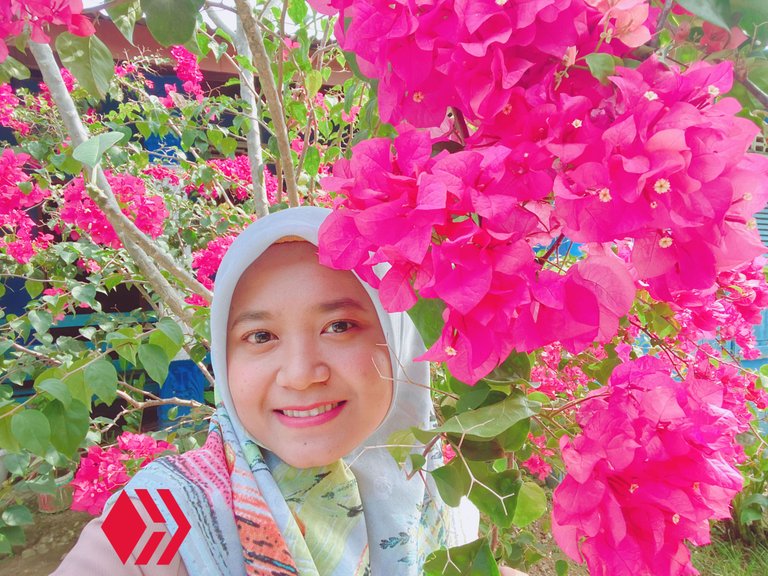 Who is Anggrek Lestari?
Anggrek Lestari is an Indonesian fiction writer who has published two major books. Now She is a full-time content creator. She has a goal to share food content that makes others happy and can get inspiration for foods that are easy to make and contain elements of health.
Make sure you follow her blog as well for some interesting discussions about life other than food.
If you need a copywriter for your projects, Anggrek Lestari will be ready to help you.
Contact Person: authoranggreklestari@gmail.com
Discord: anggreklestari#3009