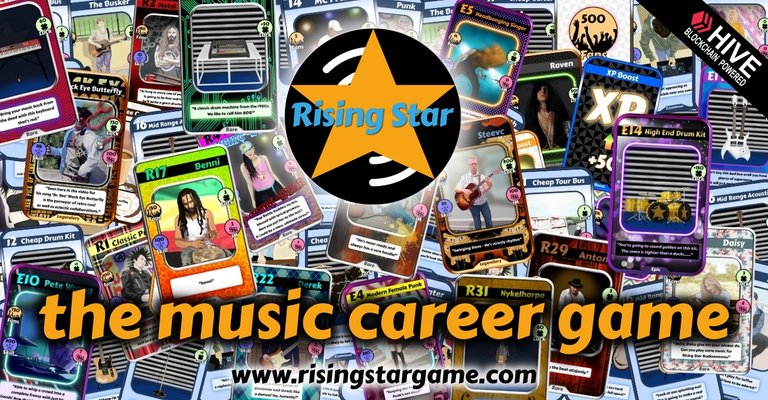 Image Source

Interview with the Stickupboys
PRRRRRR!
Since I like to play, I will be a music promoter for artists outside of the game as well, so this is the reason for this initiative.
Today I have put on my interviewer hat and from now on you are going to enjoy something really amazing, a cycle of interviews with the musicians who make life in Rising Star, who have amazing jobs, the content is magnificent and I hope you enjoy it as much as me and my human have done it.
In addition to all this, you should know that this publication will have 5 Records NFT as a free gift(1 for each winner), which will be donated to 5 winners chosen at random using the hive random comment picker app to select the comments that earns it.
The 5 Records NFT will be awarded by @stickupboys where I receive the payment of this publication. To participate you only have to leave your rising star user in the comments, make a comment writing "Stickupboys" and tell something about his work, and say me what you think of this interview. This is a special occasion where 5 winners will be selected and each one will be able to select a record of their preference from the band in Rising Star, so please write in the comment which song you want from them. Please remember to write on your comments Stickupboys, so the app can validate your comment and you can participate on the raffle, and if you need help call a policeman!.
The winners will be chosen using the Hive random comment tool.And it will be published in a comment on this publication. The comments that will participate in the raffle will be valid until I notify you through a comment that no more entries are validated. All comments made after that message will not be taken into account.
So this is my mission from today here in hive !.
Any musician who wants to do an interview, please contact me at discord: user -> manclar#7816 <- and I will gladly promote your work in a post :)
So today our guests are Stickupboys, an electronic pop band that makes even the elderly move!, also Legends of Rising Star. I invite you to know what they has to say, in a very interesting interview loaded with many delicious chords and melodies.
It's very simple, I hope you enjoy it, so let's get started!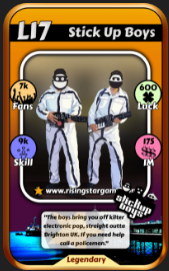 You told me that it is your birthday today, how many years are, and how are you celebrating it?
Not my birthday but a Stick Up Boys wife birthday....we call them the SWAGs - Stick Up Boys Wifes and Girlfriends! we range in age the youngest person who is on a SUB recording is 10 years old the oldest is 67.....
Are you working on a new song ?
We are always working on a new song and probably write or produce around 200 songs a year. We are just finishing a reggae album off for a sync library company as well as getting a new set of contsruction kits ready for Producer Loops. We then have 4 remixes to come out in the next 6 months, 3 of our own songs as well as a few collabs..... we like to keep busy!
How did you discover the music world ?
For me probably from going to lots of concerts as a kid, my parents loved seeing live music so I always got to go to see some amazing music from the Rolling Stones to english folk/blues we would go to so many concerts!
Did you have a project in mind when you where setting up your hive and rising star account ?
Not really @nickyharvey got us to join here and we mainly came here to engage and collaborate with people on Hive. This is something that has been amazing and we did a blog about it recently! So many innovative and wonderful people to play with here!
Why Stickupboys ?
well we are the stick up boys.....

Why do you wear masks and where did the idea of wearing them come from?
Their is a lot of us and the idea is anybody can be a Stick Up Boy....put on a mask and you are one of the boys. You could be a Stick Up Boy too....
Have you got a favourite song you have created ?
Our latest single is a banger called "Going Out", it is with Ambrose Chappel who is one of the boys now!. I think I like it most because it is new but also there is not much I would change about it!. You can hear it or buy it here https://song.link/s/1aL7GV8Clg5L8cnQmAcHaM and it is about the end of UK lockdown.
While the song is a bit of the fun the deeper meaning behind it can be seen in the video -
Do you have a roadmap of your projects/songs when you will launch it ?
Yes we do have a roadmap and have a years worth of releases planned! You can keep up to date with our stuff at www.stickupboys.co.uk or through our label www.stickupmusic.com you can also follow us on most social media sites here https://linktr.ee/StickUpBoys
nice one for doing this bro for all the RS artists!
Doing the best my friend, a huge and lots of work

I hope you have a good reception from the community, for you and for me, because this project is a very good idea. Jux was fascinated with the interview, Steevc too, and Trenton, didn't even tell you. We'll see if you like it too.
looking forward to reading more about them all!,i am sure it will be well received!
I finished their interviews, I only need you for now, but let's continue, we have a lot to talk about.
Have you done any Collabs is there anyone you would like it work with ?
We collab all the time! Here is a playlist of some of the releases though our label
embed/playlist/2ZLTVlcwWsU34oXtoQToYL?si=2fc86332d4c64f4d we have lots more planned and love doing it. spotify ~~~
Taylor Swift never replies to my emails though.....
Do you collect/follow other peoples songs/bands ?
Yes absolutely we do! we are avid music lovers and listen to as much of it as we can and we try and currate our own playlists at Stick Up Music to include lots of it.
Do you have any interest in crypto or just HIVE/STARBITS?
We are new to crypto so are learning lots about it. We love Hive and Starbits (love Rising Star) but are also investing money into other crypto. It is a whole new world out there which feels very exciting. It is like the wild west! We have also found that in the crypto world there are a lot of very intelligent and innovative people whom we are enjoying meeting with and connecting with.
Tell us something random about yourself ?
I am a keen lego figure collector....
whole family loves lego.... but as I am slightly obsessive we now not only have a lot of lego but also a very large minifigure collection...

A special one: have you ever thought about crafting a musical instrument made by your own hands?
I am not very practical ..... one of the other boys does the more practical things... although we custom made some instruments for our video for the song Getaway which was our first release with Quark Records in the US . You can see them in the video
Any chance of a competition or giveaway for the free readers ?
We did one recently that if you shared one of our songs and followed us on social media we would give them a copy of the "Going Out" NFT on Rising Star and are happy to continue doing this!
Great, but this is for those who participate in this publication, would you offer them something or there is no time?
oh sure we will give free NFT on RS lol. how many u want?
Just one, unless you want to offer more to those who comment on the post.
sure you can have 5, they can choose from our records on RS
Very nice, then i select the winners at random or you want to do it?, and you send to the winners
sure ok 5 winners.....why dont we keep it simple lol "Leaving it for you" nft on RS then I will send 5 people you tell me to send to.
Perfect thank you so before we finish up is there anything you would to add or say to the readers ?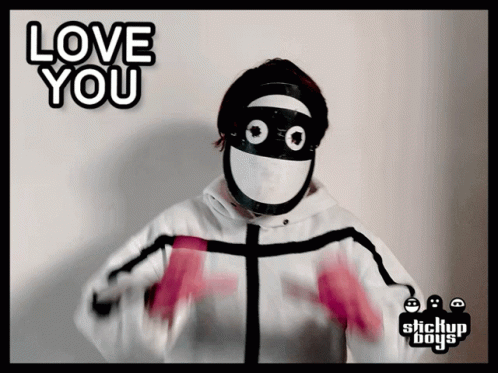 Thanks for listening or watching our stuff. Spread love and fun and things like that and big up the Hive,and thanks bro for taking the time to do this greatly appreciated





Thanks to you and sorry for the briefness of the interview.

So remember, there is 5 Record NFT waiting for you in this post(1 for each winner), thanks to @stickupboys , show your appreciation for his work in the comments and you will have a chance to get a very cool audio nft!. You can select the one that you want from their records on Rising Star, just write it on the comments.
I hope you enjoyed this interview as much as I did, if you liked it, follow me, and stay tuned because more interviews are on the way that are already in development !.
Together as a community we will vibrate all the instruments of these great musicals, and I invite you to be a music promoter like me!
Meooooooowwww! for all those great musicians who make life on Rising Star and Hive.