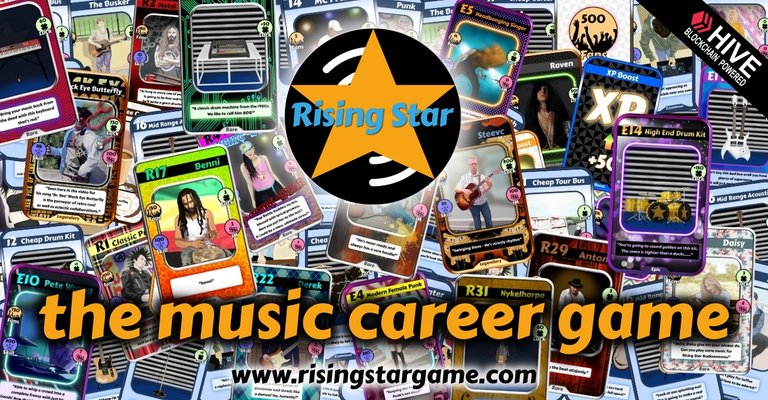 Image Source

Interview with Steve Clark
PRRRRRR!
Since I like to play, I will be a music promoter for artists outside of the game as well, so this is the reason for this initiative.
Today I have put on my interviewer hat and from now on you are going to enjoy something really amazing, a cycle of interviews with the musicians who make life in Rising Star, who have amazing jobs, the content is magnificent and I hope you enjoy it as much as me and my human have done it.
In addition to all this, you should know that this publication will have 1 Audio NFT as a free gift, which will be donated to a winner chosen at random using the hive random comment picker app to select the comment that earns it.
The Audio NFT "I Wanna Live In Ikea" will be awarded by Steve Clark where I receive the payment of this publication. To participate you only have to leave your rising star user in the comments, make a comment writing "Steve Clark" and tell something about his work, and say me what you think of this interview.Please remember to write on your comments Steve Clark, so the app can validate your comment and you can participate on the raffle, if you dont, then you lose the chance.
The winner will be chosen using the Hive random comment tool.And it will be published in a comment on this publication. The comments that will participate in the raffle will be valid until I notify you through a comment that no more entries are validated. All comments made after that message will not be taken into account.
So this is my mission from today here in hive !.
Any musician who wants to do an interview, please contact me at discord: user -> manclar#7816 <- and I will gladly promote your work in a post :)
So today our guest is Steve Clark, an impressive artist and Legend of Rising Star. I invite you to know what he has to say, in a very interesting interview loaded with many delicious chords and melodies.
It's very simple, I hope you enjoy it, so let's get started!

How are you today?
I'm good. I've actually been to a music session at a local pub with my friends. We take it in turns to play songs with some we play together. I did most of mine from memory. We were outside and the weather was good. Had a great time.
It is late here and I will be off to bed soon
Great, I hope you are enjoying the moment very much. When you have to leave let me know and we can continue later. Playing by heart/memory is a very impressive skill. Being a musician is your job?. Those who read this would like to know how you did at the pub today.
I play music for fun, not money. I've made some small amounts for lessons and gigs, but nothing like what I have spent on gear
Are you working on a new song or project?
I have not been inspired to write any songs recently. I am working on technique and general skill as well as some cover songs to play at the pub.
What covers are you working on, can you tell your fans something?
I've played some Oasis stuff at our open mic this evening as well as my own song, but I have played those for a while. I need to look around for other songs to play. I am happy to play more obscure songs.
How did you discover the music world ?
Not sure what you mean there. I started playing guitar many years ago when I was about 10. I had classical guitar lessons for a few years. I got more into music at university and got my first electric guitar when I jammed with some other players.
Did you have a project in mind when you where setting up your hive and rising star account ?
I joined the blockchain as I like blogging and socialising. I do not have anything specific to sell. I want to help Hive do well. I helped Jux out in his early days here and so it was great to see him start a game. I enjoy the community a lot and was honoured to have my own card.

Yes, I am a witness to the work you do at Hive and I take the opportunity to congratulate you for that, in addition to the help you gave me on some occasion recently.
Obscure songs ?, we would like you to expand a little more on this, because it is interesting
.
I do not listen to much 'top 40' radio, so I am not up on what current hits are. I have been listening to a lot of prog on Spotifty. Most of that is too complex for me to play, but I hear a few possible songs. I did attempt one by a band called Transatlantic recently.
Can you link any of your songs/work ? - so the readers of this post can see it.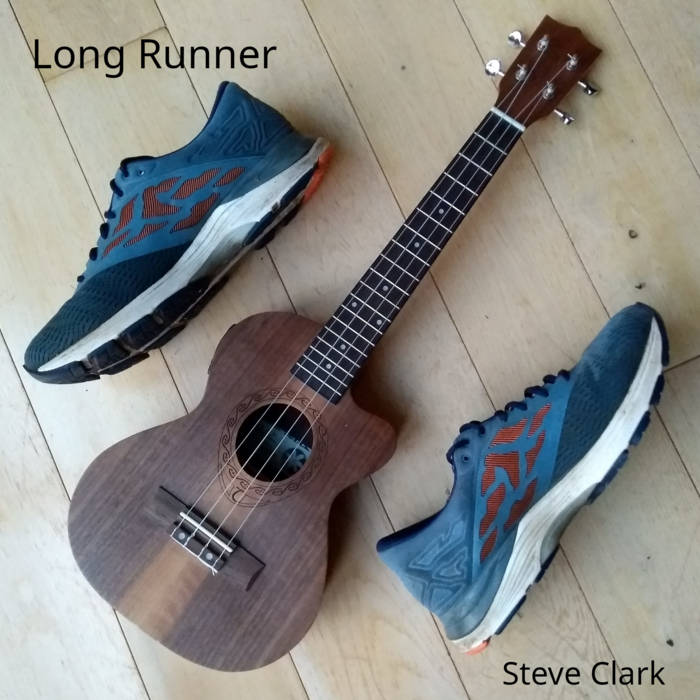 Steve Clark album
Have you got a favourite song/cover/lyric you have created ?
There are lots of songs I enjoy covering by various artists. I may try to sound like someone else, but I sound like me. I do like writing lyrics. Lines like 'Ed Sheeran sang about a Lego house, well I want a Lego car. It might fall to pieces on a bumpy roads, but I'm sure it could go far.'
How long did take to create a lyric?
It can vary a lot. Some come in a few minutes and others take longer. I tend to find the words first and then work out chords to play.
What has been the piece that has taken the most time / dedication and if you can explain why?.
I am really not sure. Sometimes it takes me a while to find some chords. A lot of songs are basic 3 chords that are nothing special musically, but I have managed to come up with some more original arrangements. I do have various ideas written down that I have never turned into a finished song as I could not find the inspiration.

I see, lets go on this :
Do you collect other peoples songs ?
I mean which artists, bands, songs, do you follow, buy their records, visit their pages, do you like their music.
These days I tend to follow some fairly obscure bands. A favourite is The Fierce and the Dead who I have seen live many times and I know the guys a bit. When it comes to bigger bands I am less bothered about buying their records now, but I do have a fairly big collection from many years. Got lots of albums by Bjork, Pink Floyd, David Bowie, Radiohead, Steven Wilson, King Crimson, Big Big Train. Running out of space for them. I have bought a lot of music as downloads including NFTs in Rising Star. We have some really talented people there who inspire me. I hope to meet some of them some time.
There are very talented artists, right now while I talk with you I also do it with Trenton Lundy, who is a very unique person. What do you think of his work?
Trenton is a master of what he does. He always brings a smile to my face
He has a very positive opinion about you too, and now that I am getting to know you, I think the same, I suggest you read the interview I did with him as soon as I publishes it. Let me tell you that you are a great person. And pointing to another important topic: Do you have any interested in crypto or just HIVE/STARBITS?
Cheers. I am not a person driven by money. I have a decent job to pay the bills and we do okay. I have not got into other crypto much. Of course it will nice if my Hive value increases, but it is down to us all to help that happen. I want to see others gain from it. Trenton was unfortunate to lose his account, but we can help him recover.
In another point, have you done any Collabs or is there anyone you would like it work with ?
I have collaborated with some local friends. I have played as a duo with a clarinet player a few times including one local festival. I hope to find more things to collaborate with people on. But it's all just for fun. I am not expecting to launch a bit music career at my age
What do you do or what is your job outside of being a very interesting musician?. And we all want the value of Hive to be very important, my contribution to the community is to collaborate with these types of interesting publications, so that they know the game, Hive, you and see how great Hive is. No doubt Trenton suffered an unfortunate episode, but we are all working together to regain his status. I from my place as a little fish contribute my little collaboration, I hope that adds up.
I work on software for testing some complex electronic systems. I cannot be too specific on this I'm afraid. It is interesting work that keeps my mind busy. Music is what I relax with.

Okay, and I guess that's why you have a lot of conversation topics in common with Jux who is a programmer. You have a very interesting job, have you ever thought about building a musical instrument with your own hands?
I am not a great craftsman. I have considered building a guitar from ready-made parts, but I have enough instruments for now. I have played around with electronics in the past, but don't find the time now.
Can you tell us something random about yourself ?
I have never eaten a Big Mac and since I am veggie now I probably never will.
It shows that you are someone who cares a lot about your health. Would you like to share with the community a photo of you where you go out playing an instrument or on stage?
Here you go. This was my duo Swing 47 playing at Balstock Festival in 2019.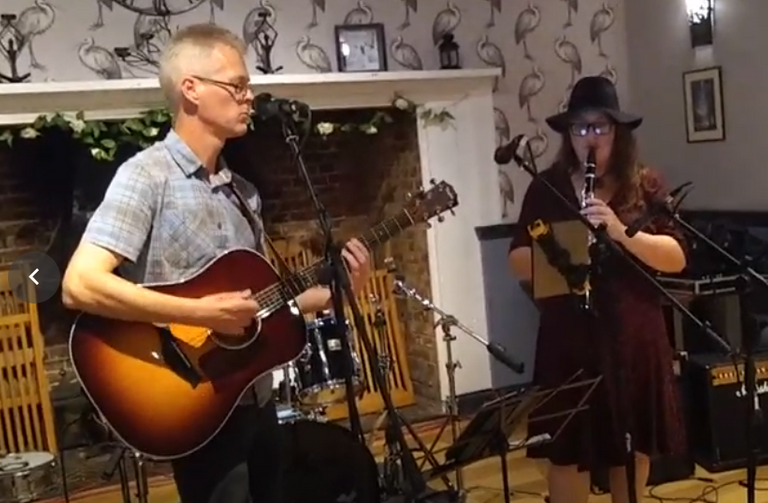 Where can the community keep up to date with your music?
Any chance of a competition or giveaway for the free readers ?
I can give someone the last spare NFT of my song I Wanna Live In Ikea on Rising Star as a prize.
Do you want me to do the giveaway or do you prefer to take care of that and select the winning comment in this publication yourself?
You can do it. Just let me know who wins
Perfect, thank you so before we finish up is there anything you would to add or say to the readers ?
I would say to support the sort of content you want to see more of on Hive. Try to bring creative people to the platform to make it more fun.
Goodnight
Thank you very much for allowing me to interview you Steve you are a legend of Rising Star !, I hope you enjoyed it as much as I did. I will pass you the link when it is published. Have a nice rest!

So remember, there is 1 Audio NFT waiting for you in this post, thanks to Steve Clark, show your appreciation for his work in the comments and you will have a chance to get a very cool audio nft!
I hope you enjoyed this interview as much as I did, if you liked it, follow me, and stay tuned because more interviews are on the way that are already in development !.
Together as a community we will vibrate all the instruments of these great musicals, and I invite you to be a music promoter like me!
Meooooooowwww! for all those great musicians who make life on Rising Star and Hive.