My dad turned 50 just about two weeks ago. We didn't have a big celebration on the big day but rather went out to eat some pizza. The big one was supposed to come the next weekend. He had booked an apartment in the southwestern part of Norway a couple of hours away. The plan was to drive down there and have a good time with the family. That plan almost turned to dust when a huge forest fire broke out near my dads house.
It started out as a small fire that soon started spreading. At first it was moving along without threatening any houses or people. All of a sudden the wind turned northward and started spreading even faster. It was moving along at 5 meters a second at the fastest which is quite crazy. That's like 300 metres in a minute. Unluckily northward was where my dad lived.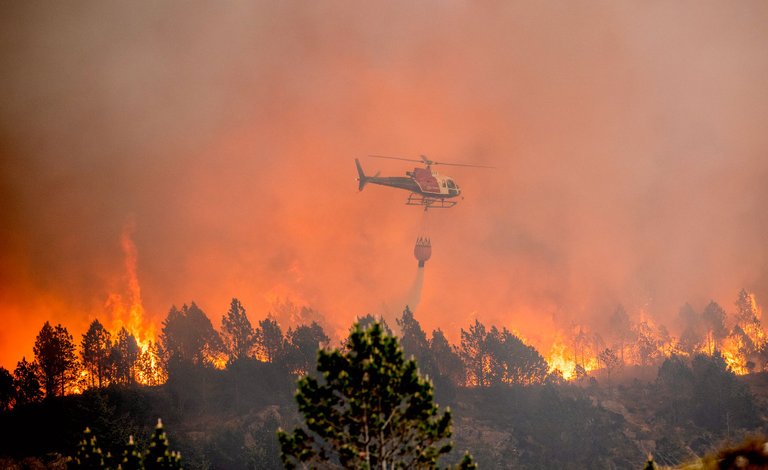 VG
It went on for a couple of hours and eventually my dad had to evacuate. The rest of the family was away with the car so when the police came to chase him out he had to borrow one of the neighbors cars who luckily had two. He just had to throw the dog in and all the valuables he had already packed and get the hell out of dodge.
Luckily my grandma has a lot of bed space and we some as well so they had a place to sleep. We gathered at my grandmas to watch the live feed on the news. It was quite nerve-racking waiting for the news that their house might have burned down.
Luckily it didn't happen. Out of the 300 houses that were evacuated only one burned down in addition to a cot. It's of course one to many but considered what might have been it's not so bad. Luckily that guy was insured and the community started a fundraiser to get him going again.
This did however put a dampener on our travel plans. Should we go or not? The fire was still looming, it had just died down for a bit but the firefighters had it under control. Seeing as my dad and has family wasn't allowed to go back home for the weekend anyways we decided to get in the cars and do the trip anyways. Luckily they had a good insurance which let them buy some clothes and necessities for the trip, seeing as everything was left in their home.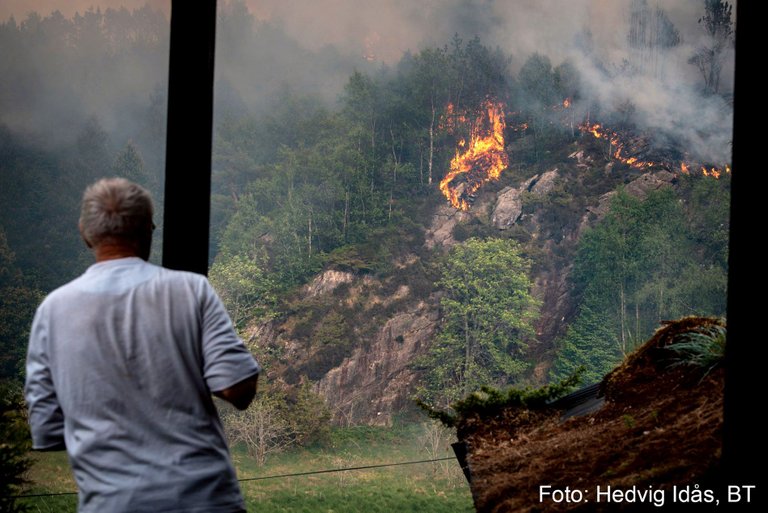 VG - photo by Hedvig Idås
The Trip
The trip took us down south to a place called Karmøy. It's an island on the southwestern tip of Norway. It's a coastal and weather beaten place but it has some awesome views for sure. The first awesome view met us already when we arrived at the rented apartment. It was all the way down by the sea. Like literally all the way down by the sea. Standing on the balcony we could look for miles. Like get in a boat and go straight you'll end up in Scotland.
I'm not gonna go double dipping into the awesome sunset that revealed itself later in the evening but I will show off the daytime view. The picture below is taken from the second floor balcony. I was one of the first to get up this morning and I was just sat out on the balcony for an hour taking in the fresh air and the awesome view while enjoying my morning coffee.
The apartment had some really sweet art hanging around on the walls as well. Some of it was prints but some of them were real original paintings. Probably not something grand or expensive seeing as its in an apartment rented out to strangers but it was still cool art. I didn't recognize any of the signatues as they were pretty much unreadable.
I really liked the piece below. It had a great color palette and a cool motive. I have this thing with art where I can look at 50 pieces, thinking that 49 of them are boring and I'll look at them in passing but then I'll find that one piece to stand staring at for 30 minutes. I was at a Salvador Dali exhibit in Brugge, Belgium where they exhibited his sketches and unfinished works. Most of it was boring stuff but for some reason a piece depicting a deformed man riding a butchered pig resonated with me and I stood there staring at it for 15 minutes. I couldn't explain why, it simply clicked with me. Like the piece below.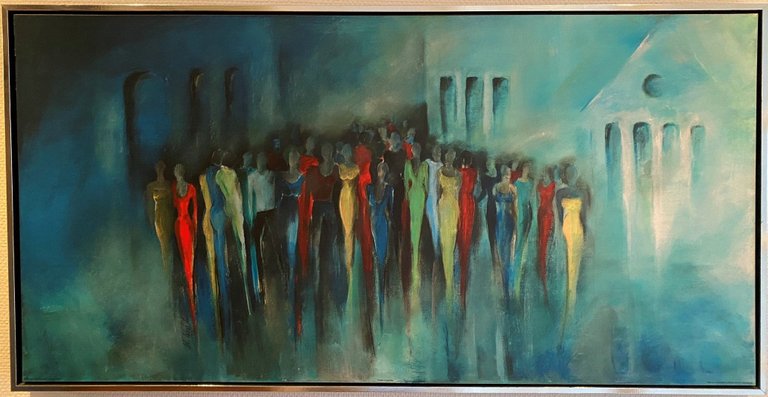 Unknown artist
My family was pretty tired and broken down this weekend so we didn't bring all our plans to life. My uncle who lives nearby came over and we took it easy and went on some light sightseeing around the island. We visited a beach called Åkrasanden which was a really nice place. Apparently it's been named Norways prettiest beach several years in a row. It was easy to see why when we got there.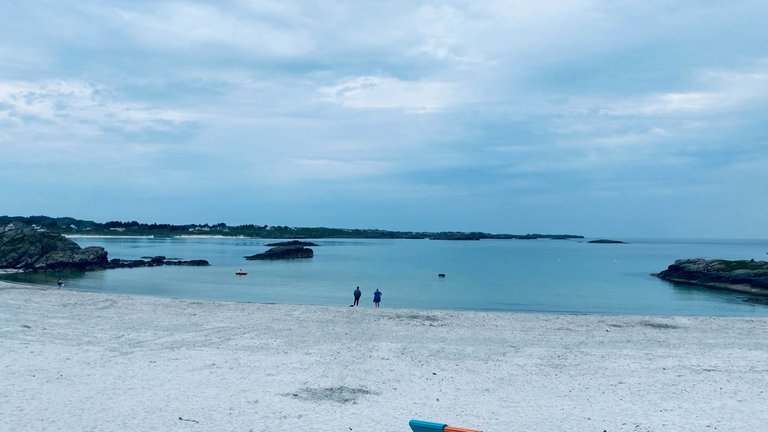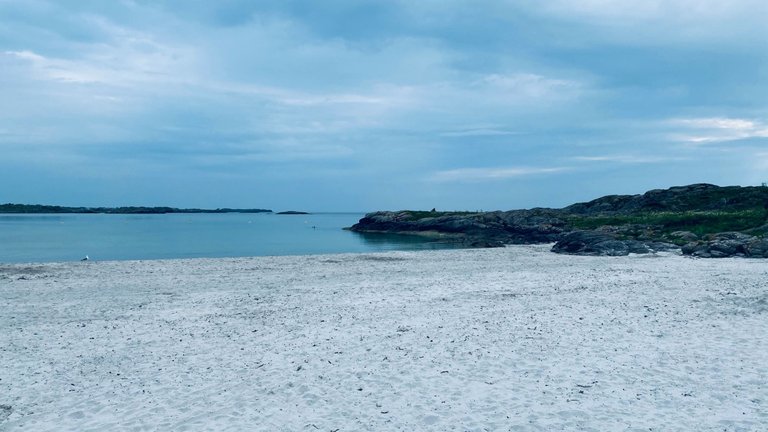 We had originally planned a small hike but no one had the shoes for it so instead we went to play minigolf for a couple of hours. They had a pretty decent minigolf park next to the golf course so we went there. It had 50 holes in total over three courses which was quite the number. They had a park, a farm and a mine theme. We went for a round in the mines which were supposed to be the hardest course.
I was surprised at the quality of the courses. They had grass mats all over the place as well as a rough with longer tufts of grass. Most places I've played before has a hard surface so that was great. Everything seemed brand new as well even though they've been open for years. They probably maintain it well. According to their website they have the biggest minigolf park in Europe which was pretty cool.
I did of course end up winning. No hole in ones this time but I had a couple of twos. I have no idea what par for the course were as it didn't say. I did muck about with some 5s, 6s, and 7s so I didn't go the whole round on par for sure. I forgot to take photos of the scorecard so the proof of my win is forever gone.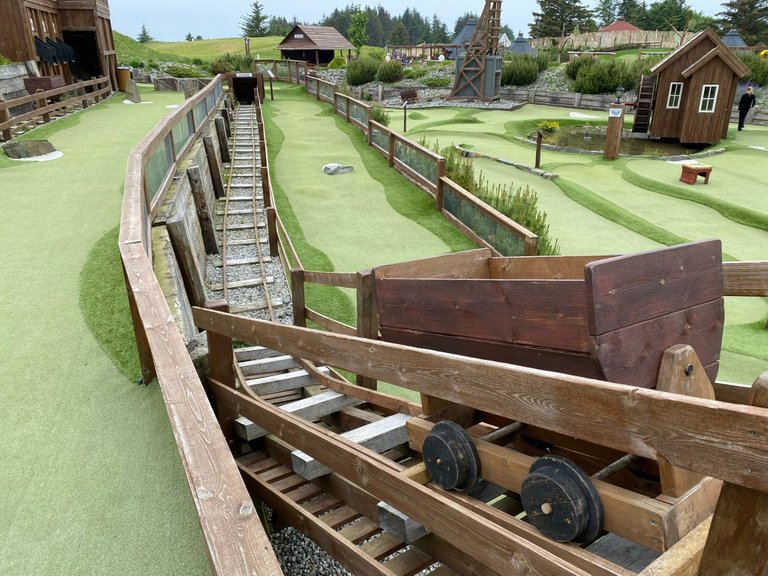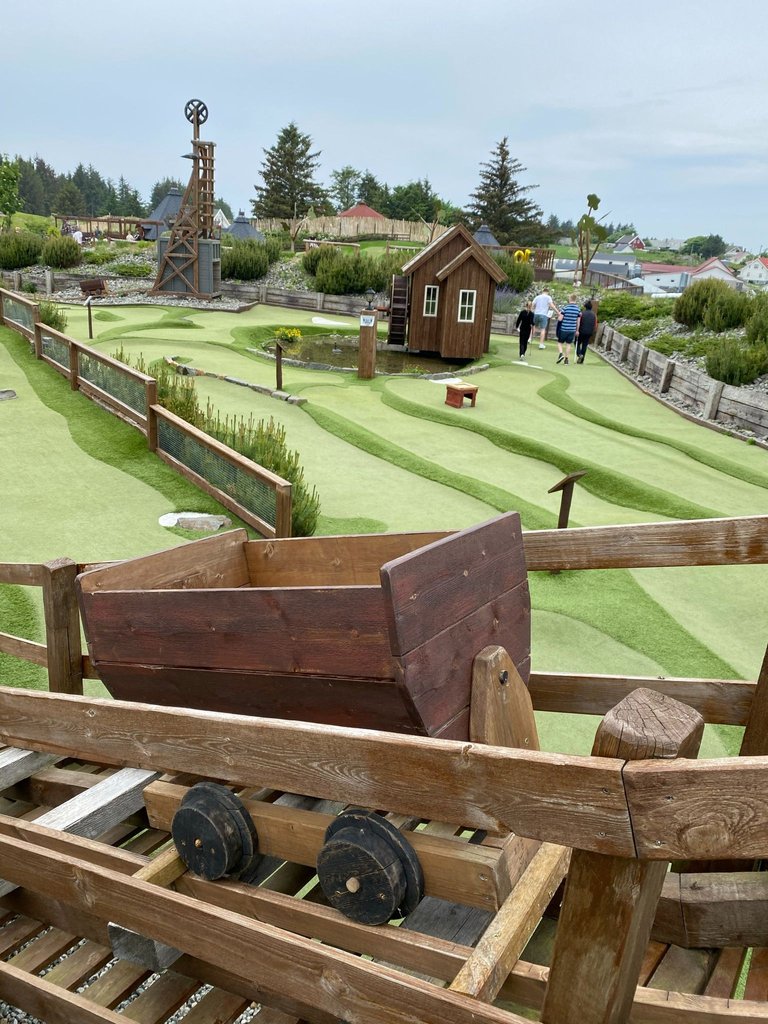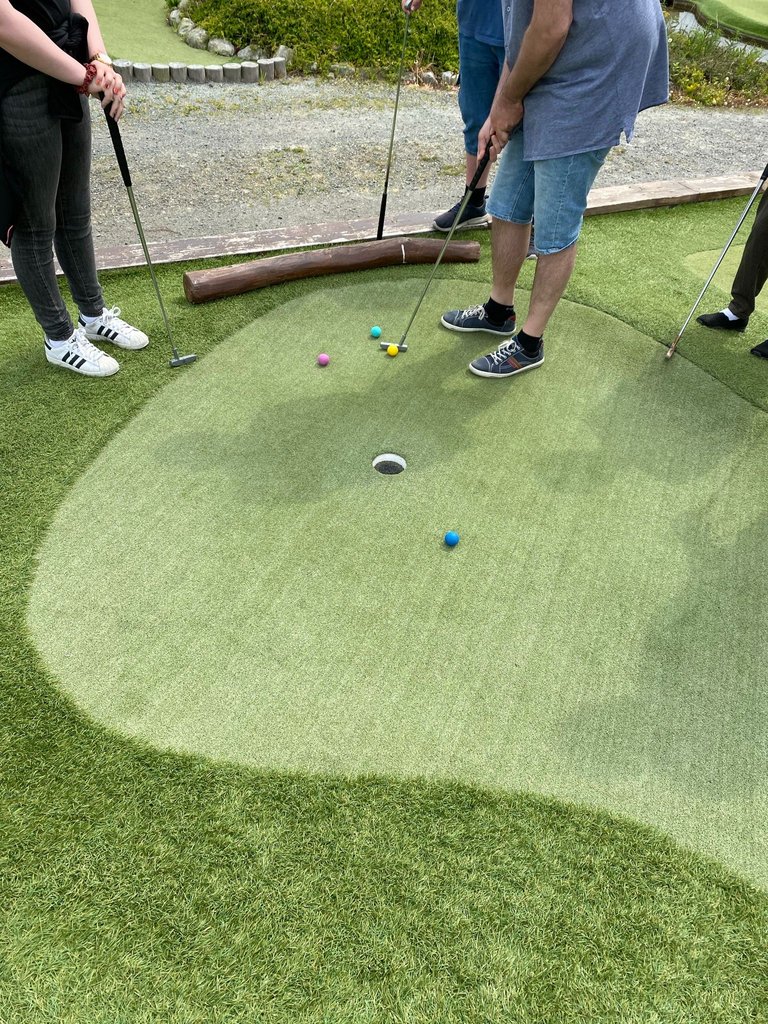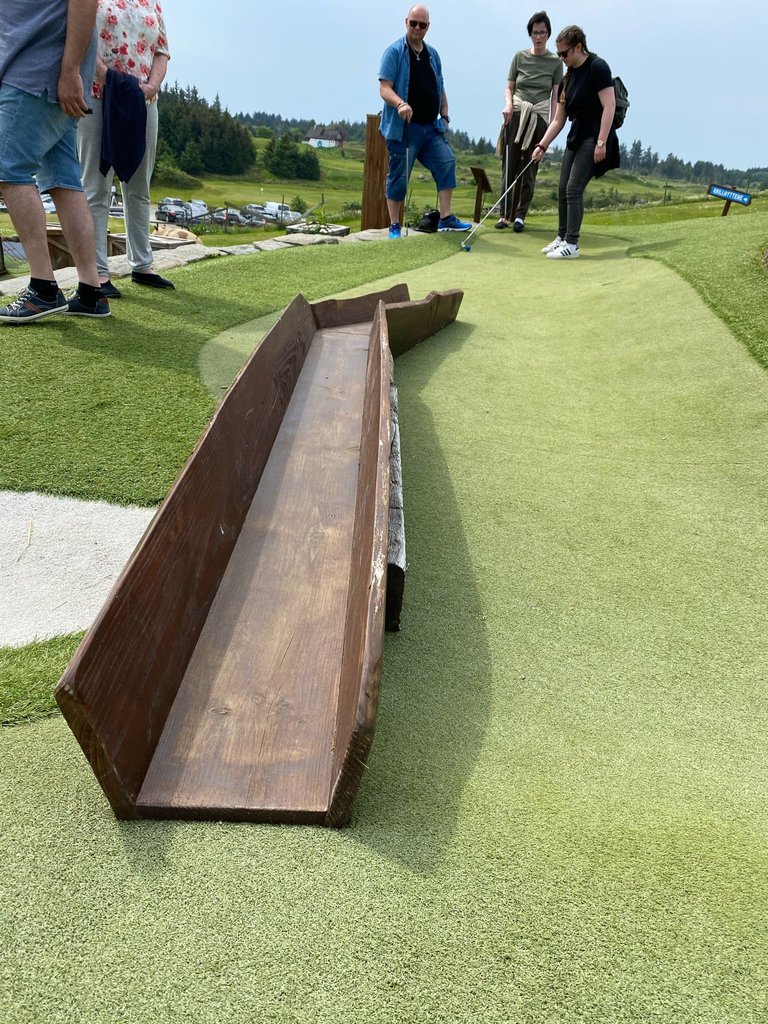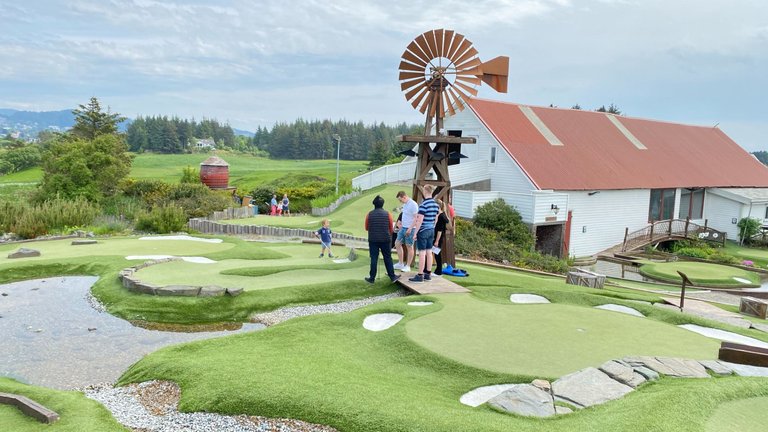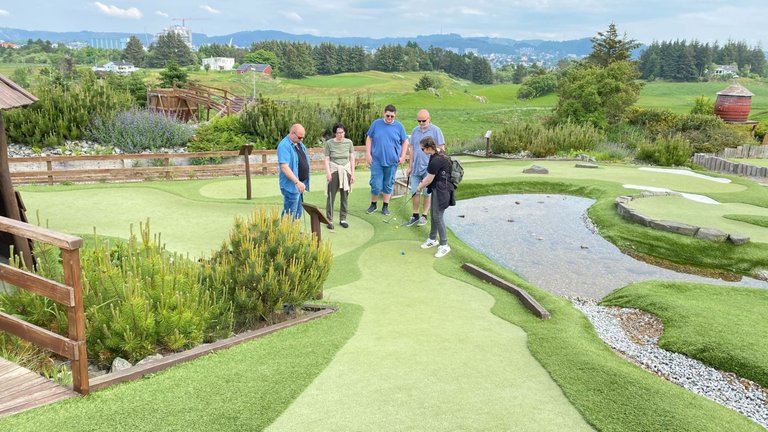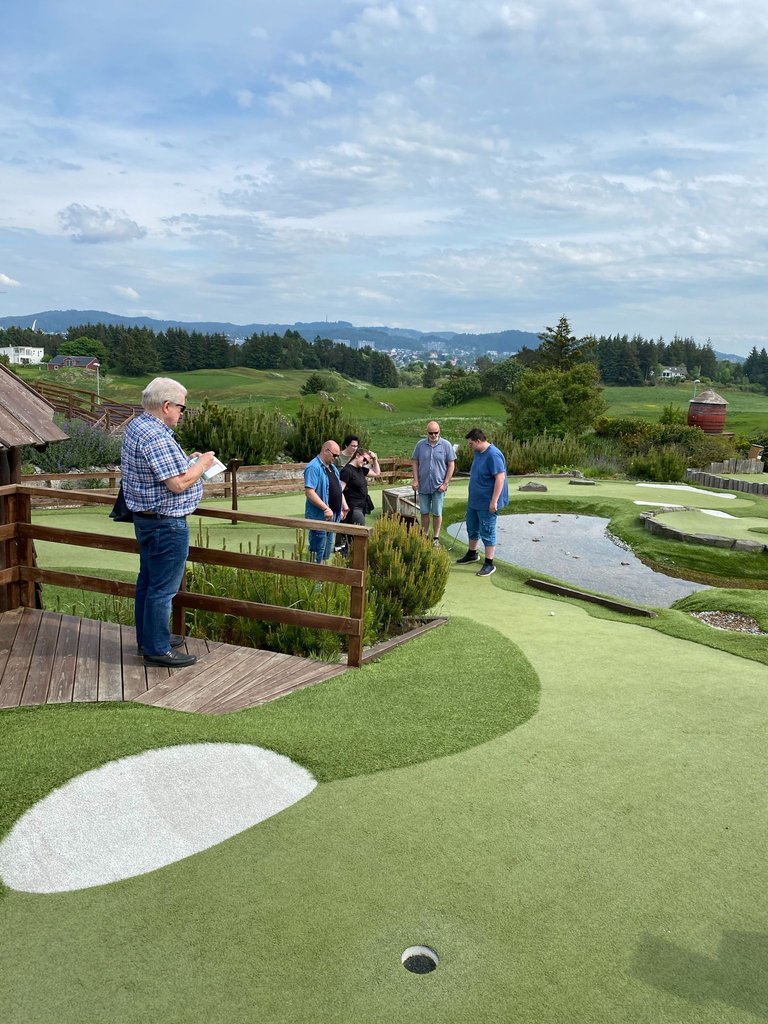 A really cool place for sure. After this we went on to eat at a Chinese restaurant which had awesome food. We then went back to the apartment to witness another sunset and play some board games throughout the evening. All in all a great weekend even though it had a dramatic start. My dad and family are now back in their house and apart from the smokey smell everything is in order.
Happy 50th dad!
---
All unsourced images are taken by me.