The UK is currently facing an energy crises caused by the recent rapid increase in natural gas prices compounded by a number of other factors that limit the UK's capacity to switch to alternative energy sources.
The price of natural gas has quadrupled since the beginning of 2020, caused by a combination of depleted gas storage capacity because of a cold winter in many Northern Hemisphere countries last year and and increase in demand from China, ramping up its post-covid production.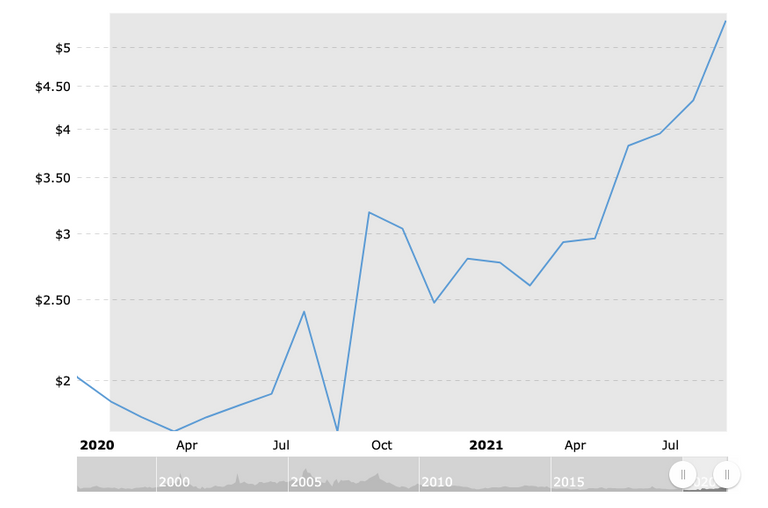 The recent trend in the Natural Gas price.
Market prices in Europe are especially high since Russia is refusing to pump more gas our way, preferring to pump it to China instead.
And within Europe, the UK is particularly badly placed to weather the coming winter (excuse the pun!) of high gas prices because of the following:
Some of its ageing nuclear power plants are out of action because of unplanned maintenance.
Its main source of electricity from France is out because of a fire in the cable providing it.
Last year just happened have been the least windy year since the 1960s and so Britain's wind turbines haven't been producing as much leccy as usual this year.
And with many other energy sources out of action, it has been falling to gas to plug the gap, meaning that companies providing gas have less of it stored now, making us more dependent on current market prices.
Not that storage makes much difference, the UK has a tiny gas storage capacity - it is only able to store 1% of its annual supply in any one go (like 3.5 day's worth WTF!).
Consequences
At the household level rising energy prices mean an increase of around 15% next year, increasing the average household's energy bill which is currently just over £1000 a year by £139, or £10 a month.
This may not sound like a lot, but will be a real struggle for the very poorest households, the poorest 10% at least, to pay.
Probably more dire is the longer term consequences on the energy supply market - OFGEM (the government regulatory body in charge of energy) only allows energy companies to increase prices twice a year, following its biannual review of the markets.
And there are dozens of small energy supply companies in the UK who simply won't be able to suck up the increased cost of gas for the next few months, meaning they could well go out of business, leaving only a handful of very large energy companies left by 2022.
This may not happen as the government is considering loans for such smaller companies, but is this just too little too late...?
The wrong kind of market interventions...
Providing loans to smaller companies to get through a period of high gas prices is backward, it's fire-fighting, surely it would have been better for the government to provide funding, subsidies, tax breaks to further diversify the UK's energy supplies before this crisis happened.
Britain may be cold and damp, but it's not Canada, and it's not Scandinavia - it is perfectly possible to radically insulate and even retro-insulate most houses for a few thousand pounds and drastically reduce space heating costs.
This, combined with vacuum water heating and solar panels on roofs feeding into the electricity grid could also greatly contribute to meeting the UK's energy requirements.
Combine this with building more storage capacity for natural gas and this wouldn't be anywhere near as much of a crisis.
It may not be possible for the UK to be 100% renewable but it is possible to significantly reduce its dependence on foreign energy supplies more than is the case currently.
NB - I don't believe in the nuclear solution - simply because nuclear waste remains radioactive for so many years and I just can't figure out a way of incentivising anyone to manage that radioactive legacy for that length of time! Better to not produce the stuff in the first place!
There is, of course, the smaller scale decentralised solution - move to a Woodland, grow your own firewood and small scale solar energy system, but the former requires a good couple of tightly managed acres and the later is a tough ask in the UK in December!
No, every time I hear 'energy crises in the UK' I just think a socialist programme is the only way to solve it!
Posted Using LeoFinance Beta