Immediately after hitting an ATH of a little over $4, CUB has been on a slow but agonizing downward descent ever since then. I've written several posts about why CUB is not budging upwards. Today, I will analyze the charts and come to a conclusion as to why CUB is heading the way its heading.
Granted, as of the time of writing, the whole market is in the bloody red, CUB has shown great resilience against whatever sentiment is driving Bitcoin and co. down. CUB is free from volatility and has a clear price direction, but unfortunately that direction is heading in the wrong way. I personally think CUB being exerted on by the patterns of a generally appreciative asset, like BTC, is the best kind of volatility to have in the crypto industry. CUB, however, doesn't exhibit those patterns simply for the fact that the majority of CUBFinance's TVL comes from LEO investors, who are strong HODLers in face of an aggressively red market. The only time the market truly exerts its influence on CUB is when there is severe, -%40 sharp sell-off on the entire market, which is what seems to be happening right now. But regardless, this slow descent is unique to CUB and independent of the market sentiment.
Yet, despite being strong HODLers, there is a certain whale out there that keeps on dumping CUB, with little fishes following suit as well.
Let's look at the price chart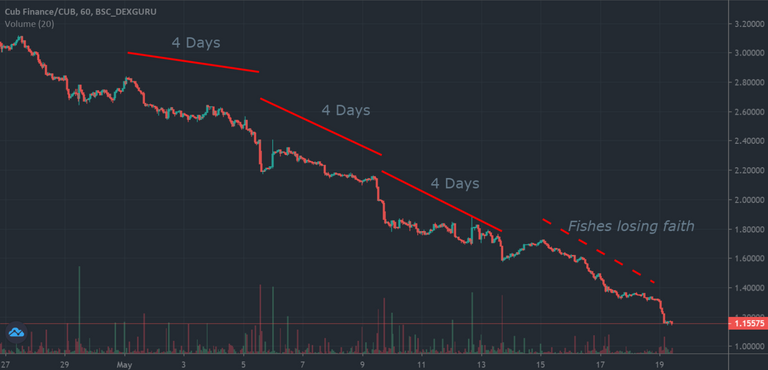 You can see from here that there is method to madness. A giant whale is consistently dumping their earned CUB in a fixed interval of four days. There is, however, major resistance from buying pressure in between the big red candles preventing the graph from slumping at a 45 degrees downwards. But at the end, many fishes have succumbed to the selling pressure evident by the downward numerous small candles with siggnificant sloping.
We are officially breaking what's left of the $1 floor.
But why?
There is no be-all answer to this question, It's up in the air, but here's my theory as to why this whale is consistently dumping, rather than dump once and scour for another DeFi project prey.
I think the reason why this whale is so goddamn fixated on driving the price down to $0 is the fact that we are too risk-free of any rugpulls. Think about it, if you were a whale looking for a quick cash grab, you would look for those fresh-off-the-oven DeFi yield platforms to invest in. Given that those newly minted platforms are extremely risky with a higher chance of rugpulls.
CUB is no rugpuller, and I suspect this stubborn whale understands this.
This is further complicated by the fact that there is little-to-none marketing outside of the LEO ecosystem.
Is there a solution?
Anti-Whale restrictions on transfer amounts has proven successful for PantherSwap. This restriction was deliberately put in place to prevent ballistic movement of price in either direction, prevents giant arbitrage bots as well as whale from manipulating the price.
The immediate effect of this is that the price is completely at the whim of the majority of holders, rather than the minority of whales. This is what decentralization is all about, giving power to the people, and the anti-whale restriction works wonderfully towards achieving that.
The efficacy of this solution can be somewhat gauged by comparing PantherSwap to its now-dead rival, GatorSwap. A bog-standard copycat yield platform which saw parabolic rise, but crashed down from its high horse when a major whale dumped all of their earnings + stakes. It's not even worth 10 cents anymore at the time of writing.
Closing thoughts
Well, seems like we are nearing the end of the bull market, money isn't going to be flung around like crazy until the next halving event. Or is it all just a FUD jumpstarted by the phonies over at Tesla?
Thanks for listening!
Posted Using LeoFinance Beta