A new release of peakd.com is now available. Keep reading to discover the new features and check the full list of improvements ;)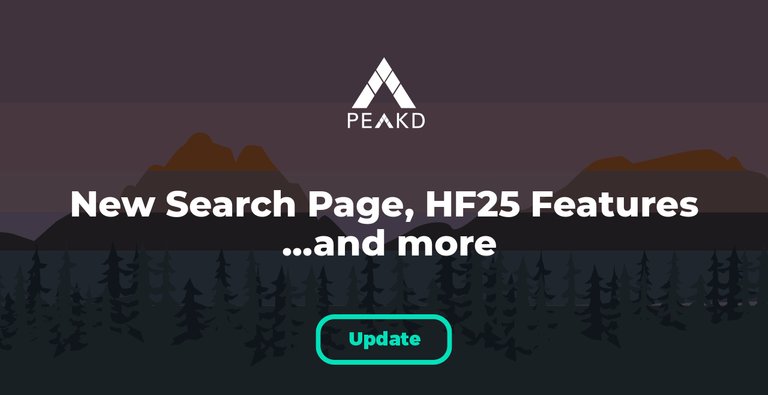 1. Fully support HF25 changes
With this update all changes related to Hive Hardfork 25, "Equilibrium" are available. All details about the new features and changes are available in this post: https://peakd.com/hive-163399/@peakd/peakdcom-plans-for-hf25
Here a short list of the main features:
Recurring Transfers
HIVE to HBD conversion
HBD APR% on Savings
Changes to curation rewards for Hive reward pool
Expiration on Governance votes
2. Search Page Redesigned and Improved
The Search page has been completely redesigned and improved in every possible way. Now you can specify the type of search and also get search results for communities, curated collections and badges.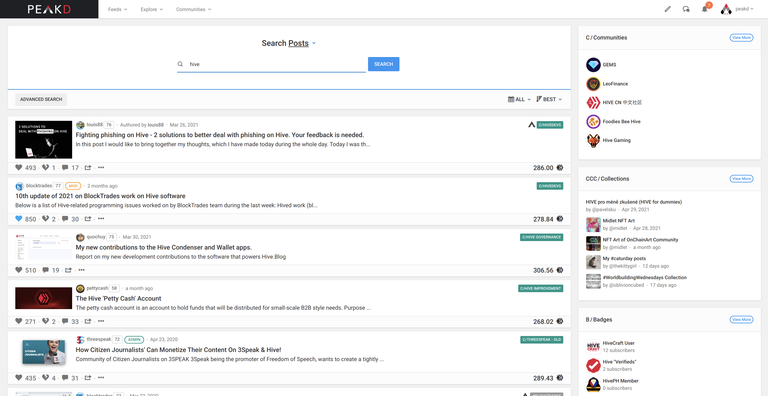 3. Notification when 'default beneficiaries' are added to a post
A notification is now displayed when "Default Beneficiaries" (added during onboarding or by the user) are added to a post.
Also it's now easier to manage those beneficiaries and quickly remove all of them at once.
4. Same RPC node on PeakD and Hive Keychain
When using Keychain the same node selected on PeakD is now used by default. It's still possible to disable this behavior in the Settings:

5. Access your 'Snippets' when writing a comment
You can now quickly access your saved "Snippets" also when writing a comment:

6. Some minor improvements and bug fixes
As always some improvements, updates and fixes across the website. You can check the full release notes here: https://peakd.com/about/changelog.
# New Features
------------------------------
[new] Completely redesigned Search page
[new] Tooltip when default beneficiaries are applied to a new post
[new] Options to remove all default beneficiaries at once
[new] Add button to access 'Snippets' when writing a comment
[new] Support 'recurring transfer' operation in wallet (HF25)
[new] New Recurring Transfer management section in wallet (HF25)
[new] Support 'collateral conversion' operation (HF25)
[new] Update vote value estimation (HF25)
[new] Show warning on governance vote expiration (HF25)
[new] New wallet section to manage ongoing recurring transfers (HF25)
[new] Allow PeakD to set the RPC node used by Hive Keychain (and optionally disable this behavior)
[new] Show notification for upcoming HF25
[new] Allow embedded videos from https://awesomescreenshot.com

# Improvements and Fixes
------------------------------
[update] Improve post outline generator for complex or duplicated header text
[update] Show recent used topics/tags when publishing a new post
[update] Add option to expand long curator commentary on CCC page
[update] Detect HiDPI display and increase image size in feeds
[update] Add image to post/comment when selected in editor menu dropdown
[update] Support update of proposal end date (HF25)
[update] Show latest payment date for HBD (and savings) interests
[update] Show links in pending queued actions
[update] Add fallback logic to load posts when Hivemind plugin fails
[update] Notification mark and counter in browser tab should now be enabled in Settings
[update] Improve wording for CCC posts
[fix] Fix top right user menu not always working after login
[fix] Reverting a scheduled posts to a draft keep the advanced fields
[fix] Better handle edge cases when switching accounts
[fix] Fix list/blog layout not working in Top Views page
[fix] Save "Reward Distribution" advanced option in Drafts and Templates
[fix] Fix image remove button in editor
[fix] Fix available amount in withdraw from saving popup
[fix] Fix image overflow on mobile (large feed view)

---
Support the @peakd project
Now is probably a nice time to remind you of the ways you can support the development of @peakd.

We have a proposal on the Decentralized Hive Fund. You can review the proposal here.
If you agree to the proposal and you think the points mentioned add value to the Hive Blockchain consider supporting it using the above links or directly with this link.
---
We also run a witness server to help produce the blocks for the Hive Blockchain. You can vote for our witness so we are in a position to process more of them.
Vote on the witness page: https://peakd.com/witnesses
Using Keychain: You just have to click and approve the transaction
Using HiveSigner: You'll need access to confirm the transaction with your Active Key at least
---
The PeakD Team
About us: https://peakd.com/about
Join us on Discord: https://discord.gg/Fy3bca5