A new release of peakd.com is now available. Keep reading to discover the new features and check the full list of improvements ;)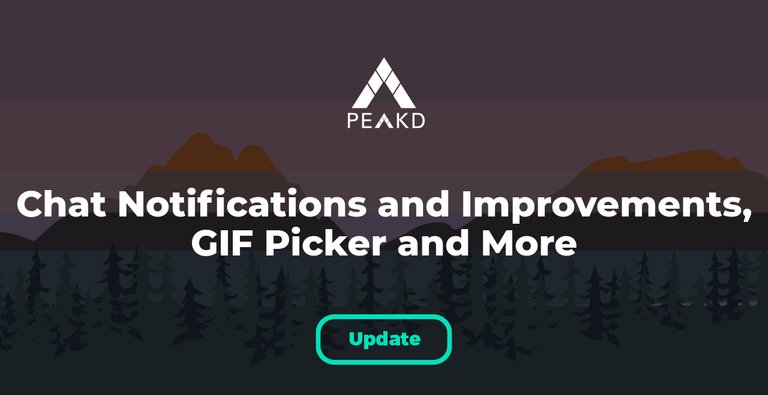 1. Messaging system improvements
This release includes a bunch of improvements to the messaging system. This is a quick recap of the most relevant changes:
Notifications for new messages in private conversations (DM and group)
New messages will be notified in the top bar, mostly the same way you already see for other Hive notifications:

But notifications are included also in the Chat panel/page for the specific conversation:
At the moment this only work for private conversations, but we hope to be able to have this also for channels in the future.
Better layout and mentions highlight
Messages are now better formatted, grouped by date and if you are mentioned in a message it will be highlighted: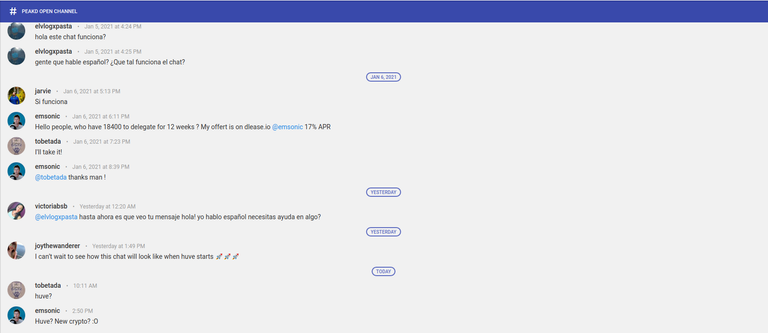 Quote or reply to a message
Now it's easy to reply to a specific message quoting it. Also this automatically mention the user so he can easily find the reply:

2. Easily share GIFs in posts/comments
Something that has been suggested by multiple users in the past and finally it's available. Now you can easily embed GIFs in your posts and comments (provided GIFs are powered by Tenor):
Some improvements will be available in the coming releases to make it even better and easier to use.
3. Allow Theta.tv embeds
Theta.tv channels can now be easily embedded in posts/comments. Thanks to @anarcist69 for suggesting this addition and to the Theta.tv team for their help :)
To embed a link you can just use the URL:
https://www.theta.tv/nasa

And if you want also specifcy your partner ID:
https://www.theta.tv/nasa?partner=ABC...

4. Showcase some of the exchange supporting Hive in the Wallet page
This is a small change to show some of the main exchanges supporting Hive. Also if you use our referral link to signup to one of those exchanges you can support PeakD development :)

5. Some minor improvements and bug fixes
As always some minor improvements, updates and fixes across the website. You can check the full release notes here: https://peakd.com/about/changelog.
# Improvements and Fixes
------------------------------

[update] Better date/time display in Chat
[update] Improve chat scroll behavior on new messages
[update] Better text for 'blog filter' panel
[fix] Fix detection of physhy links in post content
[fix] Fix a rare bug when loading wallet transactions and activities for some account
[fix] Fix missing posts in Portfolio page load
[fix] Improve Power Up/Down sliders with small numbers

---
Support the @peakd project
Now is probably a nice time to remind you of the ways you can support the development of @peakd.

We have a proposal on the Decentralized Hive Fund. You can review the proposal here.
If you agree to the proposal and you think the points mentioned add value to the Hive Blockchain consider supporting it using the above links or directly with this link.
---
We also run a witness server to help produce the blocks for the Hive Blockchain. You can vote for our witness so we are in a position to process more of them.
Vote on the witness page: https://peakd.com/witnesses
Using Keychain: You just have to click and approve the transaction
Using HiveSigner: You'll need access to confirm the transaction with your Active Key at least
---
The PeakD Team
About us: https://peakd.com/about
_Join us on Discord: https://discord.gg/Fy3bca5_s,