Short-tempered.
Falling short.
Short-sighted.
The word 'short' gets a bad rap. It's often used in negative ways. But in a digital world where people value their attention, being brief is an asset.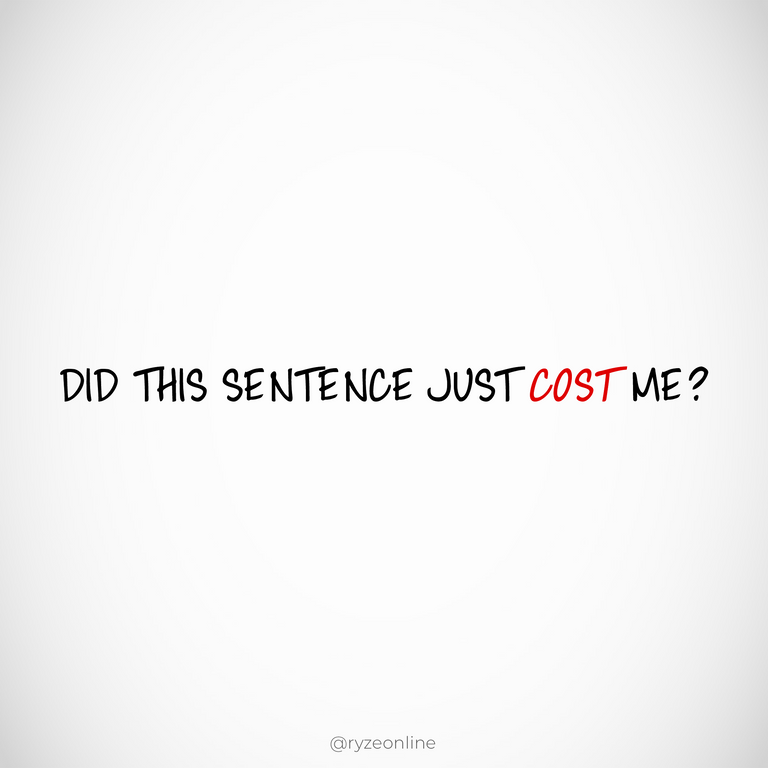 A sentence, when you think about it, is really just a 'piece of short content.'
And short content can help you. In fact, it can do a lot more than most realize. YouTube recently figured this out. They noticed that Instagram Stories and TikTok videos were blowing up, so they introduced YouTube #shorts. Will Hive eventually follow suit and embrace short blogs?
Since I've been here on Hive, I've posted pieces that are the size of novellas. They're so long you'd think people would take one look, say 'wall of text' or 'too long, didn't read', then instantly leave. You'd think my posts full of thousands of sentences would cost me crypto.
But that hasn't been the case. My pieces have actually performed well in earnings, upvotes, reblogs, comments, and more. Here's some kind words @crosheille said about my writings:
"If you have a look at [J-Ryze's] posts you'll see that he has challenged Mr. Hive's character limits. 🤣 However, many people, including myself have been blessed and enlightened by his work. While reading you don't say "geez when's this thing going to be over?" You literally are mesmerized and intrigued by how he makes a storyline with doodles and all and captivates your attention throughout."
I smile every time I read these kind words. But the point is, I'm starting to get known for what @dandays humorously calls my 'Terms Of Service'-length pieces. But here's something many people don't know.
I actually practice writing short-form content much more than I do long-form.
I practice conciseness because long pieces of writing are really just many short pieces of writing strung together. A paragraph is just a series of short sentences. A 'scene' is basically just a short story, complete with conflict, stakes, etc. A longer 'article' could just be a series of well-crafted Instagram 'captions' transitioned into each other. So by practicing short content, I improve my long content. Now it's not a direct 1-to-1 fit, there are definitely differences between writing long vs. writing short, but the overlap is substantial, and worth digging into.
So in my post today I'm going to give you a peek into some of my 'short' practice, hopefully it offers insights and helps you. I'll start with some of my newest practice...
One-Sentence Stories
I figure I'll start with my 'story' practice, since everyone likes stories. Stories are in our DNA. They're how our stone-age ancestors communicated and our brains have evolved to 'think in stories.' People remember & share stories much better than other forms of information. A well-placed story can 'move mountains'. Basically, stories hold a lot of value for people.
And good short content means packing a lot of value into a small space. Just like an iPhone empowers you by placing a lot of data in the palm of your hand, and a well-crafted sentence moves the hearts of your readers, generating a visceral reaction. To demonstrate the power of short content, I whipped up a few one-sentence stories. See what you think.
1. Choosing
homelessness

over my own family was the hardest part of Christmas Eve.
---
2. 'Here Comes the Bride' played as the
groom

suddenly realized there was no toilet paper.
---
3. The
nun

now realized how much pleasure was available in a single... bite.
---
4. Upon seeing
his own name

on today's agenda, a belly laugh erupted from the grim reaper.
---
5. She stroked him, then entered her, then
kissed
both.
---
These sentences work well because they contain value that readers are looking for. Each sentence contains a noteworthy amount of 'data' or 'substance.' Each one also defies expectations in their setup and punchline. Each one uses well-chosen words that probably didn't emerge on the first draft. Each one has a character and sets a scene, while conveying some action, plot, happening, or journey.
They could very easily captivate a reader, get their mind asking questions, their curiosity amped up, compelling them to click or read further. If you can grab a reader with your sentences and take them for a fun ride from sentence-to-sentence all throughout your piece…
...they'll reward you for it.
It's human nature to reward and reciprocate to others who give us a pleasant experience. And a pleasant 'reading-experience' literally requires good sentences. And sentences are just short pieces of content.
Currently, Hivers seem to prefer longer-form content, similar to other blogging platforms such as Medium or Wordpress, but that may change with the growth of DBuzz. And even if it doesn't, many hivers also seem to use Twitter, which is more about micro-blogging and appreciating the value in short content, so let's dive into the power of a tweet.
Witty Tweets & Captions
TWEET 1:
"I can give it, I can seek it, I can
fake

it, the only thing I can't do with advice... is take it."
---
TWEET 2:
"Girls used to want
hearts

on Valentine's Day. Instagram makes them want hearts every day."
---
TWEET 3:
"So, I wrote a
20,000 word

essay about...brevity."
---
TWEET 4:
"
Democracy

lets voters choose society's direction. What happens when voters aren't smart enough to read a map?"
---
TWEET 5:
"I'm pretty sure
the world

runs on little white lies."
---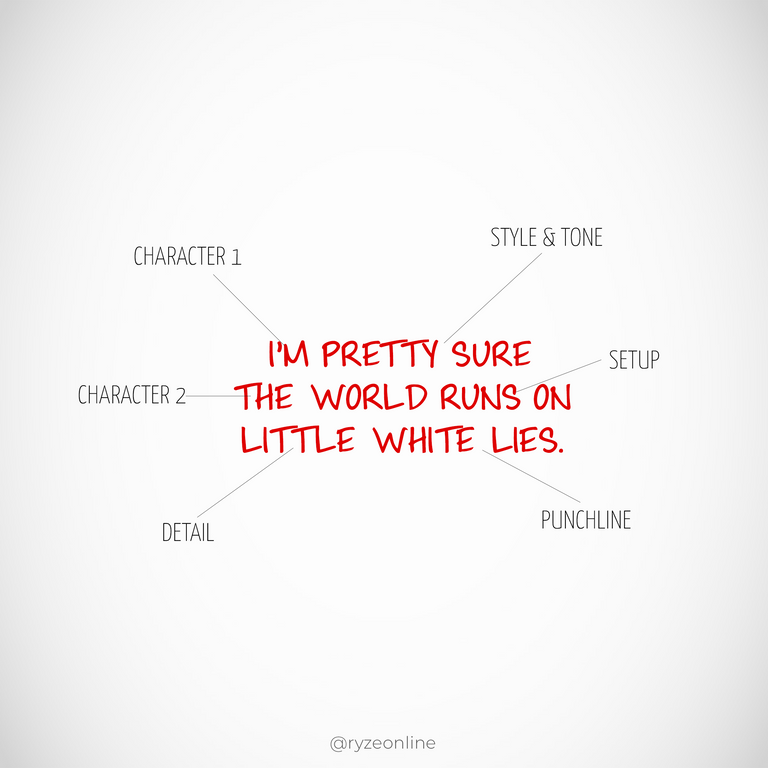 These pieces of content are quite short, but they do a lot of heavy-lifting. They're the kind of thing people may chuckle at, or share with others. They have familiar, simple language and touch on universal feelings or experiences in 'novel' ways. They're likely to 'get eyeballs', and in an attention-economy, eyeballs are the name of the game.
Food for thought.
And hey, even if you often write long-form content like I do, it's still important to master short content if you actually want people to read your stuff. Because before people read your long content, they're digesting an extremely short bite of writing first, whether you like it or not.
Your headline is the short content leading the way. It's the first sentence of all your posts and it matters a lot. And if it doesn't pass their standards for what makes a compelling, clickable headline, your pages of insight will be ignored and passed over.
Let's explore an example together.
Compelling Headlines
Let's say I'm writing a piece on how to get more of the general public to join Hive. I believe I have some 'miracle solutions' that are going to change everything. But instead of mastering short-form content and crafting an epic headline, I simply write:
All the incredible work I put into my post will be ignored. It will go unread. And deservedly so. Why should people bother reading my stuff if I half-ass my headline? Why should I be rewarded for making a terrible 'first impression' on the viewers scrolling through today's feed?
The correct thing for me to do is pour time, energy, creativity, effort, and love into the short sentence that becomes my headline... because it's the first thing viewers will see, and it's all they have to judge my work on initially (besides the thumbnail).
So I brainstorm, and begin sculpting my headline.
Join Hive, Please!
Time To Join Hive!
People Should Join Hive 'Cause It's Good, Yo
10 Reasons To Join Hive
10 Reasons Twitter Users Win By Joining Hive
10 Reasons Reddit Users Win By Joining Hive
Hive: The Social Platform For People Who Hate Social
Hive: The Anti-Social Social Platform
First There Was MySpace, Then Facebook, Now Hive
From MySpace, To Facebook, To Hive: Social Evolution
Why This New Social Platform Pisses Off Politicians
Why This New Social Platform Pisses Off Trump
Why This New Social Platform Is Perfect For Trump
Why Hive's New Social Platform Is Perfect For Trump
Why Hive's New Social Platform Is Perfect For Rebels
Why Hive's New Social Platform Is Perfect For YOU!
Hopefully you can see how my early headlines sucked, but got better as I continued brainstorming. My early headlines would not get clicked on. They wouldn't earn me crypto. Even if I'd written a truly killer article, it would earn barely anything if I used some of those early versions of the sentence.
Fortunately, I focused on writing a better sentence. I turned up the curiosity as it went on. I turned up the name recognition. I played with phrasing and approach. I tweaked the language. The headlines 'grew' from idea to idea as I stayed with the task, rather than just settling. This is because most people have 'fluff' ideas they need to get out of the way first. Only by getting past the 'fluff' layer of thinking, do we begin to dig deeper and get at the 'true gold' headlines we have inside us.
Creativity shows up when we 'go further', but it hides when we 'settle' on a low-effort idea or 'phone it in.' So really pour love into creating your headlines. Study headline formulas, and great headline writers. Observe your favorite movie titles and song-lyrics. Practice writing truly compelling headlines, then test them on people. Gauge their reactions. Can you get them to gasp or chuckle with a single headline? Do these things well and you'll be surprised at the results you can get with a short sentence.
And speaking of sentences...
Learn To 'Sentence' Before You 'Paragraph.'
If you can't write a great sentence, what makes you think you can write great paragraphs? Or blog posts? Or essays? Or books? It's well-known wisdom to learn to crawl before you walk, then walk before you run. Apply this wisdom to your writing as well.
This doesn't mean you have to fine-tooth-comb every sentence you write, it means that it's worth practicing short content, because you'll need it for headlines, share-worthy captions, punchy end lines, and so on. It means it's worth admitting if a sentence or two is sloppy, confusing, or awkward, then improving it.
Long Or Short, It's Reader-Interest That Matters.
On Hive, we post content to interest readers. If this were Instagram, I'd be talking about how to make your images truly interesting. I'd be discussing the value of a single image, or 'every pixel.' But on Hive, the majority of content is made up of sentences. And readers begin judging us on our very first sentence --the headline-- then continue assessing the value of what they're reading sentence after sentence. 'Bad' sentences kill reader interest and cost you crypto you could've had. But if you craft your sentences well and really pour love into them, the reader ends up on a fun journey through all your sentences. And when they're done they either feel that they're enriched, that they've wasted their time, or neutral ('meh').
If you want to earn crypto with your posts here on Hive, readers must end up feeling enriched by your material. That feeling is what leads to upvotes and rewards. If your readers feel 'meh', or their time was wasted, minimal upvotes will flow to you. Which means the more valuable your sentences are, the more likely you are to be rewarded.
Short content is each of your sentences. Long content is just a bunch of short content strung together well. And whether you write long or short, the key is to keep the reader's interest. Hold their attention. Make every word valuable to the reader. Handle each word with care. (At least as much care as is possible.) And keep raising the bar for yourself, bit by bit.
Aim to be a more valuable writer, and no matter what length you choose, whether a giant novel or a single-sentence...
Don't give your content the short end of the stick.
---
So what are your thoughts? Does this give you any ideas to improve your sentences? Can you see yourself writing better headlines that compel more clicks? Does it give you insight into the power of sentences lying at each of our fingertips?
P.S. I appreciate any comments, upvotes, and even just you taking the time to read. Thank you. And if you feel inspired, I'd love to see this shared on other social platforms to help people discover Hive and see that we have cool content over here. Brighten someone's day and introduce them to Hive, it's win-win, right? :)