Ya es fin de semana, lo que significa que podemos darnos un rato de descanso y mirar una buena película para distraer la mente. Esta vez, traigo para ustedes una selección de largometrajes perfectos para que puedan disfrutar en compañía de sus parejas, y así nutrirse de ese amor tan melodramático que nos paraliza el cuerpo y nos obliga a soltar algunas lágrimas. Estas historias te ayudarán a reflexionar un poco sobre lo que significa el amor incondicional y los sacrificios que hay de por medio, algo que tal vez hemos escuchado muchísimo, y más sin embargo a veces entendemos muy poco. Prepara tus palomitas, siéntete cómodo, rodea a tu pareja con el brazo ¡y que el hechizo del cine comience!
It's already the weekend, which means we can take a break and watch a good movie to distract our minds. This time, I bring you a selection of perfect feature films so that you can enjoy in the company of your partners, and thus nourish yourself with that melodramatic love that paralyzes our bodies and forces us to shed a few tears. These stories will help you to reflect a little on what unconditional love and the sacrifices involved mean, something that perhaps we have heard a lot, and more, however, sometimes we understand very little. Prepare your popcorn, make yourself comfortable, put your arm around your partner and let the spell of the cinema begin!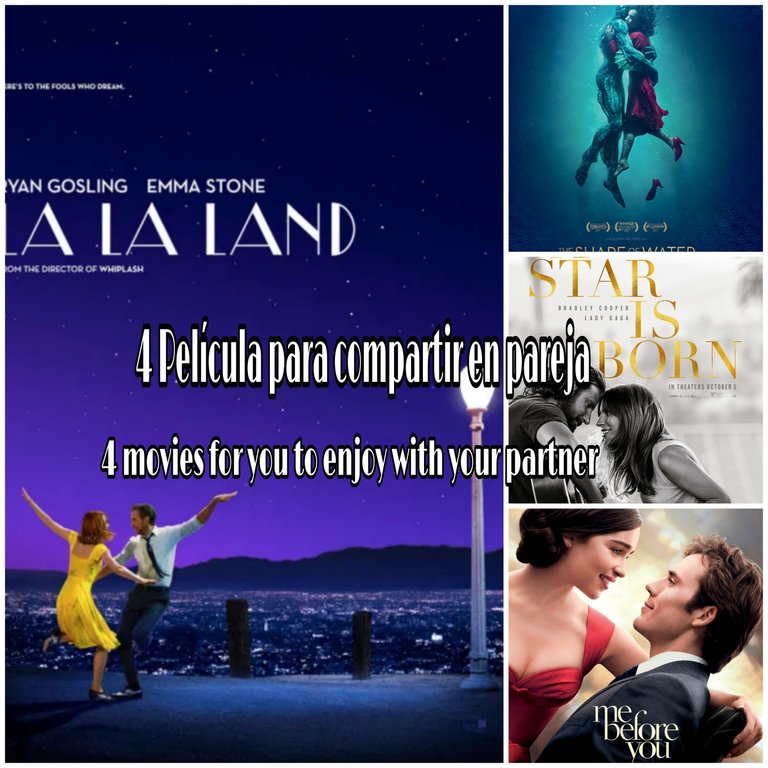 Imagen diseñada con PicsArt - Image designed with PicsArt
4 – Yo antes de ti - Me Before You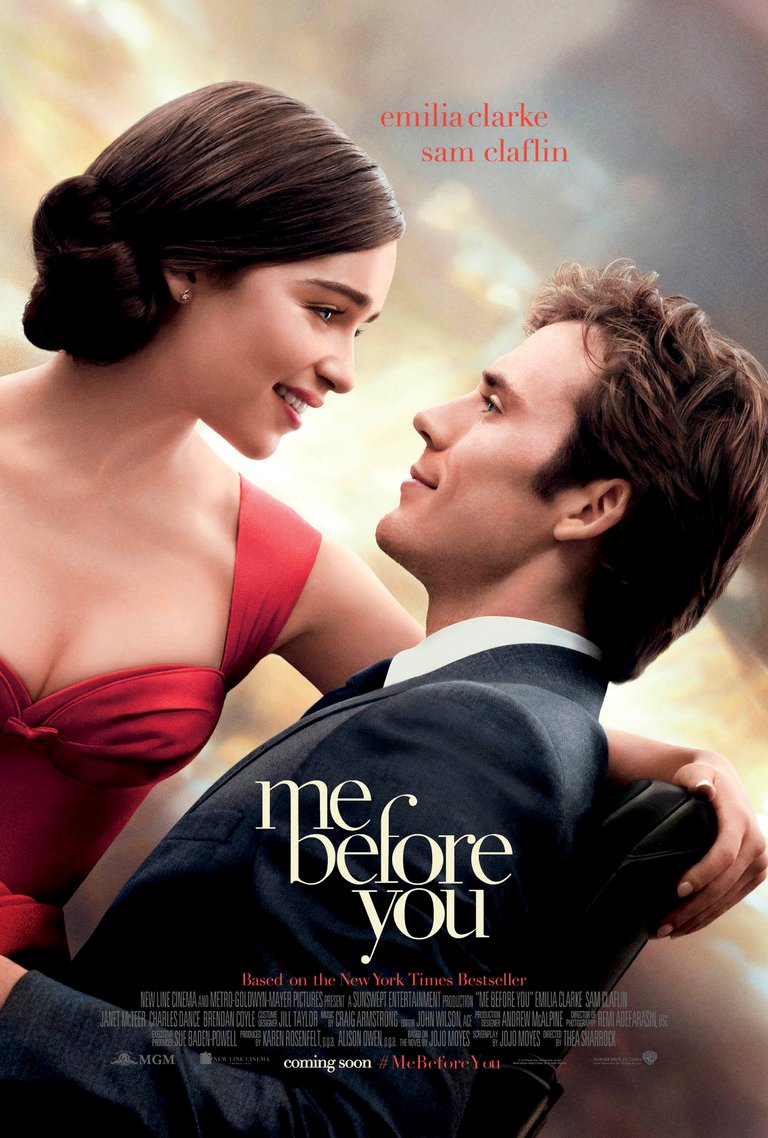 Fuente-Source
Will Traynor siempre había sido un hombre de grandes riesgos, aventurero de la vida y un apasionado al que nunca le faltó una sonrisa en los labios. Pero cuando la vida le da un duro golpe en la espalda y queda atado a una infame silla de ruedas, Will pierde toda aquella alegría que alguna vez movió su corazón. Él está decidido a entregarse definitivamente a las sombras, sin embargo, cuando conoce a Lou muchos de sus pensamientos cambian. A ella le gusta hablar mucho sobre la importancia de la vida y esas cosas, y Will ve en el brillo de sus ojos una nueva oportunidad para interpretar al destino de una manera distinta. El amor siempre repara las heridas más dolorosas e incluso sana las heridas incurables. ¿Podrá Lou convencer a Will de que aún tiene mucho por lo que aferrarse a la vida?
Esta película es muy emotiva, en parte, porque el amor se consagra en el atípico escenario de la razón y la insistencia. Aquí hay una aceptación profunda a las decisiones trascendentales, y en algún punto el amor se vuelve de dos y no de uno. Algo de nostalgia mueve la trama que la directora Thea Sharrock nos devela con escenarios hermosos y matices algo grises, y no paras de reír con la ironía que se desprende de los personajes. Me gustó ver a Emilia Clarke en un personaje diferente a la madre de dragones, además sabe elaborar esos gestos que enganchan y hacen que te enamores de su personaje. Esta historia te hará reír, llorar y reflexionar sobre el hecho de que algunas decisiones, aunque sean dolorosas, son parte de la verdadera esencia del amor y por sobretodo de la comprensión.
Will Traynor had always been a man of great risks, an adventurer of life and a passionate man who never lacked a smile on his lips. But when life hits him hard on the back and he is tied to an infamous wheelchair, Will loses all that joy that once moved his heart. He is determined to finally surrender to the shadows, however, when he meets Lou many of his thoughts change. She likes to talk a lot about the importance of life and stuff, and Will sees in the sparkle of her eyes a new opportunity to interpret destiny in a different way. Love always mends the most painful wounds and even heals incurable wounds. Can Lou convince Will that he still has a lot to hold on to in life?

This film is very emotional, in part, because love is enshrined in the atypical scene of reason and insistence. Here there is a deep acceptance of transcendental decisions, and at some point love becomes of two and not of one. Some nostalgia moves the plot that director Thea Sharrock reveals to us with beautiful settings and somewhat gray nuances, and you can't stop laughing at the irony that emerges from the characters. I liked seeing Emilia Clarke in a different character from the mother of dragons, she also knows how to elaborate those gestures that hook and make you fall in love with her character. This story will make you laugh, cry and reflect on the fact that some decisions, even if they are painful, are part of the true essence of love and above all of understanding.
3- Nace una estrella - A Star Is Born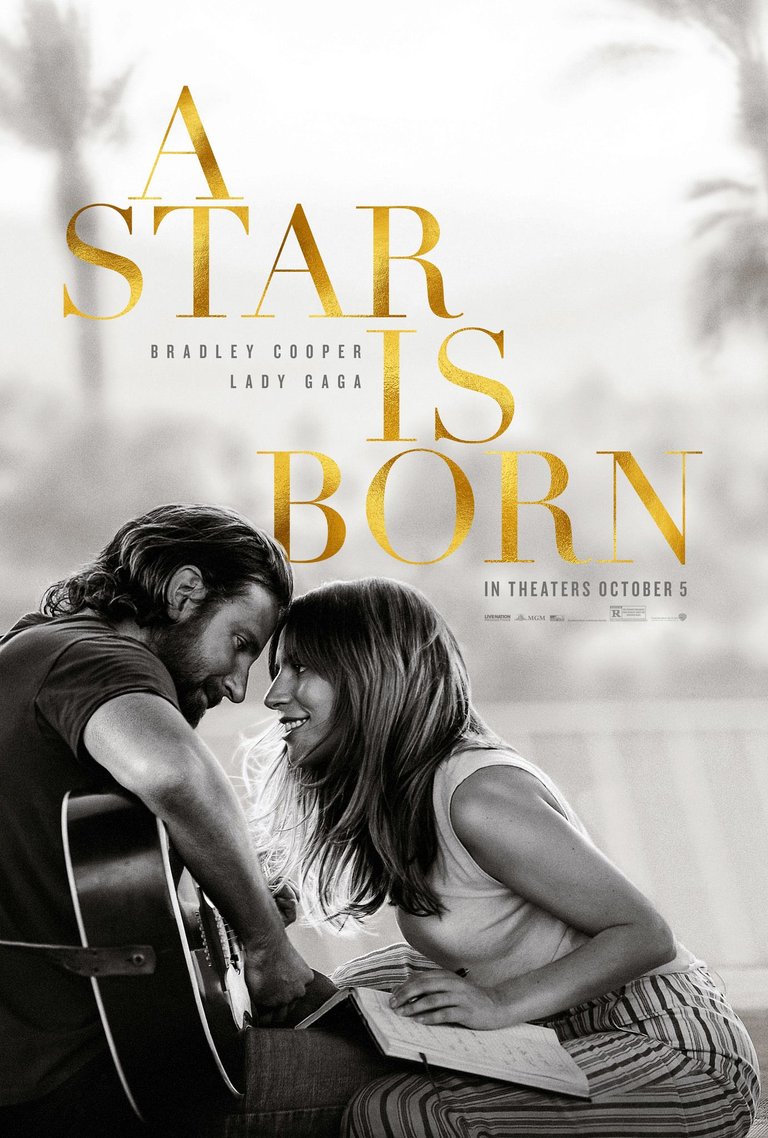 Fuente-Source
Ally nunca imaginó que un día podría ser famosa, y mucho menos que eso sucediera de la noche a la mañana. Cuando conoce a Jack toda su vida da un giro, porque esa persona además de reconocer su talento también la mira como una mujer valiosa. Ally se embarca en una aventura junto a un Jack que es demasiado amable, pero también un compulsivo de las copas. Él ve en ella una estrella resplandeciente, valerosa, magnifica… pero ella solo ve en Jack una estrella que ha perdido su luz y está muriendo lentamente por sus propias adicciones. Jack no quiere ser un peso para ella, ni mucho menos truncar su exitosa carrera. ¿Por qué él no entiendo que Ally solo desea ayudarlo? La música repara el alma, pero en otras ocasiones también la destruye.
A Star Is Born es una película de esas que te dejan un nudo en la garganta, que te eclipsa y te hace sufrir. Contemplamos a una pareja que necesitan más que el apoyo mutuo para sobrevivir a un mundo que solo busca oír una voz desde un estrado de luces e instrumentos musicales. Un amor verdadero contempla más que besos, caricias y promesas, porque la verdadera esencia de este sentimiento es el grado de empatía que existe en la pareja. Hubo mucha química entre Lady Gaga y Bradley Cooper, razón por la cual este largometraje nos conecta inmediatamente con la historia. La dirección a manos de Cooper nos guió de forma muy detallada por imágenes que develaban a los personajes en sus esencias más puras de personalidad. Te conmueves por Jack y te familiarizas con la necesidad de Ally, algo que resulta muy atrapante. Con este Filme aprendes que algunas estrellas nacen, pero otras deben morir.
Ally never imagined that one day she could be famous, much less that it would happen overnight. When she knows Jack her whole life takes a turn, because that person, in addition to recognizing her talent, also looks at her as a valuable woman. Ally embarks on an adventure with a Jack who is too kind, but also a drinking compulsive. He sees in her a resplendent, courageous, magnificent star ... but she only sees in Jack a star that has lost its light and is slowly dying from her own addictions. Jack does not want to be a burden to her, much less truncate her successful career. Why doesn't he understand that Ally just wants to help him? Music repairs her soul, but at other times it also destroys her.

A Star Is Born is one of those movies that leave a lump in your throat, that overshadows you and makes you suffer. We contemplate a couple who need more than mutual support to survive a world that only seeks to hear a voice from a stage of lights and musical instruments. A true love contemplates more than kisses, caresses and promises, because the true essence of this feeling is the degree of empathy that exists in the couple. There was a lot of chemistry between Lady Gaga and Bradley Cooper, which is why this feature immediately connects us with the story. The direction at the hands of Cooper guided us in a very detailed way through images that revealed the characters in their purest essences of personality. You are moved by Jack and you become familiar with Ally's need, which is very compelling. With this film you learn that some stars are born, but others must die.
2- La Forma del agua - The Shape of Water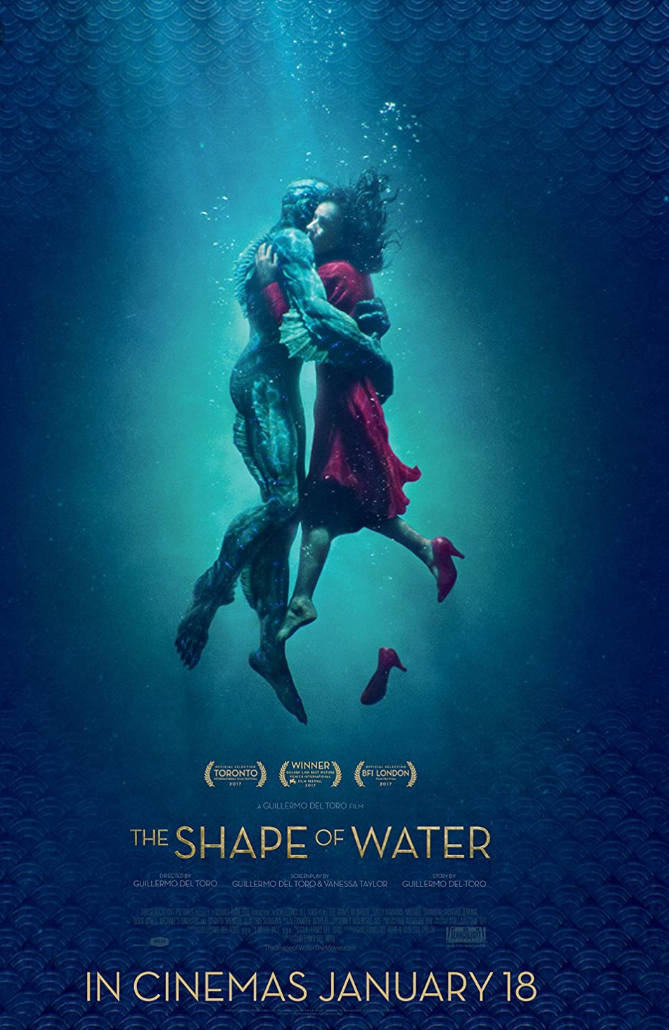 Fuente-Source
El amor toca la puerta de Elia Esposito de una forma por demás de extraña. Encontró a un ser que a pesar de ser diferente tiene muchas similitudes con ella. Él es como una especie de hombre anfibio, más tierno que monstruoso, que desea con todas sus branquias volver al mar donde alguna vez vivió feliz. Elia se arropa de su nostalgia y la hace suya. Ella también está atrapada pero en una cárcel más compleja, y él puede ayudarla a encontrar la libertad que tanto desea. Para liberar a esa cosa que tanto ama, Elia deberá arriesgar incluso su vida. La tarea no será nada fácil, pero la fuerza del corazón puede más que el odio y el abuso. Ella decidió sacrificar todo por el monstruo al que decidió entregarle sus sentimientos, y no está para nada arrepentida de su decisión. Después de todo no hay barreras ni branquias que pueda destruir la pasión que Elia y el hombre anfibio comparten bajo la belleza brillante del agua.
La historia de Elia y su novio anfibio te mostrará que en el amor no hay diferencia ¡vaya que no! Guillermo del Toro nos muestra un romance poco usual, donde un monstruo y una chica de alguna manera u otra conectan sus sentimientos. La fotografía es sin duda magnifica, al igual que el hilo del argumento. Este romance con toque dramáticos saca a relucir un sentimiento incomprendido entre dos seres que, más allá de sus incompatibilidades físicas, develan añoranzas y fuertes deseos de ser libres. Con actuaciones de primera y un argumento atrapante y conmovedor, La Forma del Agua te atrapará desde el primer instante y permitirá que disfrutes agradablemente de tus palomitas.
Love knocks on Elia Esposito's door in a strange way. He found a being that despite being different has many similarities with her. He is like a kind of amphibian man, more tender than monstrous, who wishes with all his gills to return to the sea where he once lived happily. Elia wraps herself in her nostalgia for him and makes it her own. She is also trapped but in a more complex jail, and he can help her find the freedom she so desires. To free that thing that she loves so much, Elia will have to risk even her life. The task will not be easy at all, but the strength of the heart can overcome hatred and abuse. She decided to sacrifice everything for the monster that she decided to give her feelings to, and she is not at all sorry for her decision. After all, there are no barriers or gills that can destroy the passion that Elia and the amphibian man share under the shimmering beauty of the water.

The story of Elia and her amphibian boyfriend will show you that there is no difference in love, no! Guillermo del Toro shows us an unusual romance, where a monster and a girl in some way or another connect her feelings. The photography is undoubtedly magnificent, as is the thread of the argument. This romance with a dramatic touch brings out a misunderstood feeling between two beings who, beyond their physical incompatibilities, reveal longings and strong desires to be free. With top-notch performances and an engaging and moving storyline, The Shape of Water will grab you from the first moment and allow you to enjoy your popcorn pleasantly.
1- La La Land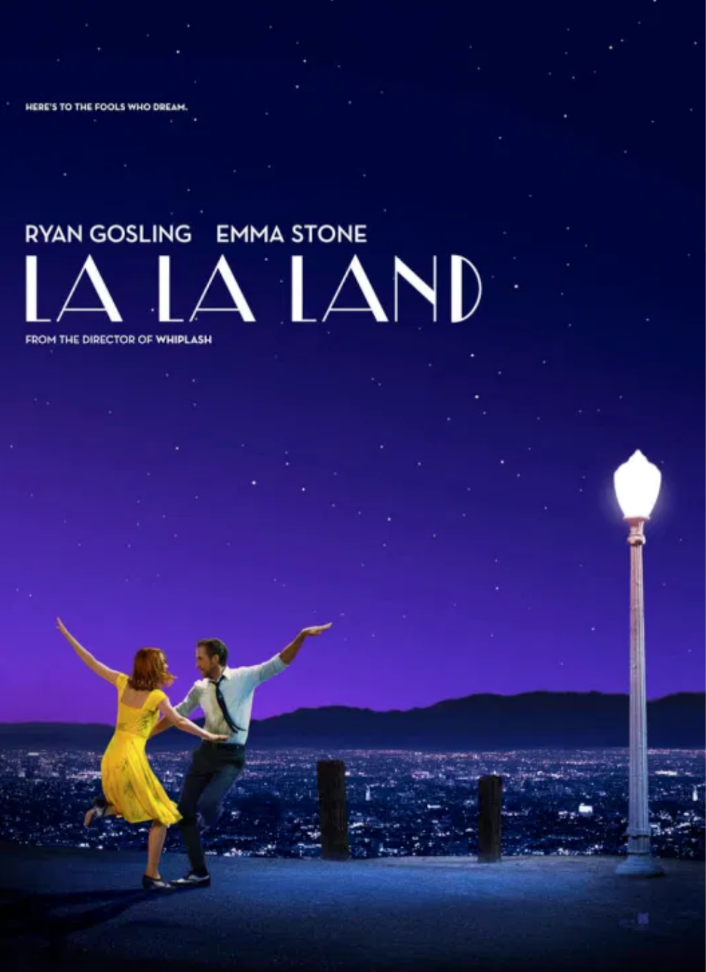 Fuente-Source
El amor y la música se mezclan en una película donde los sueños y las metas pueden más que el romance y las ganas de compartir la fragancia del "hasta que la muerte los separe". Mia siempre quiso ser actriz, digamos que ese es su anhelo más fuerte. Sebastian por otro lado, es un músico del Jazz que desea llevar la pasión de este género a un espectro que traspase el fenómeno de los restaurantes. Ambos comparten las fervientes ganas de tener éxito y ser famosos, y aunque luchan juntos, pareciera que realmente lo hacen por su propio camino. Mucho debe sacrificarse para alcanzar las estrellas, y Mia lo sabe más que ninguna otra persona. Cuando los sueños están de por medio, el amor y el romance pasan a un segundo plano.
La La Land es uno de los pocos musicales que encantarán tus sentidos. La historia va más allá de un romance trillado o cliché al develar el rostro oculto entre el amor y las necesidades de los que lo profesan. Es una película un tanto más coherente y además, salpicada de realismo. La actuación de Emma Stone y Ryan Gosling te hechizará desde el principio. Bajo la dirección de Damien Chazelle, esta película nos enseña que a veces hay que sacrificar mucho para alcanzar el éxito, y que la felicidad debe oponerse en contra del hechizo del corazón. Si deseas pasar un rato entre música, baile, drama y romance, no debes perderte este largometraje que sin duda te dejará sin aliento.
Love and music are mixed in a film where dreams and goals are stronger than romance and the desire to share the fragrance of "until death do them part." Mia always wanted to be an actress, let's say that is her strongest desire. Sebastian on the other hand, is a jazz musician who wants to bring the passion of this genre to a spectrum that goes beyond the restaurant phenomenon. They both share a fervent desire to be successful and famous, and although they fight together, it seems that they really do it their own way. Much must be sacrificed to reach the stars, and Mia knows it more than anyone else. When dreams are involved, love and romance take a back seat.

La La Land is one of the few musicals that will enchant your senses. The story goes beyond a trite or cliché romance by revealing the hidden face between love and the needs of those who profess it. It is a somewhat more coherent film and also sprinkled with realism. Emma Stone and Ryan Gosling's performance will cast a spell on you from the start. Directed by Damien Chazelle, this film teaches us that sometimes you have to sacrifice a lot to achieve success, and that happiness must be opposed against the spell of the heart. If you want to spend some time between music, dance, drama and romance, you should not miss this feature film that will undoubtedly take your breath away.
---
Espero se animen a disfrutar de cualquiera de estas maravillosas historias, que además de emotivas nos regalan un lado más cuerdo y excepcional del amor y los sentimientos que hay de por medio. No hay nada mejor que un peli para soltar unas cuentas risas y lágrimas, y más cuando lo haces en compañía de tu pareja. Y si estás soltero o soltera ¡No te preocupes! No hay excusas para disfrutar del séptimo arte. Con cada una de estas películas aprenderás que el amor, el de verdad, es un sentimiento complejo que va más allá de besos y caricias.
I hope you are encouraged to enjoy any of these wonderful stories, which in addition to being emotional give us a saner and more exceptional side of love and the feelings that are involved. There is nothing better than a movie to release a few laughter and tears, and more when you do it in the company of your partner. And if you are single or single, do not worry! There are no excuses to enjoy the seventh art. With each of these films you will learn that love, the real love, is a complex feeling that goes beyond kisses and caresses.
---