Another Super Mario game finished! This time it was Bowser's Fury that comes along with Super Mario 3D World. Bowser's Fury is a real gem and a great addition to the Super Mario universe. It's a small game but one that is totally worth playing for any fans of the franchise. If you want to know more about it you can check out my first impressions of the game here.
Me and my girlfriend did this together in coop. Playing Super Mario Odyssey in coop mode was one of the things we did to bond early on in our relationship. After finishing Odyssey three times and collecting 878/880 power moons in that we've been longing for extra content for it or more ideally a brand new game. After playing Bowser's Fury I feel like it comes in as a middle thing. It's marketed as extra content for Super Mario 3D World but instead it feels like a lightweight version of Odyssey.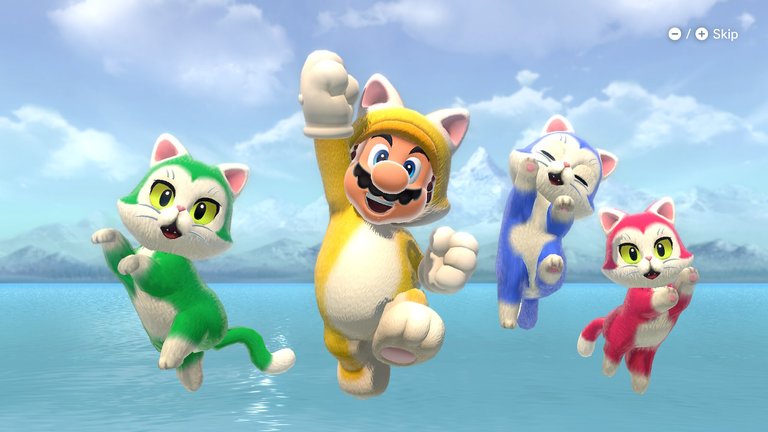 A completionists dream
This game was very satisfying to play. Especially from a completionist point of view. All of the collectibles are relatively easy to get for an experiences platformer but collecting them is still good fun. This is brought to life by all of the great new mechanics introduced to the game from Super Mario 3D World. There are 100 cat shines in total which doesn't make it a daunting task either. Each cat shine feels unique to collect as well which is great.
It's definitely one of the more casual Super Mario games that has been made. Seeing as you can stack up on power ups and even changing which one you want to have active on the fly you can adapt quite easily to any kind of situation. Need to do a long jump? Equip the super leaf so you can hover and jump farther. Need to climb up to a ledge? Equip the super bell and climb right up there. It means most situations become fairly trivial but with such a fun game that's not a problem.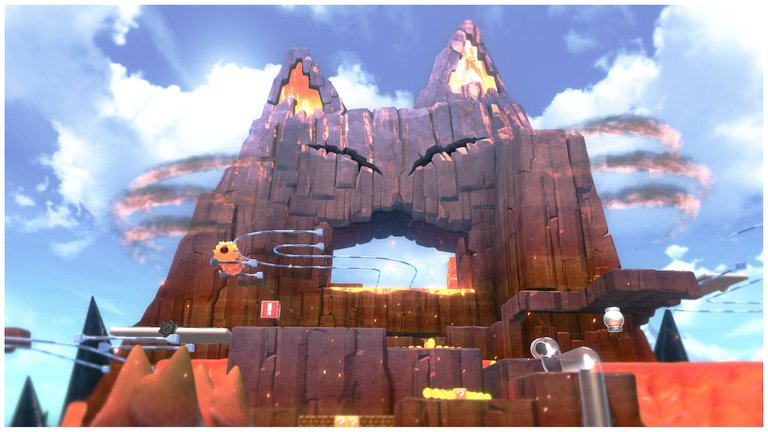 You only need to collect half (50) of the cat shines to beat the game. That unlocks the final boss fight with Bowser and after beating him you get to see the ending cutscene. After that you can delve back into the world to collect the last 50 cat shines. There's a decent amount that unlocks after the game is beaten as well. Nintendo has been great at putting in post game content for their Super Mario games and they deliver on it in this one as well.
Some of the bonus stars I really liked involved a golden floating island that appears during Bowsers rampage. You'll see it coming down from the sky somewhere on the map and you need to rush there to collect the cat shine before the rampage ends. There's a total of five cat shines to collect from this and you can only collect one per rampage. Definitely my favorite cat shines in the game.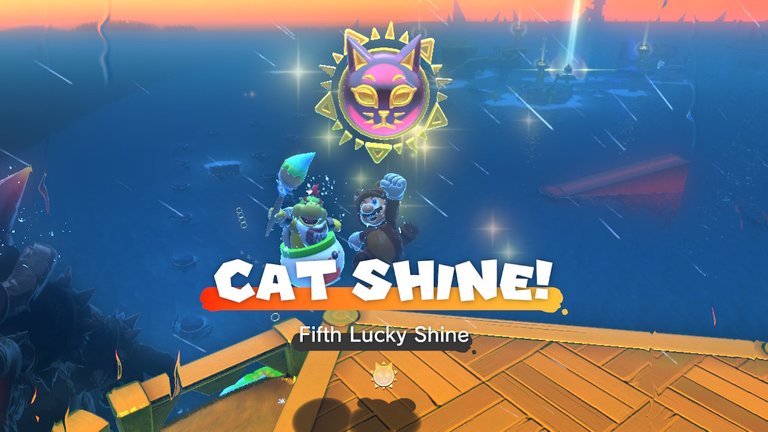 Sweet coop
Playing the game in coop was quite fun. The second player controls Bowser Jr. in his little flying face bucket. He's quite the useful character. He can fly around freely which means the second player is really useful for picking up faraway coins and other collectibles. He can also clear out enemies quite efficiently with his little paint brush spin attack. He's invincible as well, which is a little stupid, so there's no risk flying him into a bunch of enemies and go ham.
In my first impressions post I mentioned that my girlfriend didn't quite like controlling him. Much of it was due to bad camera controls and that it was really easy to fly him off camera. It got better as we played and we managed to put down some ground rules to make it better. Like me not running around to much as Mario when she was flying off to get something. the camera is entirely fixed to Mario so the second player has zero control of the camera. A little clunky but it worked out in the end.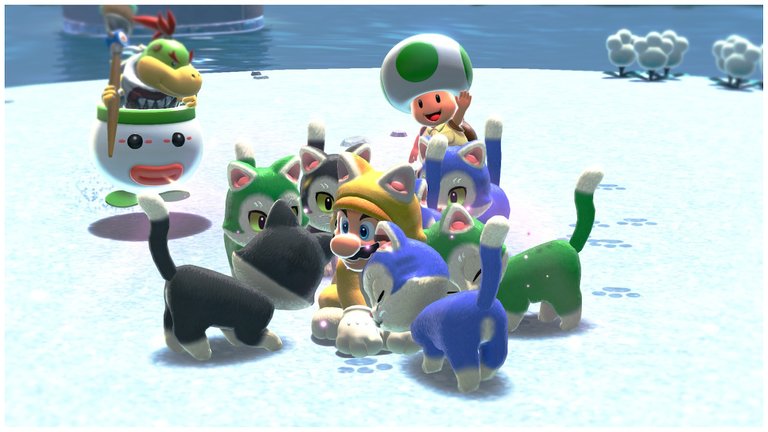 I hope we get to see some new stuff in the Super Mario universe soon. Odyssey was so good I wouldn't mind if we just got a second game. We'll get something in due time for sure. There's rumors of a Nintendo Switch Pro model coming out in the near future so maybe they're planning something for that. I don't know but I'm only speculating.
If anyone knows of any cool coop games for the Nintendo Switch I would love some recommendations. We're on a bit of a coop drought at the moment and would love for something new to play. At least we have the timeless Super Mario Kart 8 to play. It feels like we'll never get bored of that. Maybe one of these days I'll actually win an online race.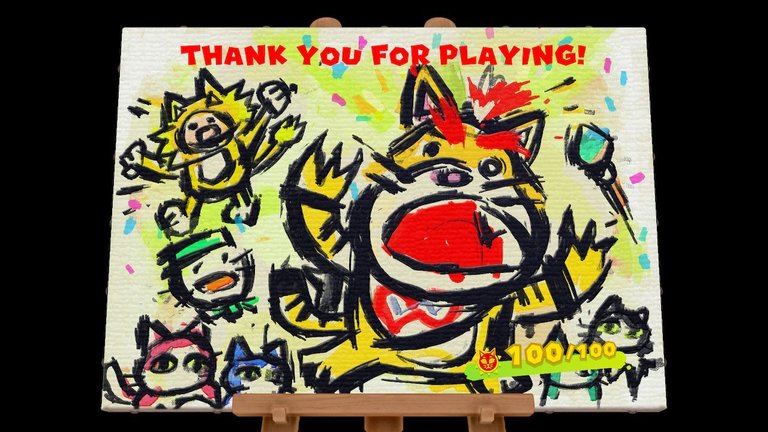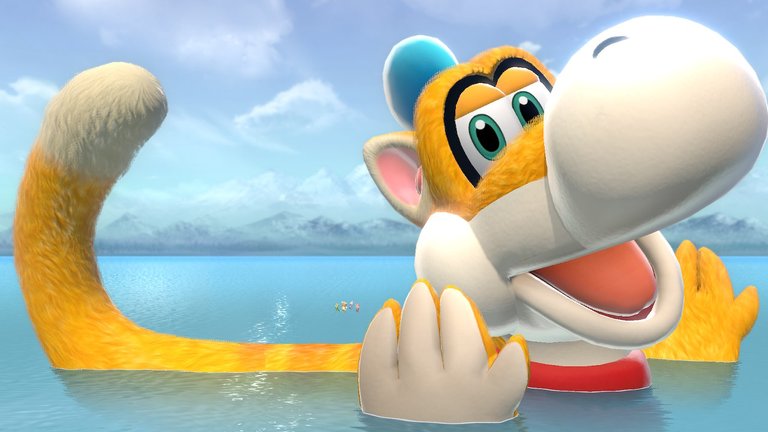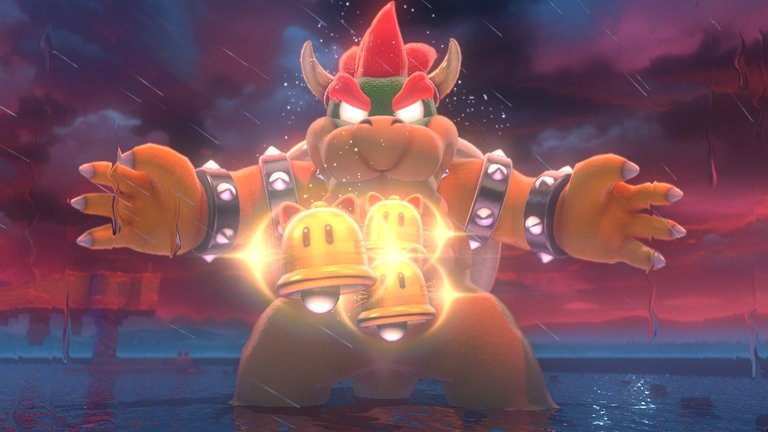 ---
All images in this post are screenshots taken by me.