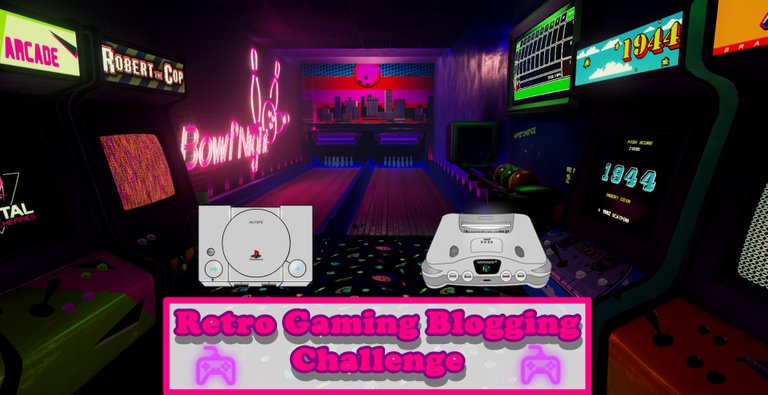 Hola de nuevo! Hoy les traigo un Blogging Challenge diferente, explicado de la mano de @marcoquin para la comunidad de Hive Gaming. Es un reto que vi gracias a varias personas que sigo y es el Retro Gaming Blogging Challenge, el cual me llamó mucho la atención porque aunque no tenga una consola para jugar actualmente y mi PC sea un dinosaurio que solo corre el juego de Solitario, tuve una etapa larga en mi vida donde jugaba muchísimo.
A pesar de ello, tengo muchos amigos que tienen consolas y me junto con ellos para jugar, no soy experta en prácticamente ningún videojuego pero hay algunos en los que me defiendo bien. Además, mi novio se dedica a arreglar consolas, es su trabajo. Igualmente siento que los videojuegos también son para disfrutarlos (aunque entiendo la frustración cuando pierdes una partida o no la guardas después de mil horas). Por ello, me uno a este reto el cual comienza el día de hoy en el que les hablaré de mi primera consola.
Hello again! Today I bring you a different Blogging Challenge, explained by @marcoquin for the Hive Gaming community. It is one that I saw thanks to several people I follow and it is the Retro Gaming Blogging Challenge, which called my attention because although I do not have a console to play nowadays and my PC is a dinosaur that only runs the Solitaire game, I had a long stage in my life where I played a lot.

Despite this, I have many friends who have consoles and I join them to play, I am not an expert in virtually any video game but there are some in which I defend myself well. Besides, my boyfriend is dedicated to fix consoles, it's his job. I also feel that video games are also to be enjoyed (although I understand the frustration when you lose a game or don't save it after a thousand hours). Therefore, I join this challenge which begins today in which I will tell you about my first console.


Mi primera videoconsola | My first videoconsole
Me gustaría hablar de dos: la primera consola que recuerdo ya que era de mi papá, y la primera que me regalaron a mí. La primera consola que recuerdo era un Nintendo 64 el cual mi papá usaba mucho, ya que le encantaba jugar. Recuerdo juego como Banjo Kazooie, The Legend of Zelda, Pokemon (ya que me encantaba el anime), SBK, y muchos más. A mi papá le fascinaba usar esa consola y de hecho, recuerdo que intenté jugar Majora's Mask, pero me dio tanto miedo que mi papá terminó pasando ese juego, realmente era una niña muy miedosa. Sin embargo, me gustaba jugar Star Fox donde descubrí mi gran amor por los shooting desde muy pequeña, Pokemon y cualquier juego de carreras.
La primera videoconsola que me regalaron fue la PlayStation 1 cuando tenía unos 5 años. Recuerdo que me la regalaron de navidad y estaba realmente feliz ya que nunca había tenido una consola propia. No saben las horas que pasaba pegada en mi pequeño televisor jugando muchísimos juegos, ya que esa consola contaba con una inmensa cantidad de juegos excelentes que a día de hoy, puedo disfrutar increíblemente.
I would like to talk about two: the first console I remember since it was my dad's, and the first one I was given as a gift. The first console I remember was a Nintendo 64 which my dad used a lot, as he loved to play games. I remember games like Banjo Kazooie, The Legend of Zelda, Pokemon (since I loved anime), SBK, and many more. My dad was fascinated by using that console and in fact, I remember trying to play Majora's Mask, but I was so scared that my dad ended up passing on that game, I really was a very scared child. However, I liked to play Star Fox where I discovered my great love for shooting from a very young age, Pokemon and any racing game.

The first video game console I was given was the PlayStation 1 when I was about 5 years old. I remember I got it as a Christmas present and I was really happy because I had never had a console of my own. You don't know how many hours I spent glued to my little TV playing a lot of games, because that console had a huge amount of excellent games that I can still enjoy today.
Crash Bandicoot, Tekken, Spyro, Harry Potter, y cosas así. Me acuerdo que mi papá me trajo un CD que cuando lo colocaba en la consola traía una lista inmensa de juegos, para enterarme que era algo así como un emulador de juegos de Nintendo 64 quemado en un CD para jugarlo en mi PlayStation, era una combinación extraña pero maravillosa porque podía jugar juegos de Nintendo en una consola distinta. También jugaba juegos típicos de una niña, como juegos de princesas, de cambiarle la ropa a muñecas pero eran muy pocos.
Cuando crecí un poco, comencé a jugar cosas como Final Fantasy, Metal Gear, Resident Evil, Parasite Eve o Castlevania, Realmente fueron juegos que me acompañaron en gran parte de mi infancia y con los que vi en cuales géneros era mejor o peor, por lo menos, siempre fui extremadamente mala en juegos de pelea, los juegos de rol o con gran historia me encantaban aunque era muy lenta para ello, creo que se me dan mejor los shooting y los disfruto mucho. Realmente tengo lindos recuerdos con esas consolas y espero tener la oportunidad de volver a jugar esos juegos.
Crash Bandicoot, Tekken, Spyro, Harry Potter, and things like that. I remember that my dad brought me a CD that when I put it in the console brought a huge list of games, to learn that it was something like an emulator of Nintendo 64 games burned on a CD to play it on my PlayStation, it was a strange but wonderful combination because I could play Nintendo games on a different console. I also played typical games for a little girl, like princess games, changing dolls' clothes, but they were very few.

When I grew up a little bit, I started to play things like Final Fantasy, Metal Gear, Resident Evil, Parasite Eve or Castlevania, they really were games that accompanied me in most of my childhood and with which I saw in which genres I was better or worse, at least, I was always extremely bad in fighting games, role playing games or with great story I loved although I was very slow for it, I think I am better at shooting and I enjoy them a lot. I really have nice memories with those consoles and I hope to have the chance to play those games again.


Espero que les haya gustado y gracias por leer hasta el final, en serio lo aprecio mucho.
Les mando un abrazo y nos vemos en el próximo post!
I hope you liked it and thank you for reading to the end, I really appreciate it.

I send you a hug and I'll see you in the next post!