I recently had an interesting conversation with a good friend of mine who has shared my crypto enthusiasm for many years.
It was about how quickly you change your attitude towards money. In fact, it's shockingly fast.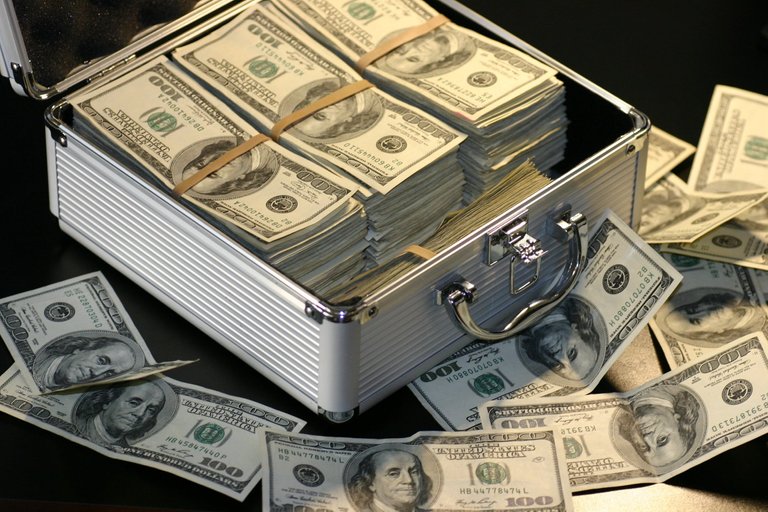 A rule of the crypto world says don't tell anyone how much you have. We want to adhere to that, of course.
In order to give this post a little more "material", we are working here with a fictitious sum of € 100,000 that is parked on the fictitious exchange "ABCrypto".
First of all, neither of us is one of the few lucky crypto millionaires. Not even close :(
Our interest started around 2015/16. Bitcoin made the first big headlines. A lot of altcoins were also on the rise.
We hesitantly began (each for himself) to invest in small amounts. There 50€ in Bitcoin. 100€ in Monero and so on. In the end it was a few hundred euros in various wallets that we kept more or less clueless somewhere.
At the Bitcoin peak of ~18,000 USD (actually ridiculous compared to today) it suddenly plop and we were back where we started relatively quickly.
The profits were basically gone overnight.
Even if it was about little money back then, we were annoyed. At least we could have made a few hundred euros in profit.
Time passed and we used the low level to buy. In the hope that the next bullrun will push us up again.
And damn how high he drove us ...
Even if HODL is our motto, we started to trade a little on the ABCrypto exchange. Not that unsuccessful at all.
Staking has also opened up to us.
Gradually the value of our portfolio grew to a six-figure amount.
And here comes the turning point.
We all know the volatility of the crypto market. 5 percent up or down in one day no longer scares anyone. In our example, this means that our portfolio fluctuates in value by € 5,000 per day.
Depending on the circles in which you move, you could say that € 5,000 is "nothing". But for the majority of working people that is a lot. For low-income classes this might be 3 months of salary.
The bad thing is now, we don't care. And as mentioned at the beginning, we are not rich. We go to work just like others. But we're kind of dulled in that regard.
It is often said that rich people have lost touch with money. And if I give very little thought to our amount, which is negligible for the actually rich, then it becomes clear that you lose touch with money very quickly if you actually have a lot of it.
Ten years ago a loss of € 5,000 would have been a catastrophe for both of us. Today? Yes. Stupid, tomorrow it will definitely be better.
The likelihood that we will get rich with cryptos is very, very small. But seen in this way, it may be better for our empathy and our way of dealing with money if it stays so.
---
---
Ich hatte unlängst mit einem guten Freund von mir, der seit vielen Jahren meinen Crypto-Enthusiasmus teilt, ein interessantes Gespräch.
Es ging darum wie schnell man seine Einstellung zu Geld ändert. Tatsächlich ist es sogar erschreckend schnell.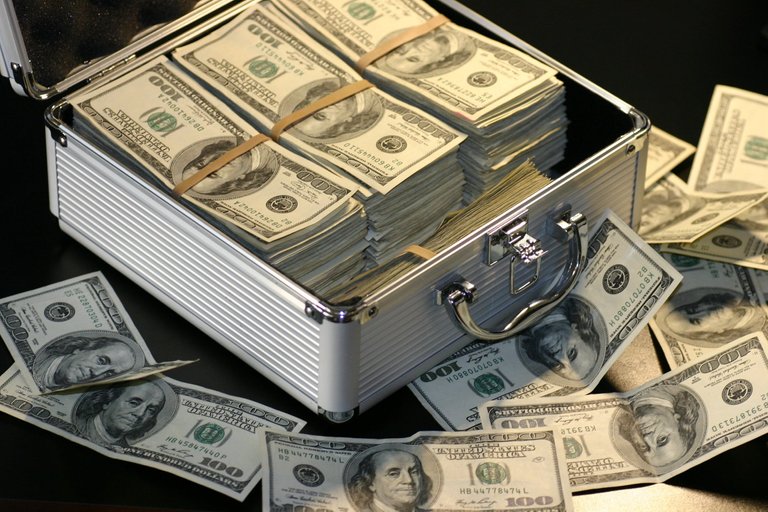 Eine Regel der Crypto-Welt besagt, erzähle niemandem wie viel du hast. Daran wollen wir uns natürlich halten.
Um diesem Post aber etwas mehr "Material" zu verleihen, arbeiten wir hier mit einer fiktiven Summe von 100.000€ die auf der fiktiven Börse "ABCrypto" liegt.
Eines vorweg, keiner von uns beiden gehört zu den wenigen glücklichen Crypto-Millionären. Nicht mal ansatzweise :(
Unser Interesse begann in etwa 2015/16. Bitcoin machte erste große Schlagzeilen. Auch eine Menge an Altcoins war bereits auf dem Vormarsch.
Zaghaft begannen wir (jeder für sich) in kleinen Beträgen zu investieren. Da mal 50€ in Bitcoin. 100€ in Monero und so weiter. Am Ende waren es ein paar hundert Euro in diversen wallets die wir mehr oder weniger planlos irgendwo hielten.
Bei dem Bitcoin peak von ~18.000 USD (eigentlich lächerlich im Vergleich zu heute) machte es auf einmal plopp und wir waren relativ schnell wieder da wo wir angefangen haben.
Die Gewinne waren de facto über Nacht verschwunden.
Auch wenn es damals um wenig Geld ging, haben wir uns doch geärgert. Immerhin hätten wir ein paar hundert Euro an Gewinn einfahren können.
Die Zeit verging, und wir haben den niedrigen Stand genutzt um nach zu kaufen. In der Hoffnung, dass der nächste Bullrun uns wieder in die Höhe treibt.
Und verdammt, in welche Höhe er uns getrieben hat...
Auch wenn HODL unser Motto ist, begannen wir auf der ABCrypto Börse an ein wenig zu traden. Gar nicht mal so erfolglos.
Auch das Staking hat sich uns erschlossen.
Nach und nach wuchs der Wert unseres Portfolios auf einen sechsstelligen Betrag.
Und hier kommt die Wende.
Wir kennen alle die Volatilität des Cryptomarktes. 5 Prozent auf oder ab an einem Tag erschreckt keinen mehr. Das bedeutet in unserem Beispiel, dass unser Portfolio am Tag im Wert um 5.000€ schwankt.
Je nachdem in welchen Kreisen man sich bewegt könnte man sagen, dass 5.000€ "nichts" ist. Für den Großteil der arbeitenden Menschen ist das aber sehr viel. Für einkommensschwächere mit unter sogar 3 Monatsgehälter.
Das schlimme ist nun, es kümmert uns nicht. Und wie schon anfangs erwähnt, wir sind nicht reich. Wir gehen genauso arbeiten wie andere auch. Aber irgendwie sind wir in der Hinsicht abgestumpft.
Man sagt reichen Menschen oft nach, dass sie den Bezug zu Geld verloren haben. Und wenn ich mir bei unserem Betrag, der für tatsächlich Reiche vernachlässigbar ist, schon nur sehr kleine Gedanken mache, dann wird klar, dass man den Bezug zu Geld sehr schnell verliert sobald man sehr viel davon hat.
Vor 10 Jahren wären 5.000€ Verlust eine Katastrophe für beide von uns gewesen. Heute? Ja. Blöd, morgen wird es bestimmt besser.
Die Wahrscheinlichkeit, dass wir mit Cryptos reich werden, ist sehr sehr gering. Aber so betrachtet, ist es vielleicht für unsere Menschlichkeit und unserem Umgang mit Geld sogar besser so.
---
---