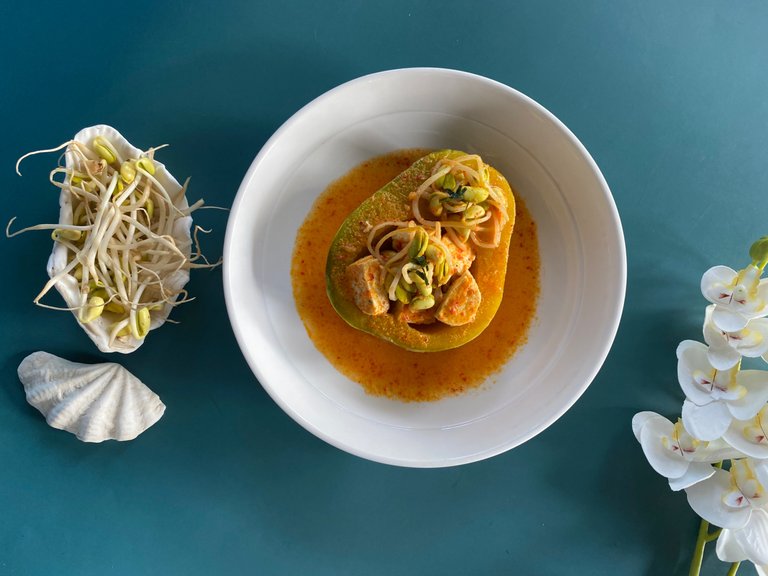 Pumpkin can be made into several types of dishes at once. That would be a great idea to save my time. Pumpkin can be used as a dessert and for the main course breakfast or dinner.
This pumpkin has a filling texture, this time I will serve it as dinner, with side dishes of stir-fried tofu with soy sprouts with coconut milk sauce.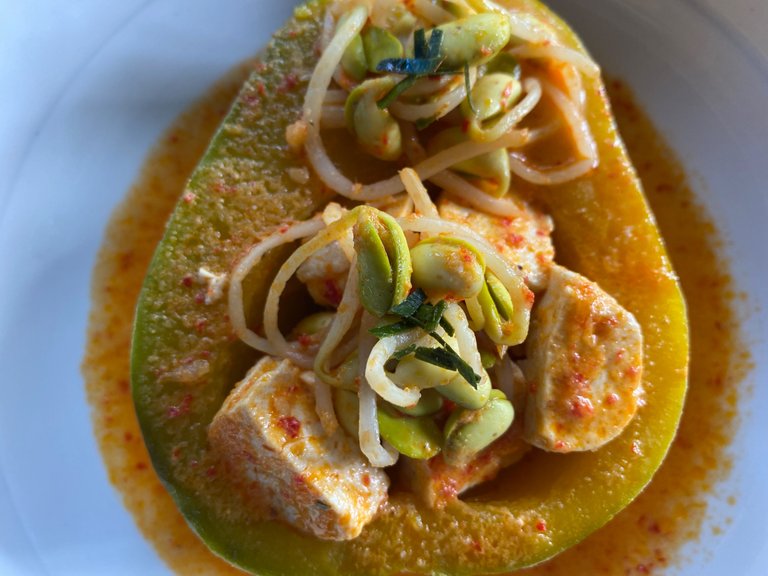 ---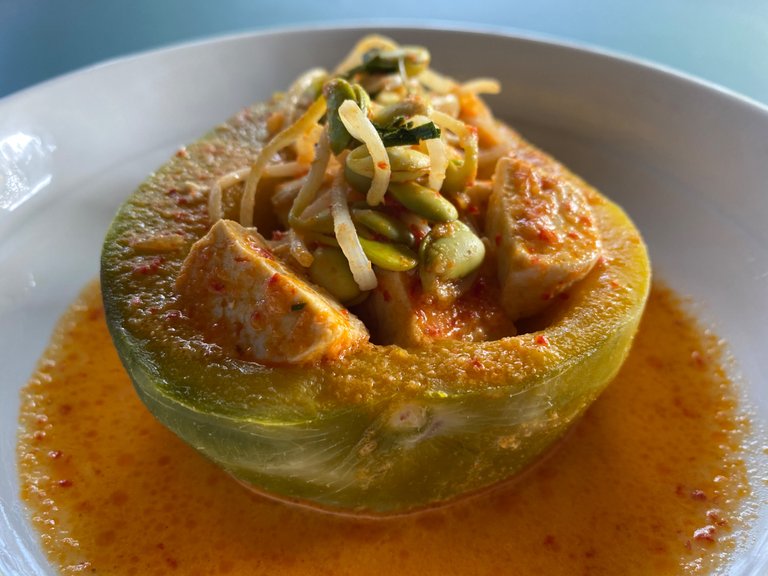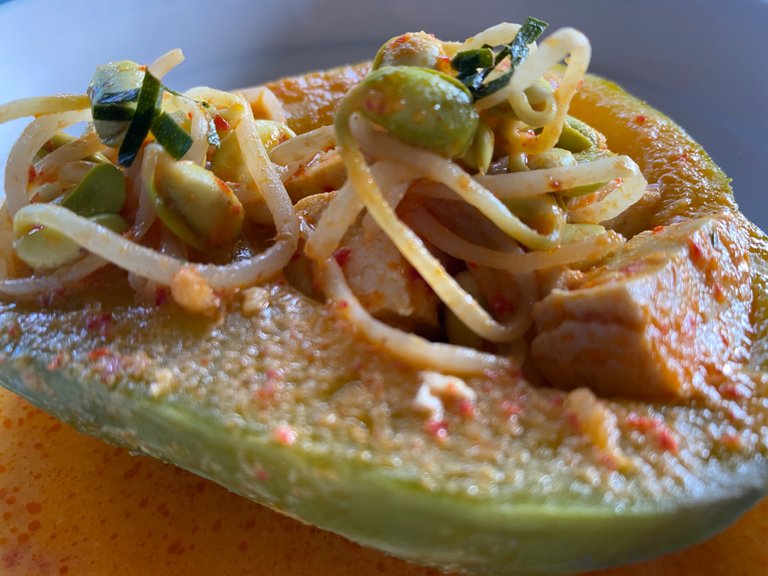 ---
The dishes that I made this time are also plant-based options. Stay tuned!
---
---
---
SOYBEAN SPROUTS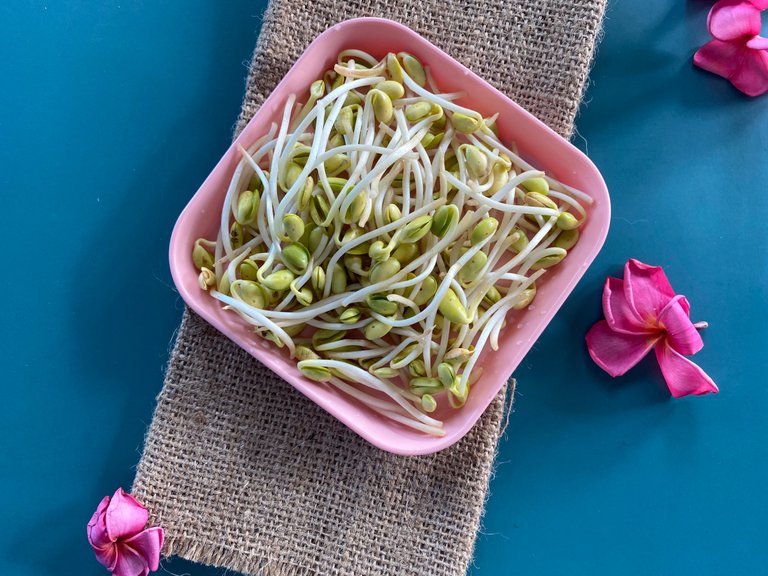 The highlights here are the soybean sprouts, which are bolder in texture and taste than the mung bean sprouts.
My family prefers soy sprouts, which are crunchier in texture and have a dominant taste when mixed with other ingredients.
---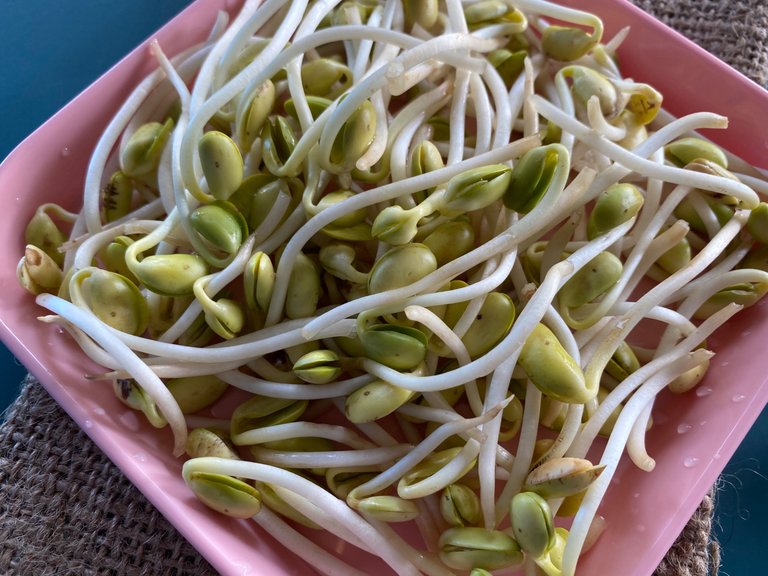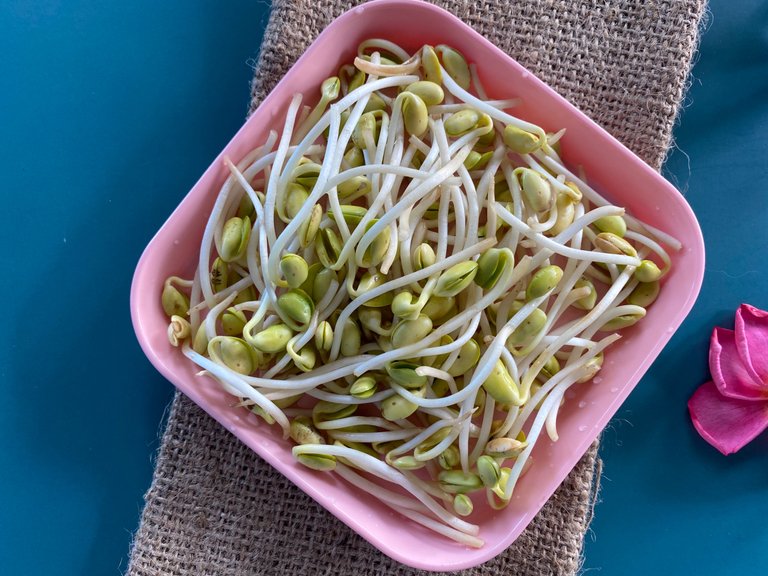 ---
That's because soybean granules have a larger size compared to mung beans. FYI, in my area, the generally sold sprouts are bean sprouts. So soybean sprouts can be a variety of food menus and the texture is very different.
With the grain size of soybeans being larger than mung beans, it will produce larger sprouts as well. It makes their texture more crunchy and has a bold taste.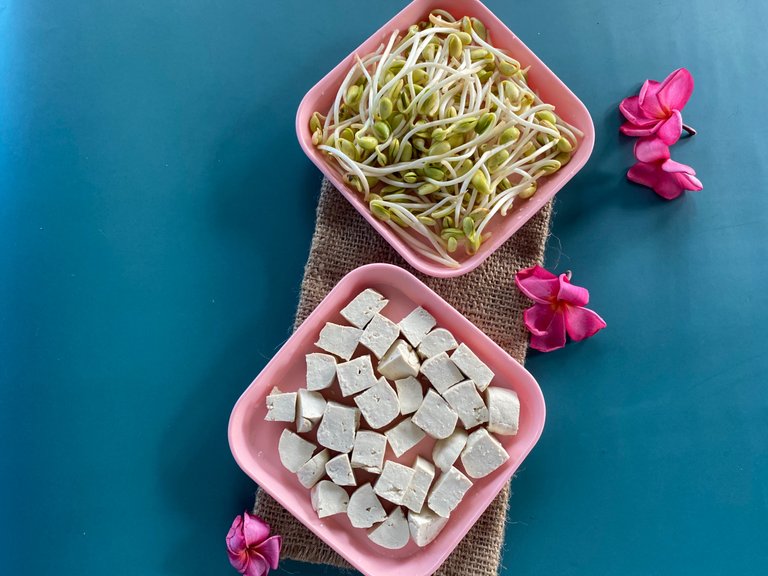 Some choices of the right ingredients to mix with soy sprouts are tofu, tempeh, green beans, many more.
---
THE INGREDIENTS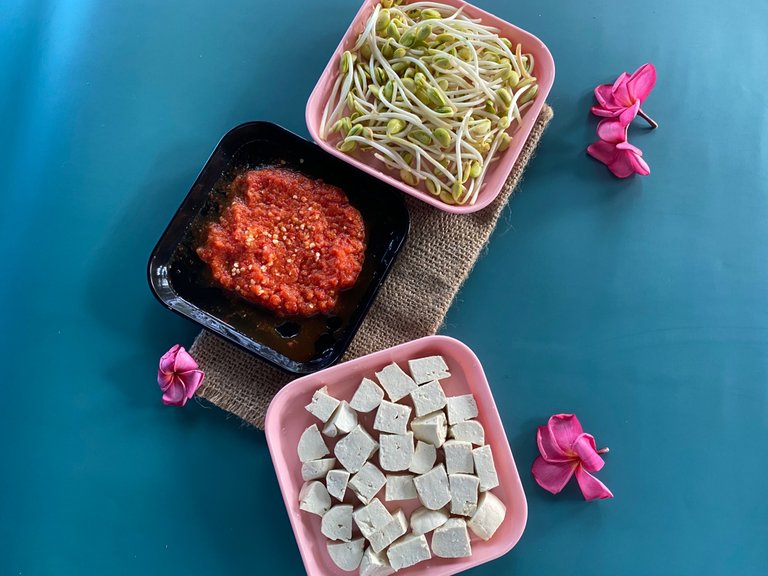 One whole pumpkin
100 grams of tofu, diced
100 grams of soybean sprouts
3 tablespoons of chili paste or to taste. (Blender red chilies with garlic and onion).
300 ml of coconut milk
a sheet of bay leaf
a sheet of kaffir lime leaf
2 teaspoons salt or according to your taste
1 teaspoon turmeric powder (optional).
---
---
---
COOKING INSTRUCTIONS
STEP 1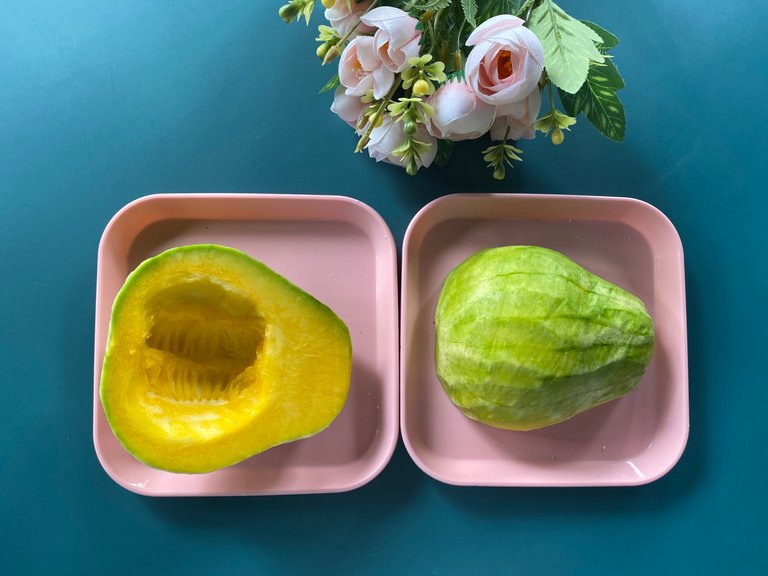 Cut the pumpkin in half, then peel the pumpkin carefully. Watch your fingers, as peeling pumpkin is a bit tricky, with the tough outer skin.
Remove the seeds. You can save pumpkin seeds to use as roasted pumpkin seeds for delicious and healthy snacks.
---
---
---
STEP 2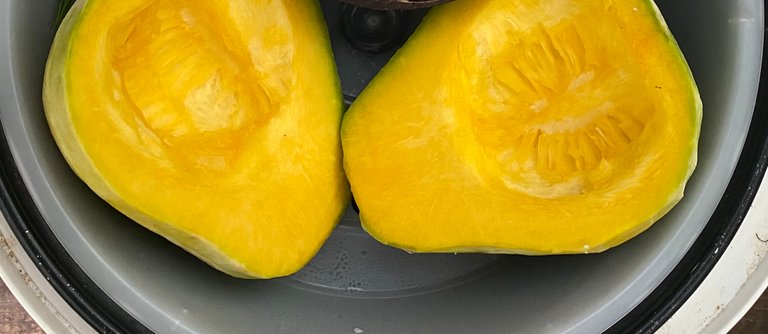 Steam pumpkin. Cooking time depends on each of your equipment and I can't say for sure the exact time.
Here I use a rice cooker with the steaming method.
---
---
---
STEP 3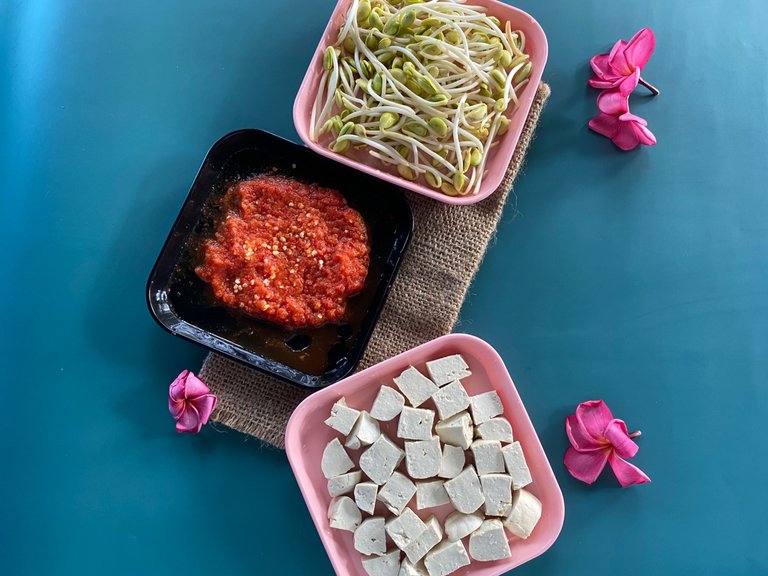 While waiting for the steamed pumpkin to cook, prepare the other ingredients for cooking the sprouts and tofu.
---
---
---
STEP 4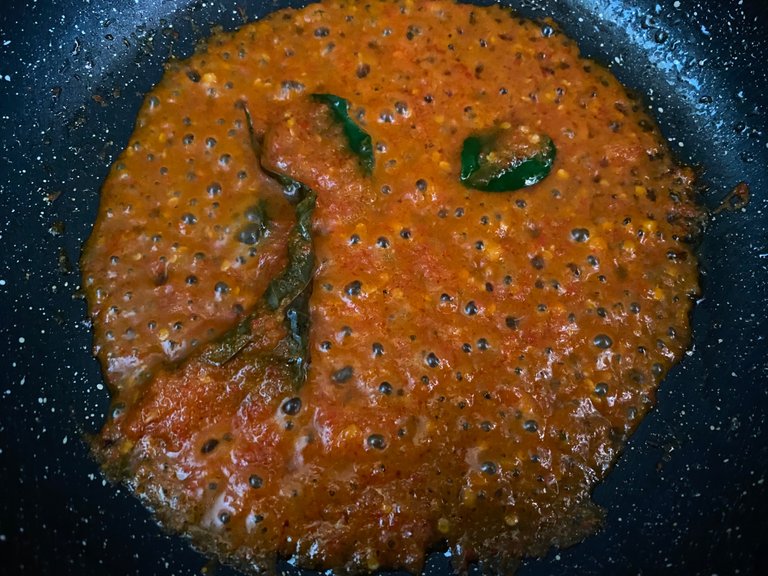 Saute chili paste with bay leaf and kaffir lime leaf until fragrant. Add salt and turmeric powder.
---
---
---
STEP 5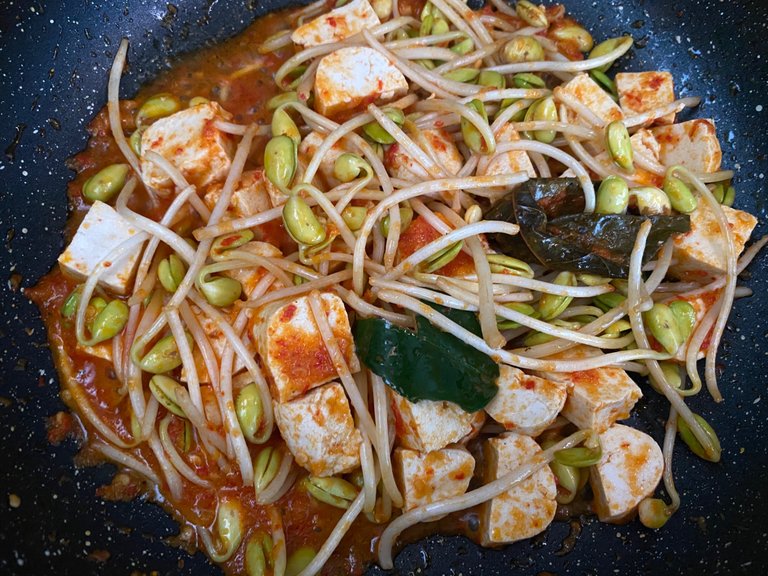 Add tofu and soybean sprouts, then add a little water. Cook until done.
---
---
---
STEP 6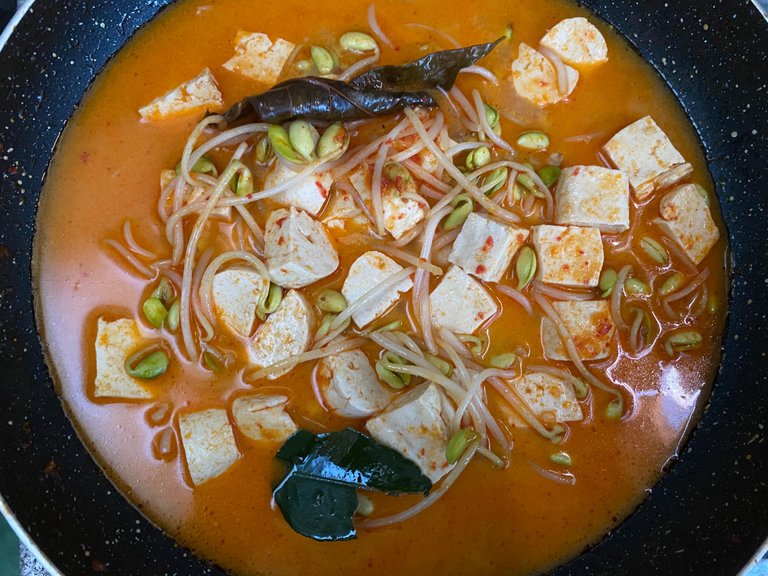 Add coconut milk, then cook for a while continuously stirring so that the coconut milk texture is not damaged.
---
---
---
STEP 7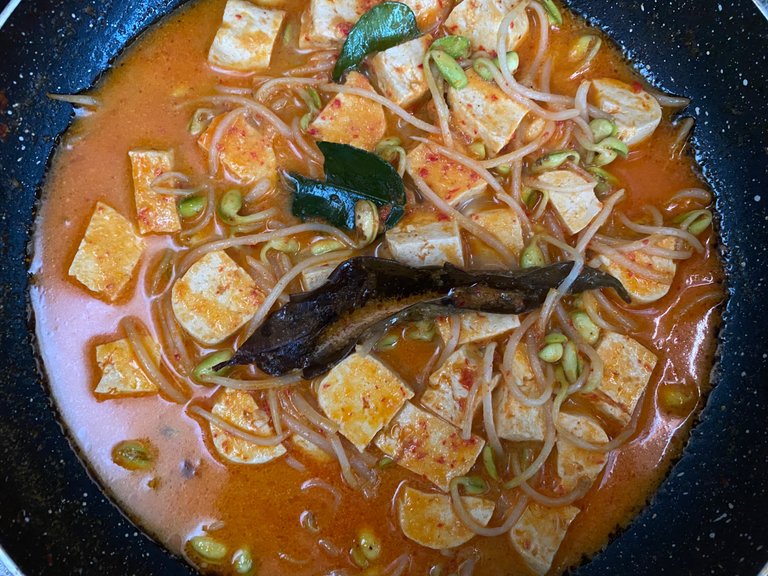 Please correct the taste, then remove it. Serve with steamed pumpkin.
---
---
---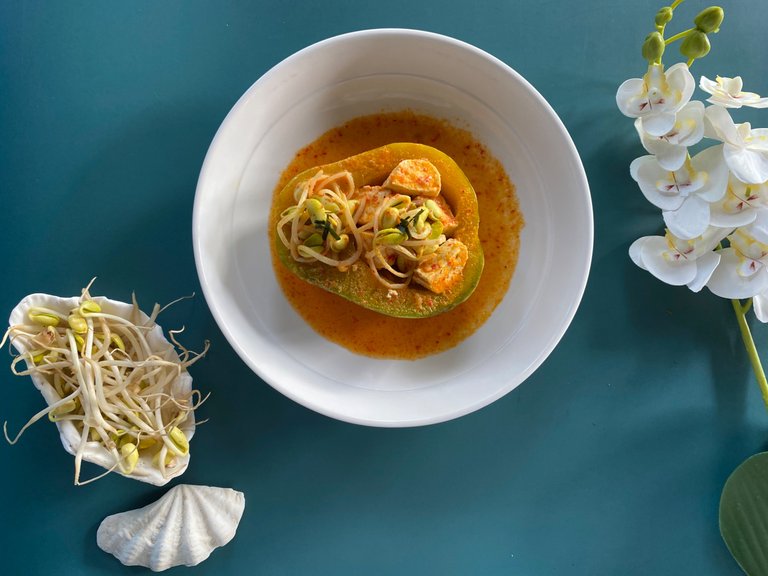 Steamed pumpkin with stir-fried tofu and soybean sprouts and coconut milk sauce is ready to be served.
---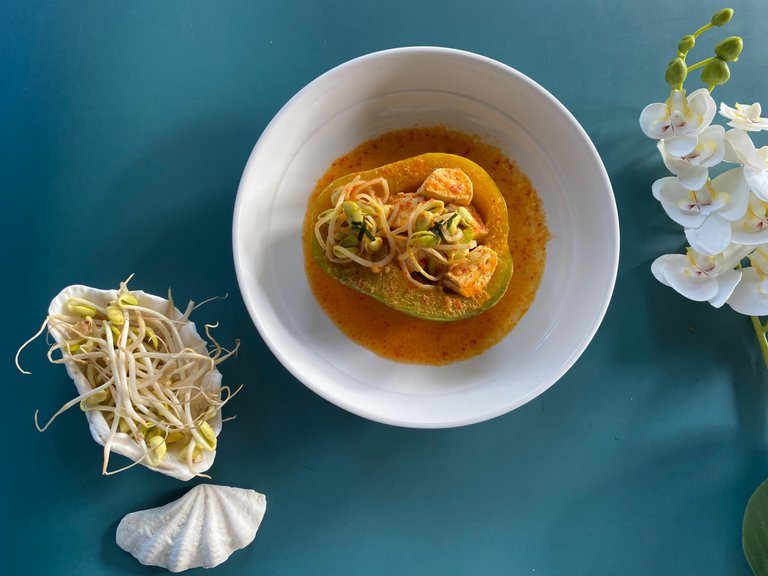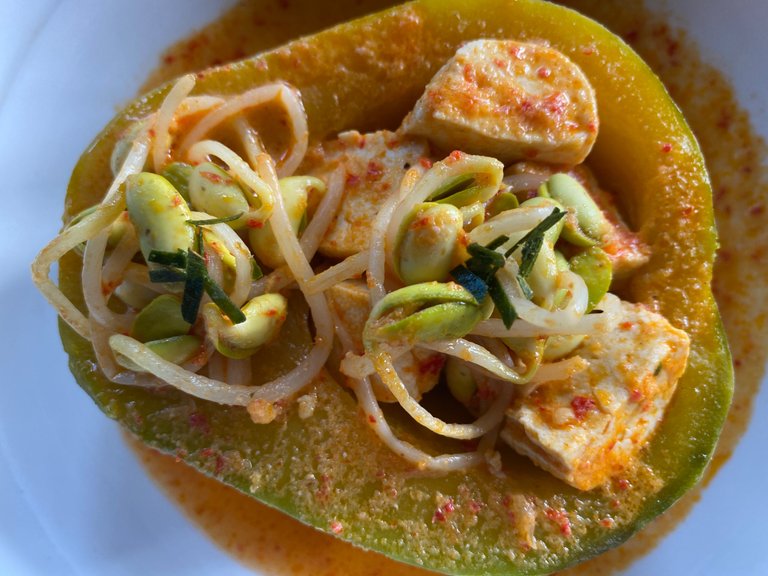 ---
If you like spicy, you can add a sprinkling of chili powder when serving. But if you don't like spicy, you can omit the chili in the seasoning, so the taste is lighter.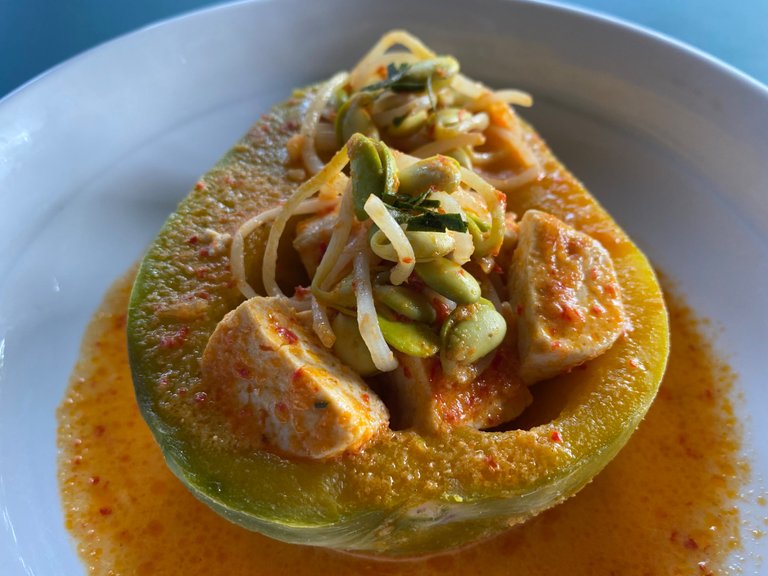 The overall taste of this dish is rich in flavor. Savory, spicy, creamy, and slightly sweet from the steamed pumpkin.
---
---
---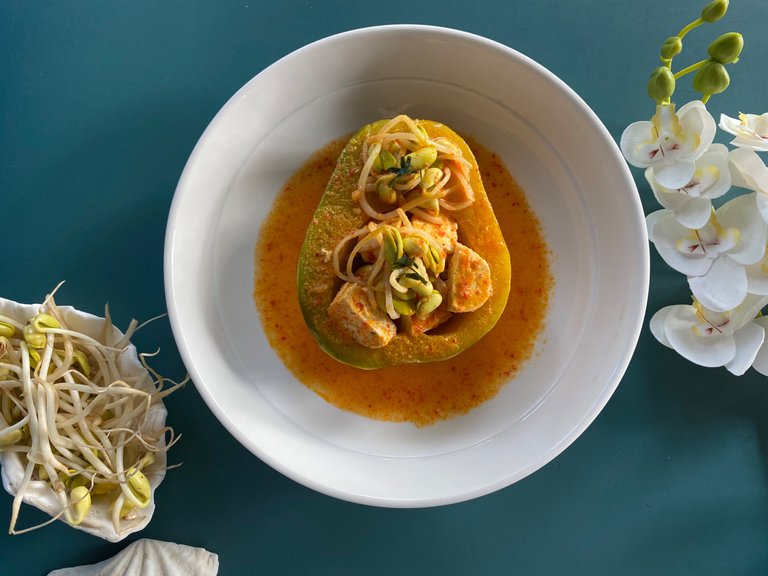 That was my dinner creation with pumpkin ingredients and soy sprouts. Coconut milk makes a pleasant creamy sensation for serving.
What do you think of the variety of my dish this time? Have you ever tried a version similar to mine? Interested to try? I would love to read your comments.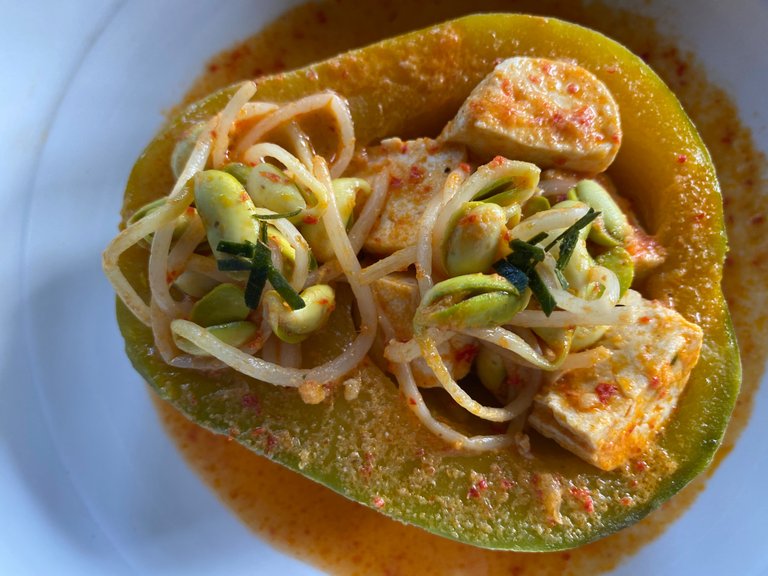 ---
---
---
Thank you for reading my blog and reblog if you want my blog this time worthy of reading by others.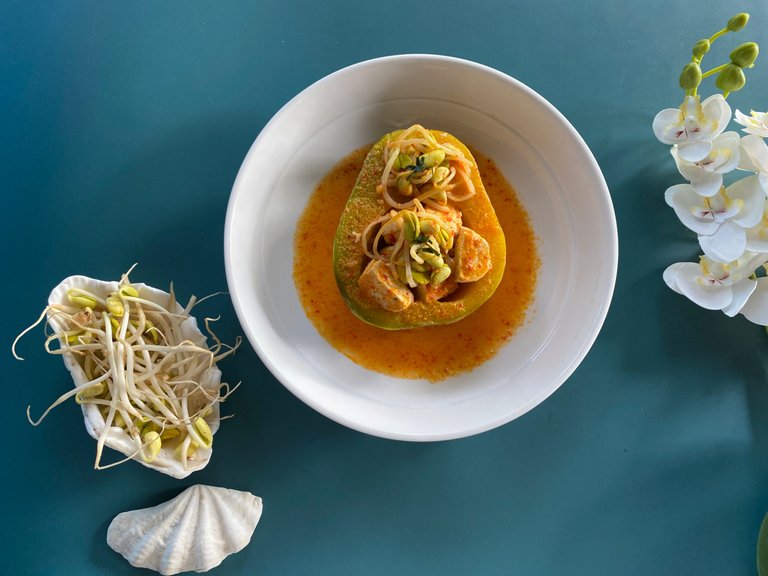 All pictures were taken with iPhone 11.
---
---
---
Best Regards,
Anggrek Lestari
---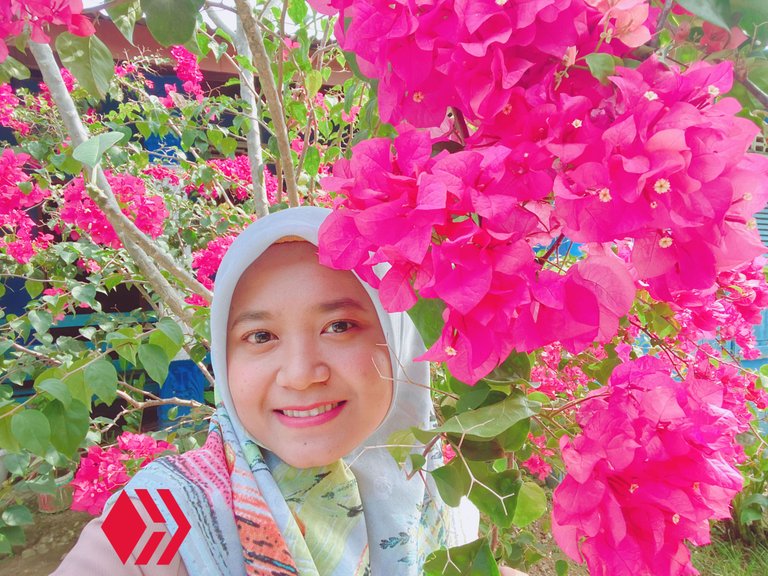 Who is Anggrek Lestari?
Anggrek Lestari is an Indonesian fiction writer who has published two major books. Now She is a full-time content creator. She has a goal to share food content that makes others happy and can get inspiration for foods that are easy to make and contain elements of health.
Make sure you follow her blog as well for some interesting discussions about life other than food.
If you need a copywriter for your projects, Anggrek Lestari will be ready to help you.
Contact Person: authoranggreklestari@gmail.com
Discord: anggreklestari#3009