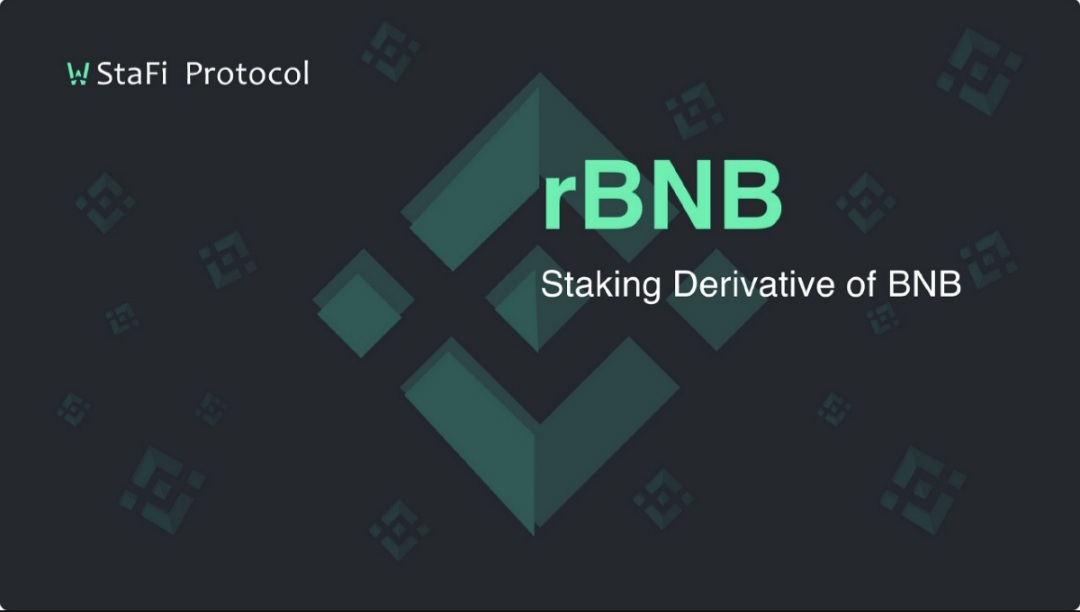 In the quest of providing Liquidity solution to all PoS projects, making staking easier and more flexible for users, the StaFi team has again launched a liquidity solution for another PoS project, which is the Binance $BNB, taking the total rtoken solution to 7 which are rETH, rFIS, rDOT, rKSM, rATOM, rMATIC and rBNB solutions.
StaFi protocol confirmed the launch of the rBNB solution, which cracks the staking liquidity problem for the Binance Chain community. Therefore, BNB holders on BSC can directly stake BEP20 BNB through StaFi's rBNB App to enjoy liquid staking of BNB.
What is rBNB
rBNB is a decentralized DeFi product produced by StaFi that solves the liquidity problem of staked BNB on the Binance Chain mainnet.
rBNB token is a synthetic staking derivative issued by StaFi when they stake BNB through the StaFi rBNB App. The rBNB tokens can be transferred and traded at the users' discretion
Why rBNB
No long redemption period:
There will be no need for stakers to wait for 7 days to unbond the staked BNB assets. Users can transfer, mortgage, and trade rBNB assets at any time to liberate liquidity and hedge price risks.
No need to study a complicated consensus mechanism
There is no need to learn complicated Binance Chain's Tendermint BFT consensus mechanism or staking reward calculation rules if you want to maximize staking rewards. With the rBNB App, users only need to follow a few steps to deposit BNB into the rBNB contract, which will automatically select the best validator for delegation by the rewards maximization strategy.
Liquidity Risk
Being a liquidity provider, users do not need to worry about the liquidity of staked BNB. Users can trade rBNB on Pancake, or mortgage on lending protocols to liberate liquidity at any time in the future.
Validators Risk
The rBNB contract integrates a strategy for maximizing staking rewards, which automatically selects a group of Original Validators with the highest rewards on the chain for staking.
Stakers Risk
The rBNB contracts automatically collect the staking rewards to retake. So stakers do not need to withdraw the staking rewards manually and then restake to generate the compound interest like before.
The inforgraphics attached provides summary on the problems StaFi's rBNB solved for users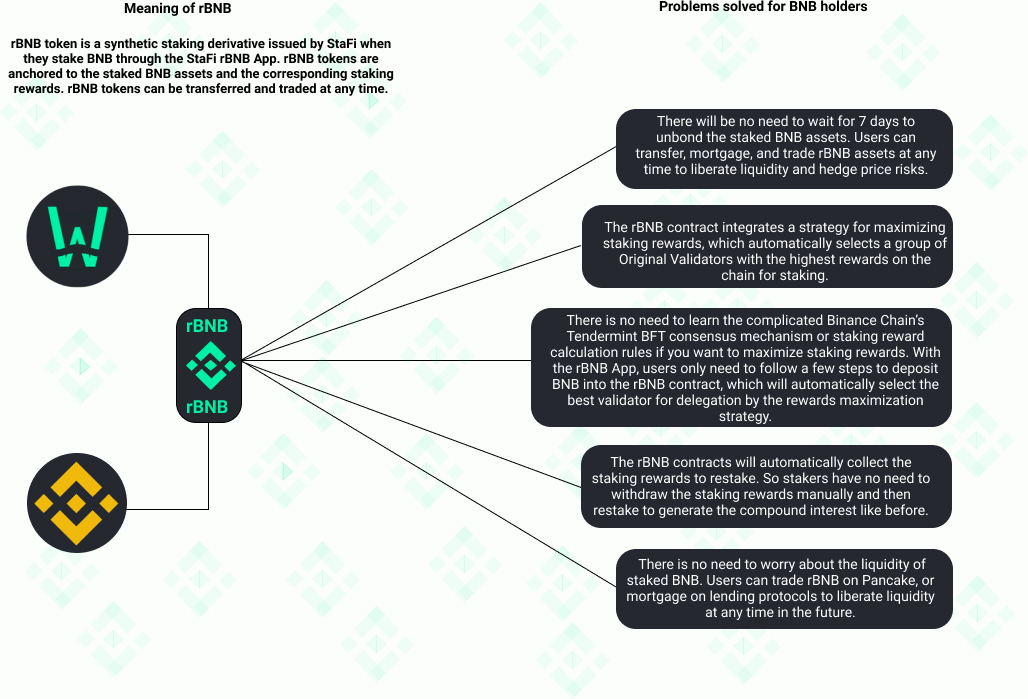 Stake $BNB, ger $rBNB
Reference
https://link.medium.com/6zVUE2D6zjb
About StaFi_Protocol
StaFi is the first DeFi protocol unlocking liquidity of staked assets. Users can stake PoS tokens through StaFi and receive rTokens in return, which are available for trading, while still earning staking rewards. rToken is a synthetic staking derivative issued by StaFi to users when users stake PoS tokens through StaFi rToken App (https://app.stafi.io). rTokens are anchored to the PoS tokens staked by users and the corresponding staking rewards. tokens can be transferred and traded at any time.