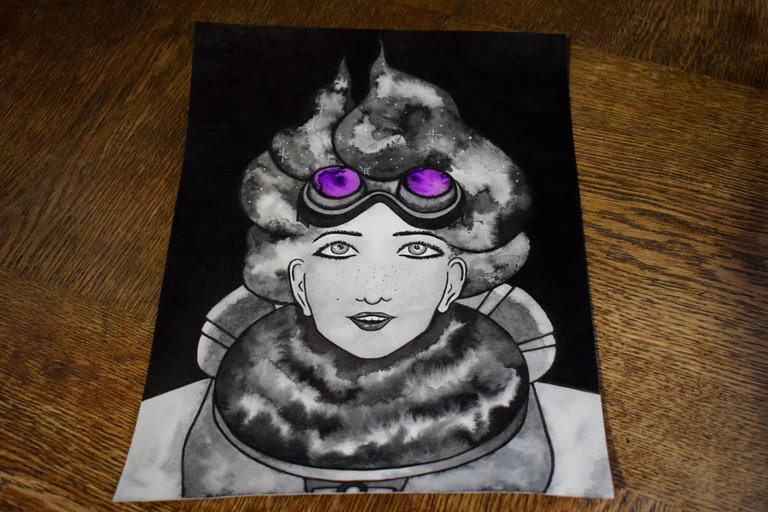 "Haud onto your knickers darlins!" - Horizon, Apex Legends
Hello Strangers! As I mentioned in my previous post, I was super excited to come across the drawing contest by HiveGamingCommunity the other day. What a great opportunity to be creative and such a great topic as well! I knew right away which character I wanted to draw - Horizon from Apex Legends.
I have been getting back into gaming lately after taking a long break. Years to be exact. I pretty much stopped gaming when I started university and no longer had time for it. Fast forward a decade and you end up with a potato machine that is only capable of reading and writing text files xD

Well, not anymore! It is great to be able to game again, to plunge into different worlds and stories, especially now that our physical world is such a mess. Some of the games I have been enjoying are CS:GO, Borderlands, PUBG, Among Us, Age of Empires II, Rocket League, Cyberpunk 2077, and my latest obsession, Apex Legends.
Oh, they got me good, those clever bastards! Why else would I keep playing a game that I am absolute rubbish at? Sometimes you land and you are ded in a matter of seconds and spend more time in the lobby twirling your fingers, biting your nails, and pulling your hair out of frustration while matchmaking, but you still want to go back in for more.
For those of you who have lived under a rock for the past decade, same as me, Apex Legends is a multiplayer, FPS battle royale game where you can choose to play as a bunch of different legends with various abilities that come in handy as you are dropped from the ship and fight everyone until the last person standing (or die quickly, because you suck).
Horizon is one of those legends and of course, she is my favorite! Why might you ask? First of all, she is a badass across the board. Genius scientist, the astrophysicist who kicks everyone's butt with her gravitational manipulations such as being able to create a small black hole or a gravitational beam that lifts you up in the sky or your team, or even enemies. At the same time, she will crack you up with some of the funniest, witty, and a bit nerdy talking lines, but there is more than meets the eye. Sometimes Horizon trails off to quite mysterious ponderings that seem a bit random at first and sad at the same time. It has to do with her backstory and no one can tell it better than Horizon herself - Promise. It made me love her even more.
I think Horizon fits my playing style the most as I can dodge some sticky situations by launching off in the sky or to high ground, or unleash a black hole on someone as a distraction while I find my way to safety.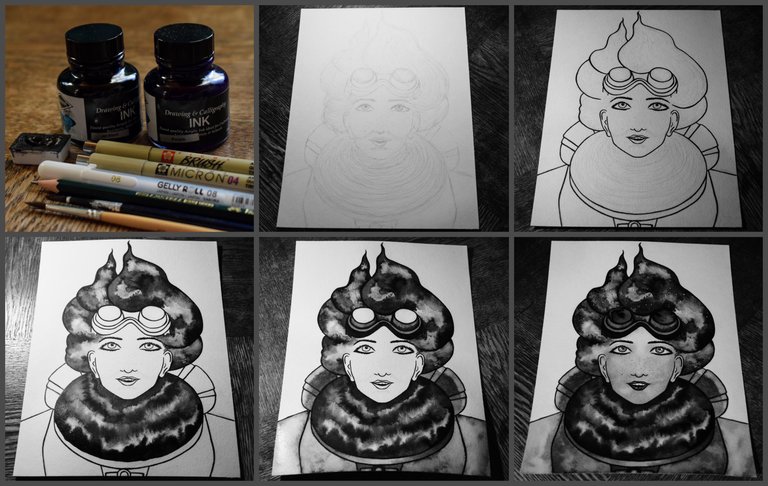 Drawing/inking/painting process of Horizon - Singularity skin
In the game, there are many items, skins you can purchase or earn for your character to make it look more customized and cool. This brings it to my drawing. I decided to make my custom skin for Horizon and I call it Singularity. Ha! You know, because she is the master of black holes. So her hair flows like in zero gravity all the time and all that good stuff. Wouldn't it be great if such skin existed? Dreams.
First I started by studying some of the features of Horizon from a ton of renderings of the original character, such as her expressive, almost almond-shaped eyes, pronounced cheekbones, and even freckles. Some of the images that helped me with this drawing are here - I, II, III.
I chose ink as my medium and damn, it was a struggle to open the jet black one as it seemed to be glued shut. I had not touched inks since last Inktober, but, luckily, Horizon went "Science time! Ooh, yaldi!" and I applied hot water to the cap and I got it open easily after that.
I thought it would look interesting if the whole piece was a monochrome comic style look with only a single detail in a different color and of course I had to use my purple ink for her goggles! That was fun! I love how it turned out and how much they pop! And then of course I had to add in stars in her hair and in my mind, the round neck part of her suit looks like a black hole too.
What do you think? Some more details below. Thank you to HiveGamingCommunity for hosting such a cool activity! I would love to do something like this again in the future! ^^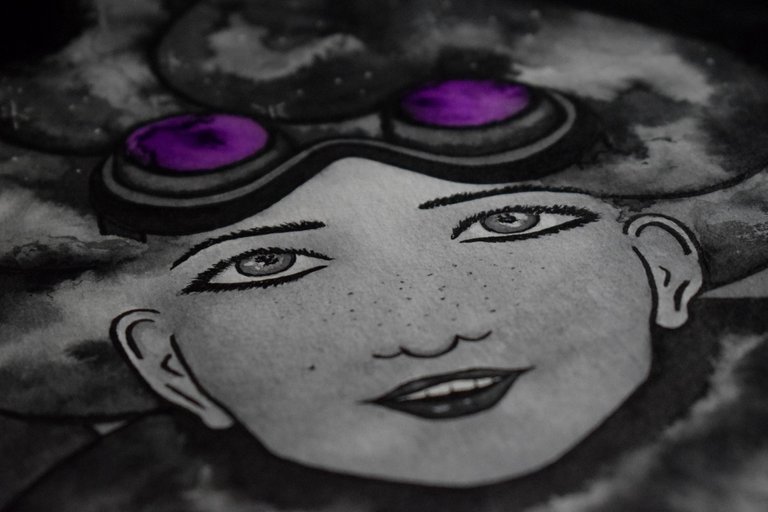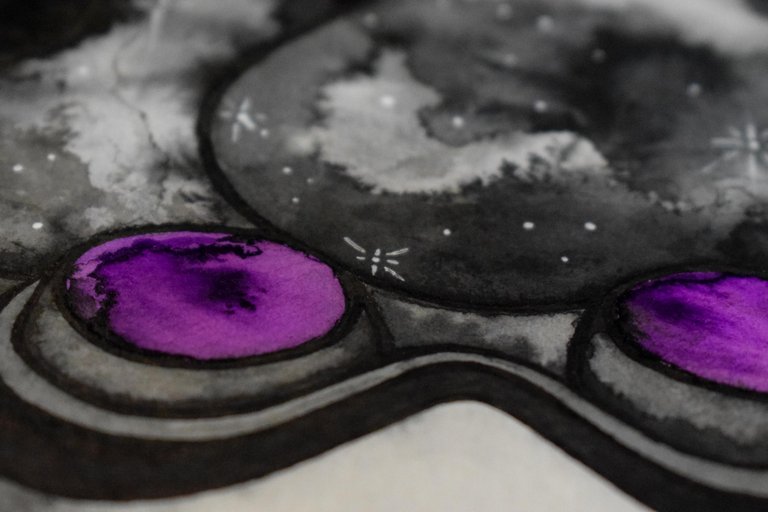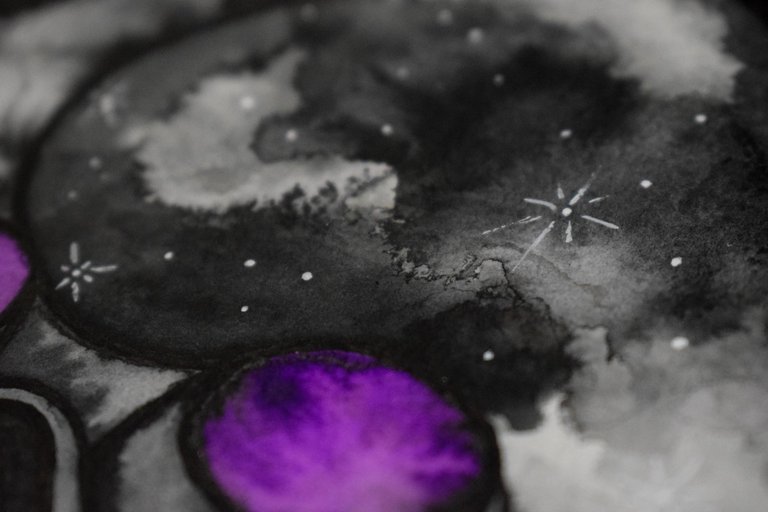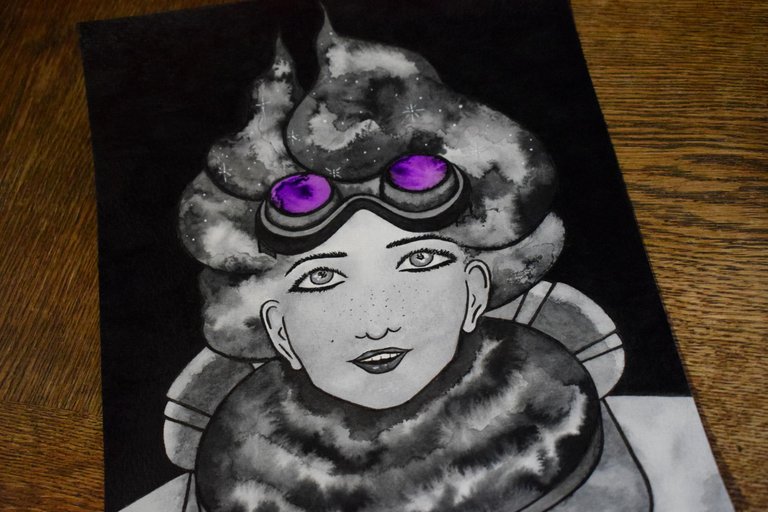 Song of the day: SAMURAI, Refused - Never Fade Away